What do the women who won the hearts of NFL Players look like?
24 Jul 2023
The NFL players, like other celebrities, rarely choose other famous personalities as wives. Most often, they prefer models, in extreme cases, the choice is made in favor of actresses or TV presenters. And as a result, constellations are formed, the fate of which is very interesting to follow. However, such couples often break up.
But there are players who chose ordinary girls and also formed strong alliances. Let's look together at the girlfriends of the most famous players.
Carrie Prejean and Kyle Boller
Kyle Boller, a former quarterback for the Baltimore Ravens, was overjoyed when Miss California USA Carrie Prejean said "yes" to getting married to him. After getting married in 2010, the couple welcomed two children. Prejean had already achieved great success in her life, but in 2009, her remarks regarding who other people should be allowed to marry caused her to make headlines for all the wrong reasons. Her Miss California title was consequently revoked.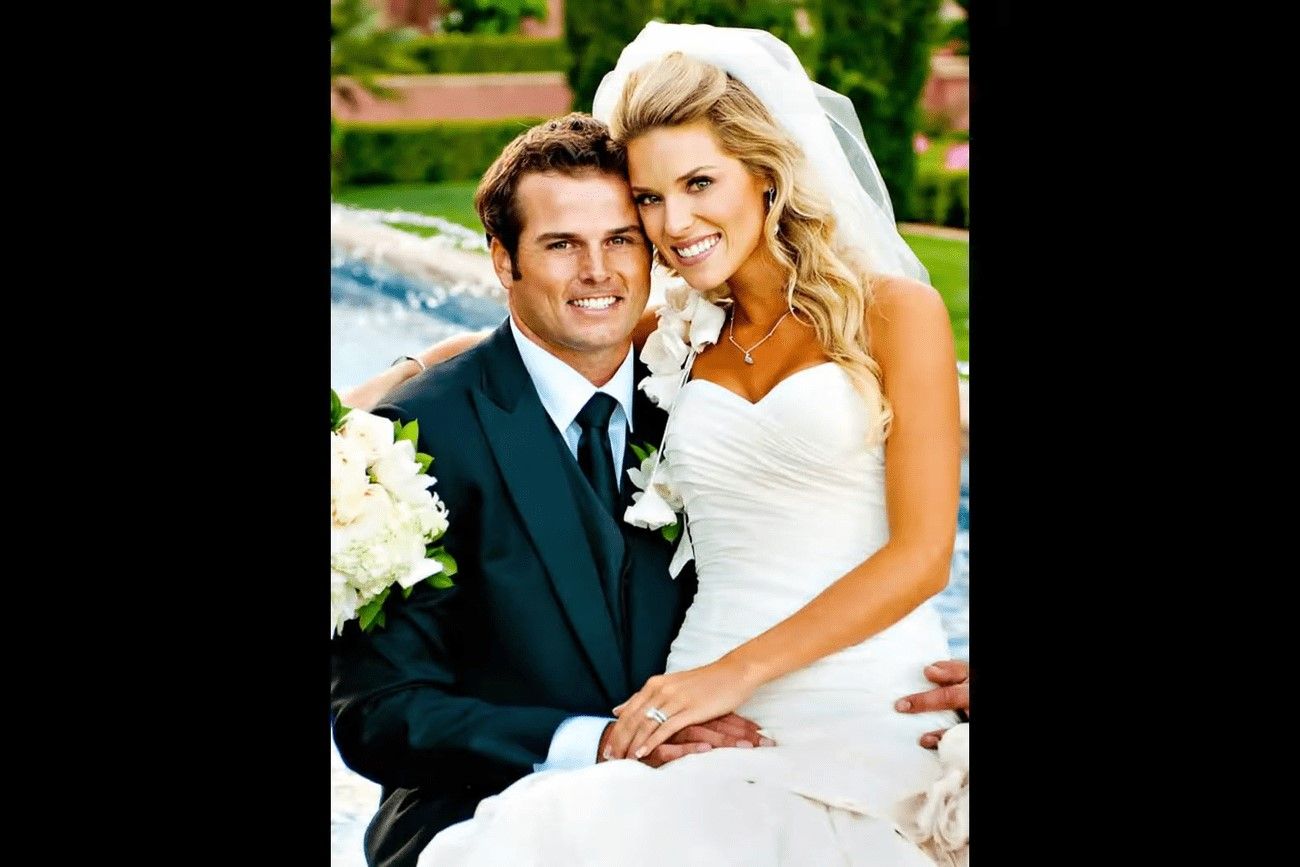 @Kyle Boller and his wife Carrie Prejean/sea world/YouTube.com
Leila Lopes and Osi Umenyiora
In February 2013, Leila Lopes and defensive end Osi Umenyiora of the New York Giants got engaged. More than two years later, in May 2015, the pair became legally married. The pair revealed Lopes was expecting their first child in 2018, and their son was delivered that same year. Lopes was crowned Miss Universe prior to becoming Mrs. Umwnyiora, and she received the title from the outgoing Miss Universe. She holds this position for the first time in Angola.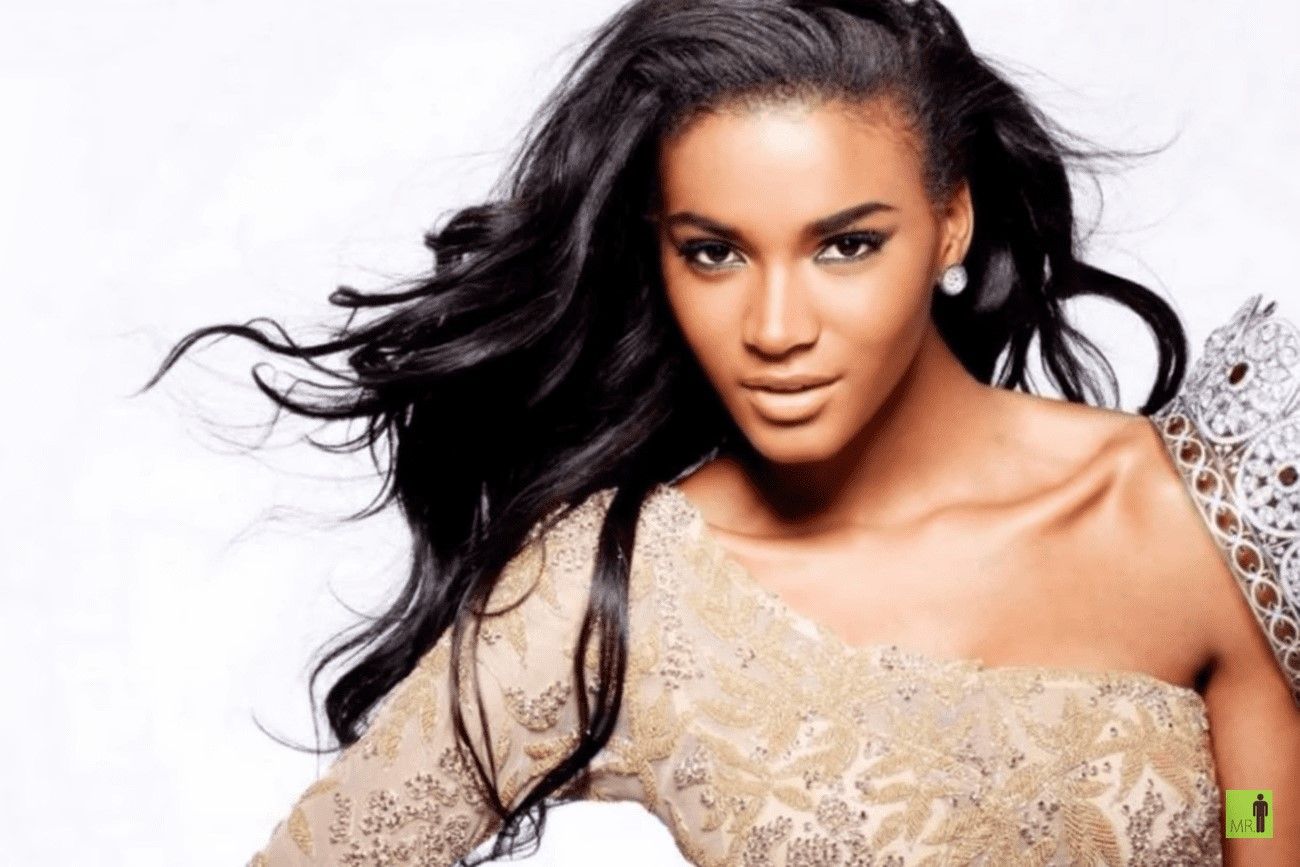 @Top 10 Hottest NFL WAGs 2015/ Mr.TOP 10/YouTube.com
October Gonzalez and Tony Gonzalez
River and Malia Gonzalez are the couple's two children. October and Tony Gonzalez got married in 2007. In 2009, October appeared in an E! True Hollywood Story segment about football wives. She later became well-known on the FOX game show Beat Shazam, which was hosted by Jamie Foxx. Since then, she has started hosting television programs. Between 2014 and 2016, she frequently co-hosted Rachel Ray, becoming a well-known face in the country.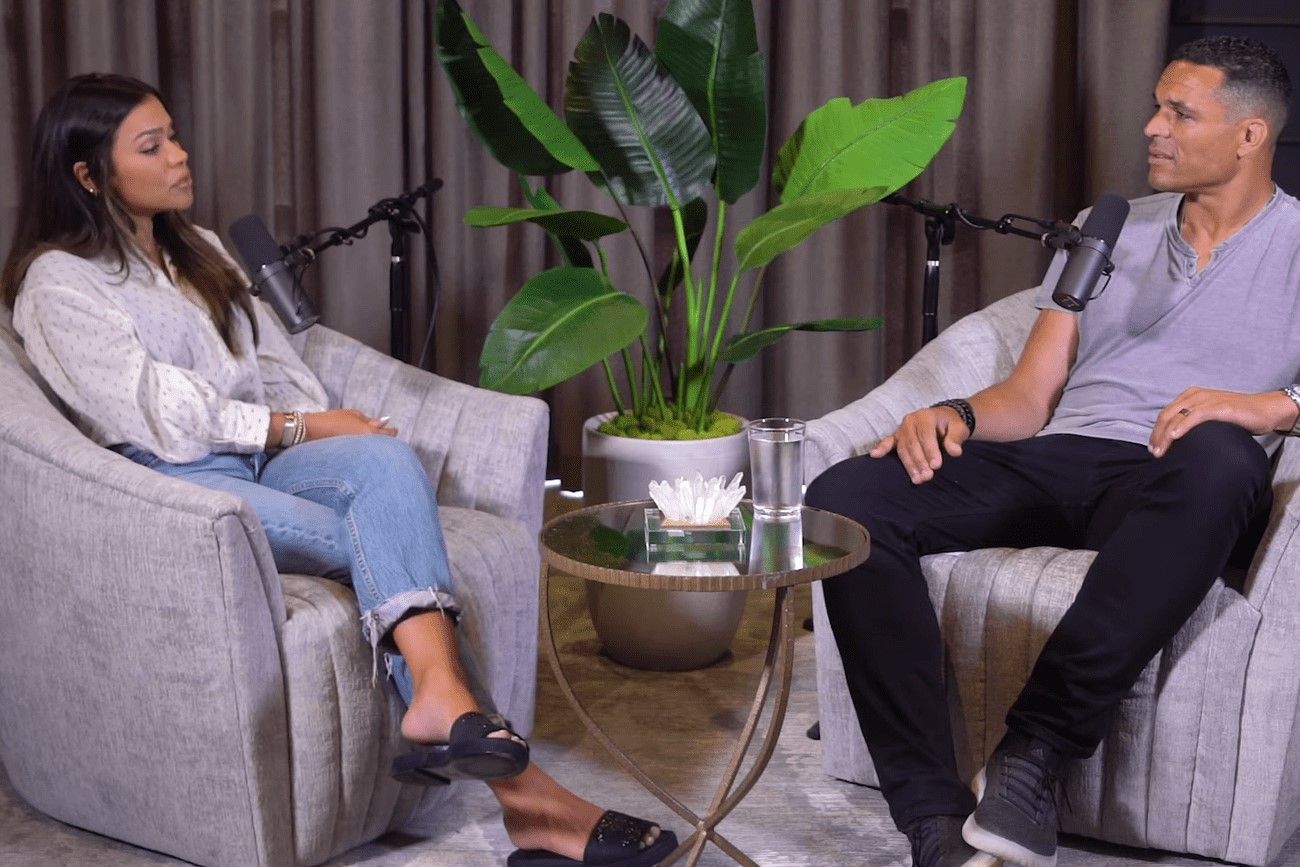 @My Wife October Gonzalez's Adoption Story Will Inspire You/Tony Gonzalez/YouTube.com
Olivia Culpo (ex-girlfriend) and Danny Amendola
Patriots wide receiver Danny Amendola has dated brunette Olivia Culpo in the past. The girl received the title of Miss Universe in 2012 in Las Vegas, and then became an actress. And they were a really good couple, but unfortunately they did not get married. Culpo often expressed her support for her soccer star beau on her Instagram feed. And despite the hopes of fans, soon the couple broke up. The press wrote that Olivia was very upset when the tabloids published a photo of her ex-lover with another girl.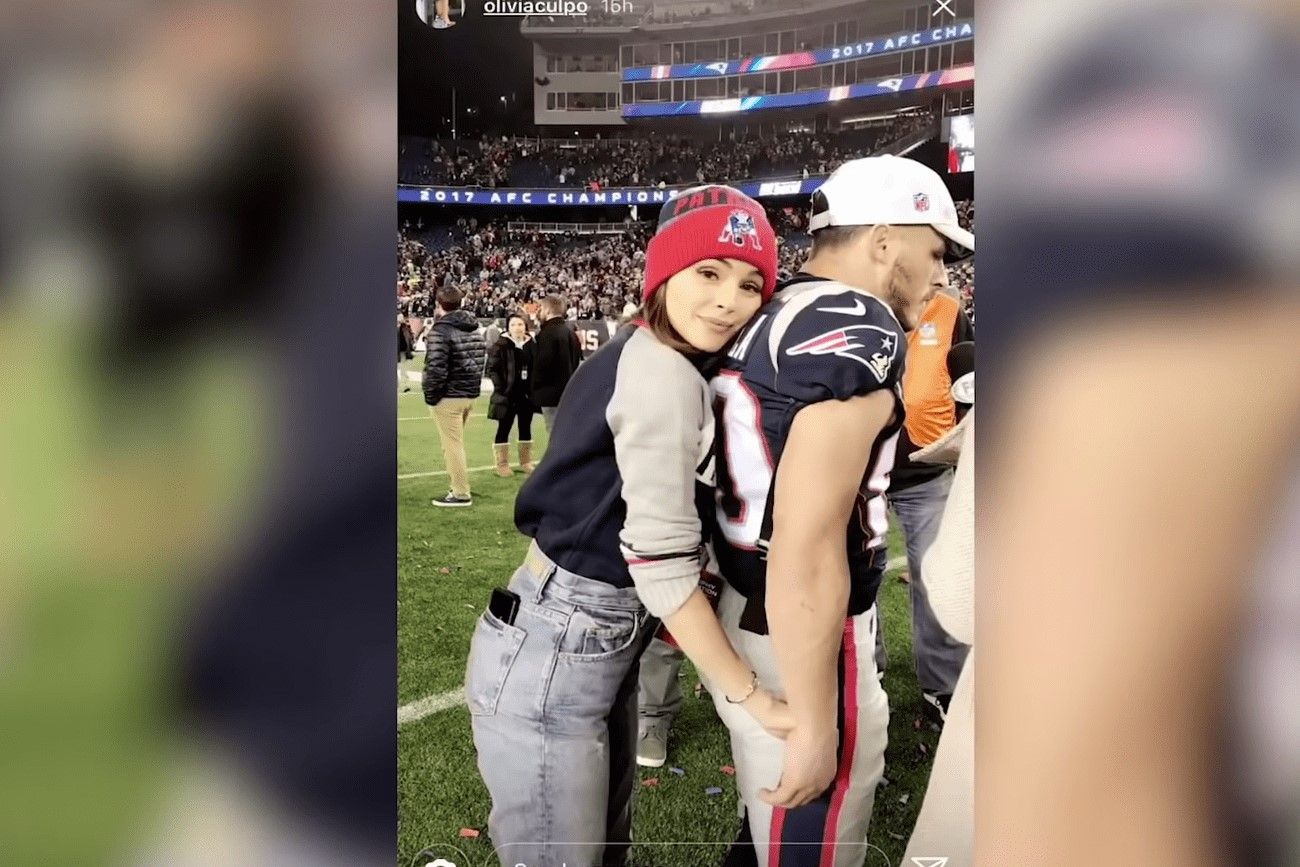 @Amendola Gets Burned By Ex Olivia Culpo And His Bikini Mistress/Nicki Swift/YouTube.com
Carmella DeCesare and Jeff Garcia
Jeff Garcia still keeps himself busy, especially in his personal life, despite the fact that he hasn't played in the NFL for close to ten years. Garcia wed Carmella DeCesare, the 2004 Playboy Playmate of the Year, in 2007. The couple and their four children lived in Rancho Santa Fe. DeCesare had popularity as a WWE Diva before to being married and appeared in the Sports Illustrated Swimsuit Issue.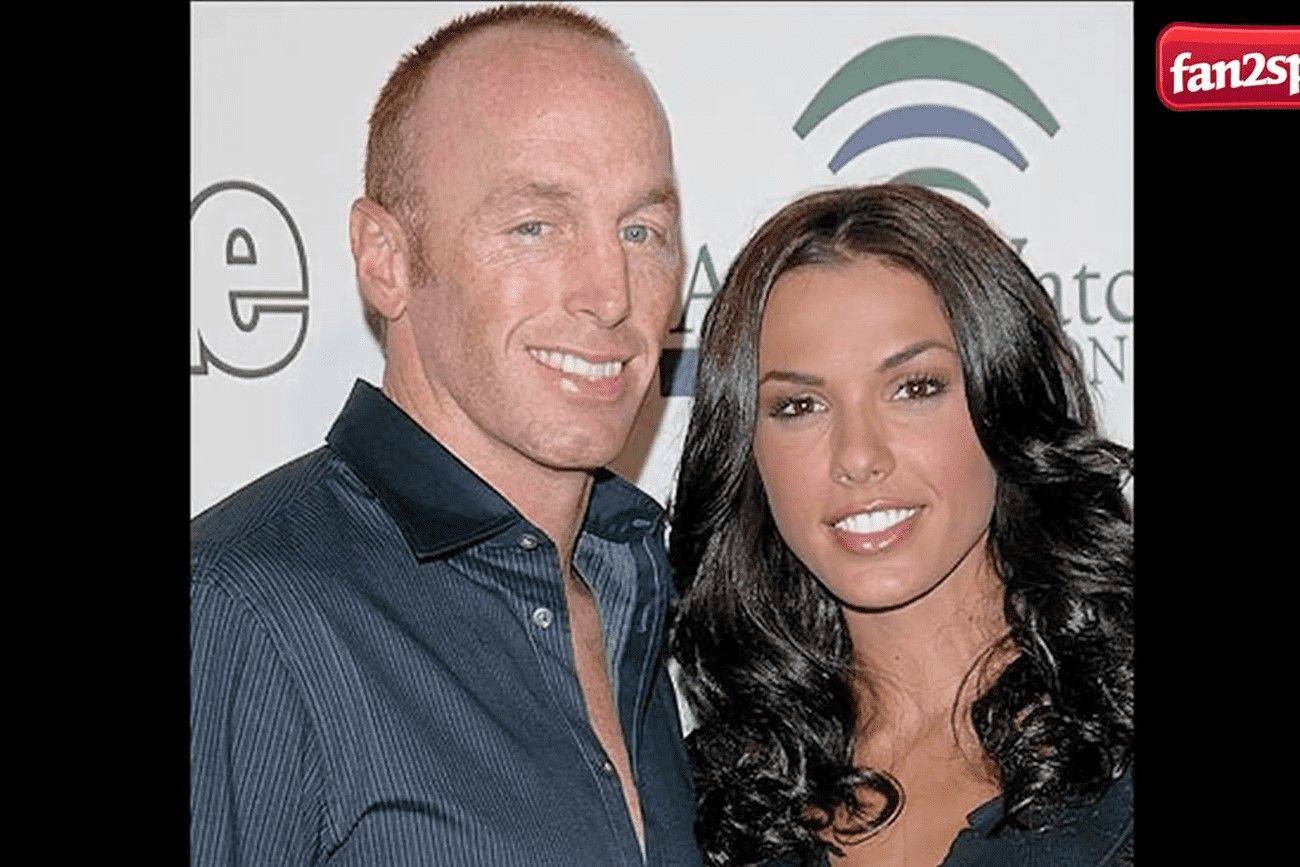 @Wag de sportifs: Jeff Garcia et Carmella DeCesare/Fan2sportBeauty/YouTube.com
Kristin Cavallari (ex-wife) and Jay Cutler
Kristin Cavallari first became well-known when she was 17 and began appearing in the reality series Laguna Beach: The Real OC.
She started dating Miami Dolphins quarterback Jay Cutler in 2010, and the two got married three years later while still pursuing her own successful career. Unfortunately, after 10 years, the couple decided to divorce.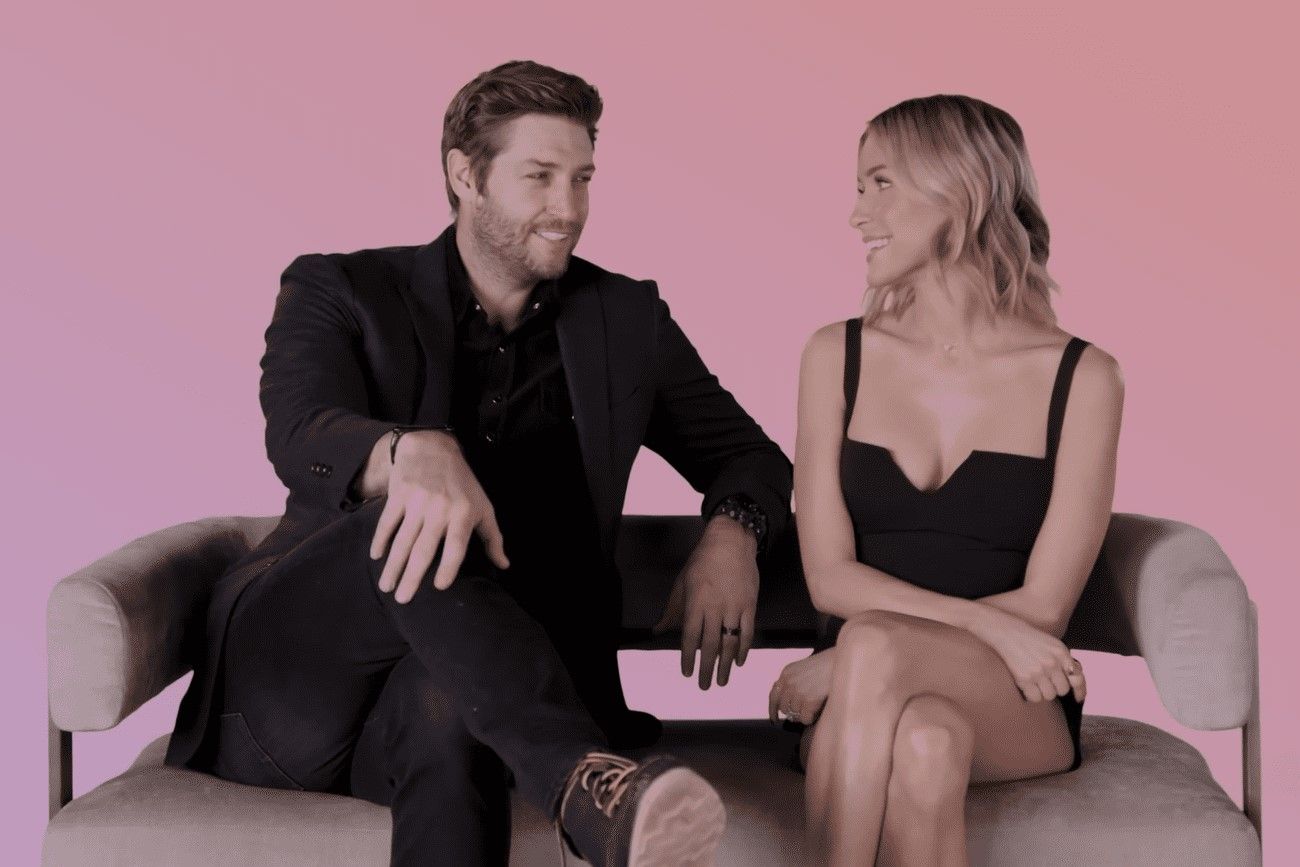 @Kristin Cavallari & Jay Cutler's Dating Dos & Don'ts | Very Cavallari | E!/ E! Entertainment/YouTube.com
Ciara and Russell Wilson
R&B singer Ciara is a famous woman who married a football player. Prior to being romantically linked to Seahawks quarterback Russell Wilson, the "1, 2 Step" hitmaker, who has been active in the music industry since the early 2000s, was well-known. Future and Ciara had a son with the same name while they were together in a previous relationship. Now they are happily married.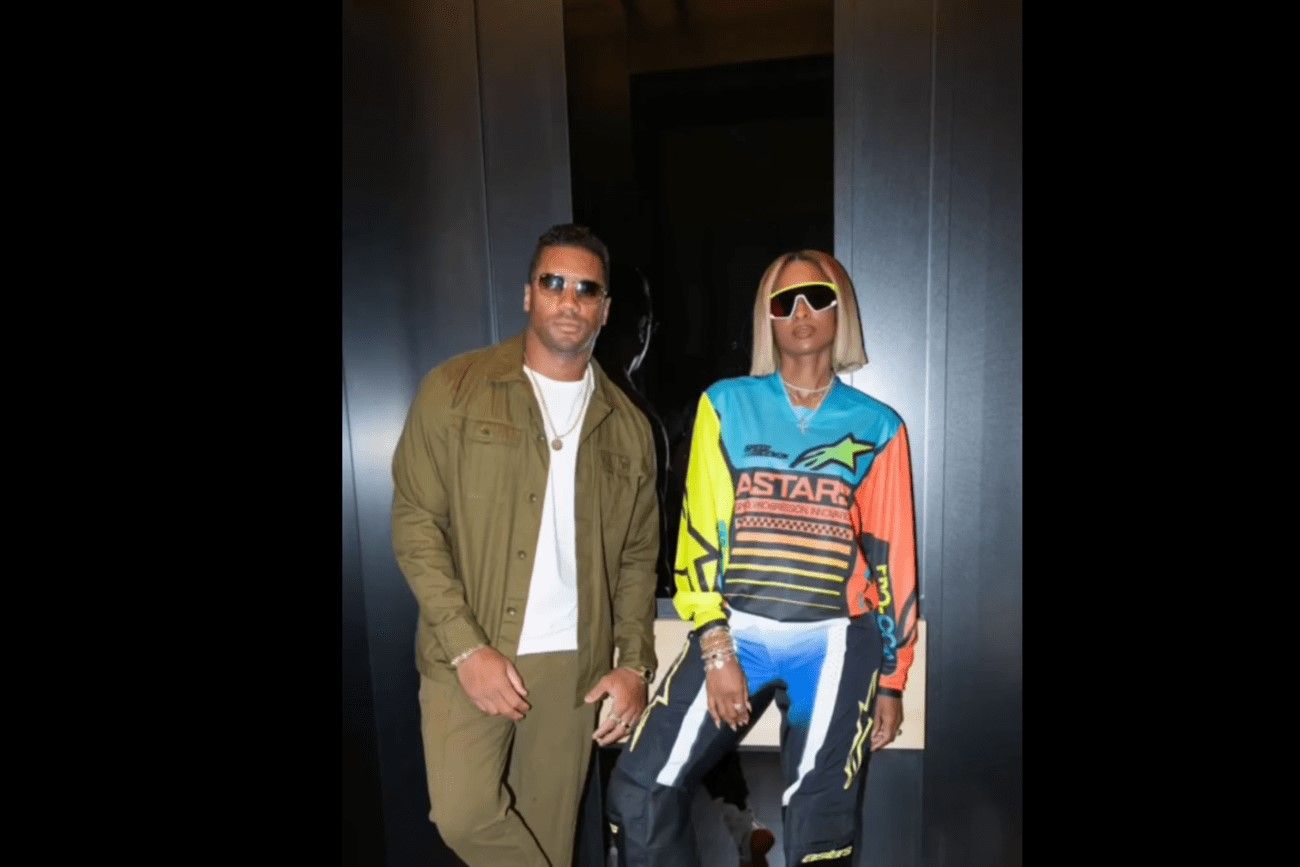 @Ciara and Russell Wilson celebrate their 7th wedding anniversary in Japan/Ciara Fanatic/YouTube.com
Ashley Nicole Roberts and Philip Wheeler
In June 2017, Falcons linebacker Philip Wheeler and Ashley Nicole Roberts were united in marriage, and Wheeler's entire proposal was the subject of the reality program WAGS Miami! From Wheeler looking for rings to the moment he proposed to his model love, the show covered it all. After seven years of dating, their marriage was ultimately made public in a two-part series finale of the show.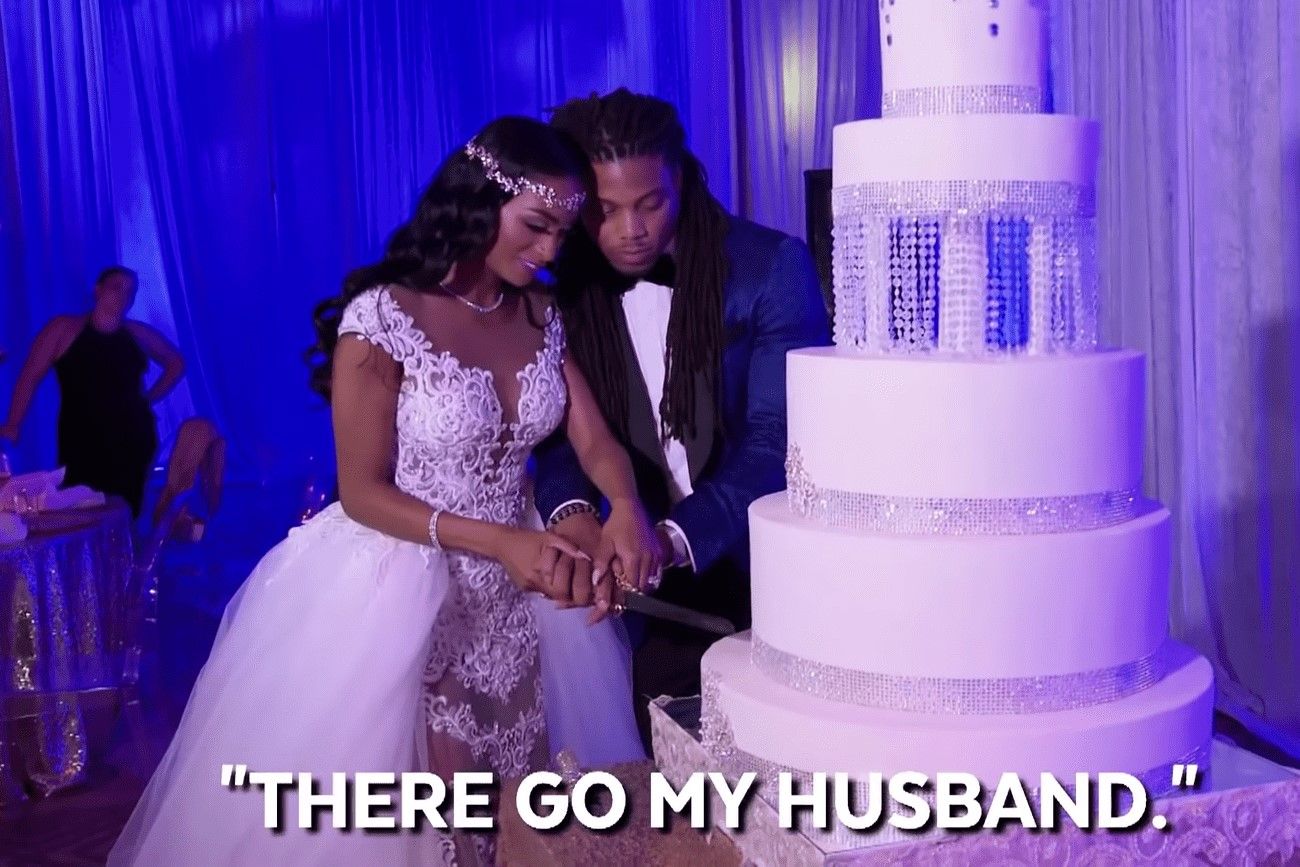 @"WAGS Miami" Recap: Season 2 Episode 7-8 | E!/ E! Entertainment/YouTube.com
Lacey Minchew and Matt Flynn
Lacey Minchew has had a hectic ten years. The gifted Atlantan woman, who was first named Miss Louisiana back in 2009, has established herself as a model and an actress. She began dating Matt Flynn, a former NFL quarterback who gained notoriety while playing for the Green Bay Packers. In fact, the couple got together in 2003 while they were both students at Louisiana State University.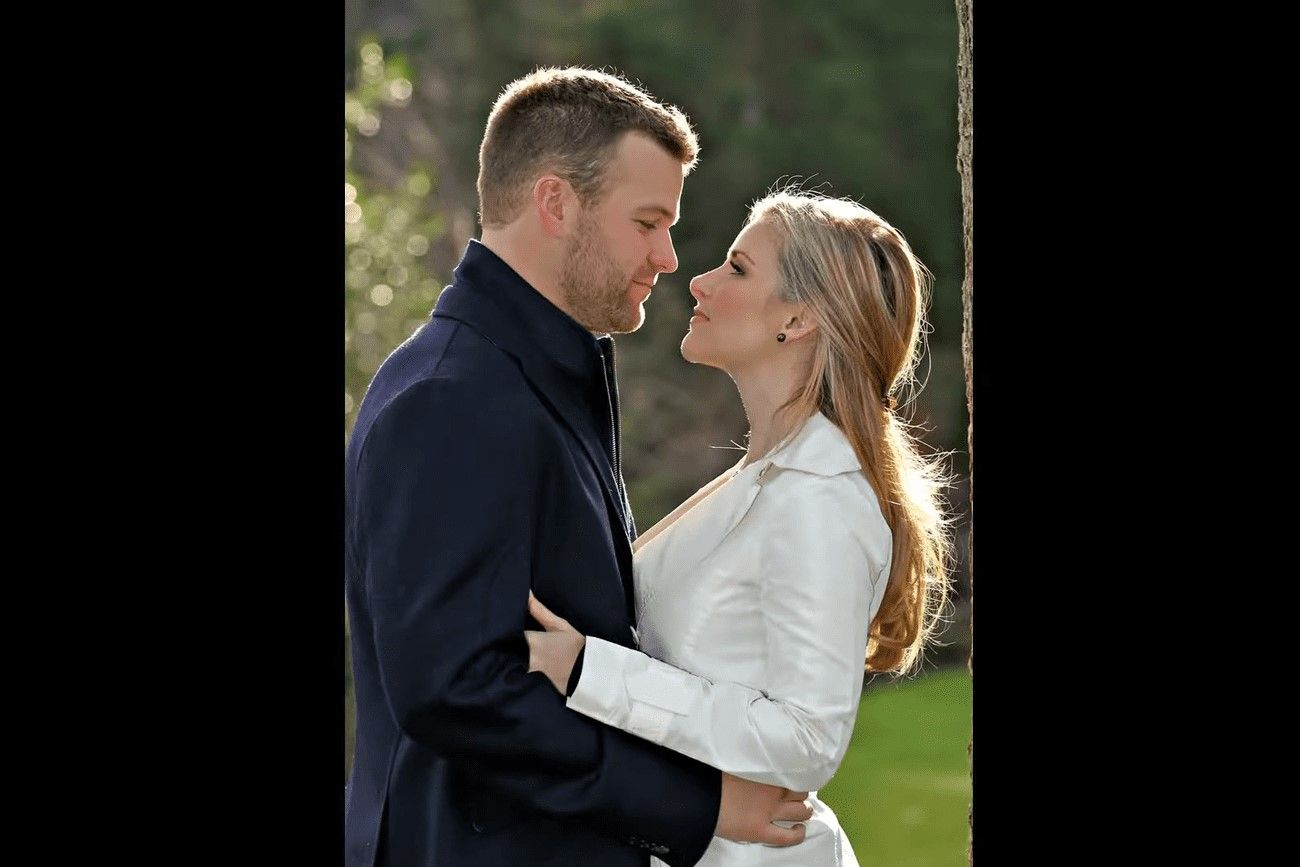 @Matt Flynn and his wife Lacey Minchew/sea world/YouTube.com
Kierra Anderson and Harry Douglas
Harry Douglas gained a lot of supporters despite no longer playing, thanks to his performances for the Tennessee Titans and Atlanta Falcons. But it's not only Harry who is bringing home the "bacon." The CEO of S2 The Brand, a business that specializes in cozy exercise apparel, is Kierra. Kierra seems to be thoroughly enjoying her life as a mother and as Harry's wife, if her Instagram account is any indication.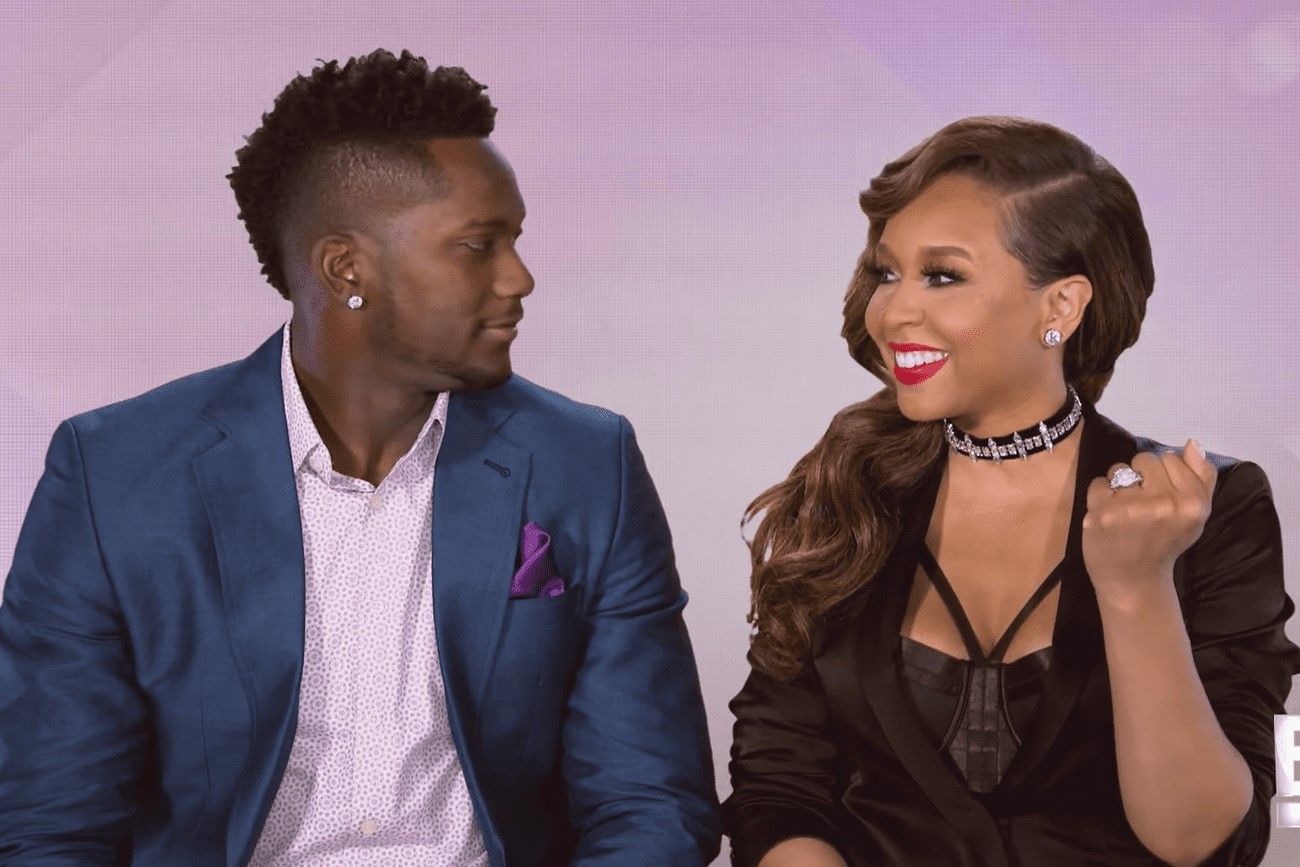 @Meet "WAGS Atlanta" Stars Kierra & Harry Douglas | E!/ E! Entertainment/YouTube.com
Lauren Tannehill and Ryan Tannehill
Since she's been wed to football player Ryan Tannehill since 2012, he must be accustomed to her being the center of attention. In the same year that they got married, Tannehill was selected by Miami in the first round of the draft, and Lauren almost stole the show with her stunning looks! The aspiring model will definitely show her Instagram fans why people often have to perform a double take when she is nearby!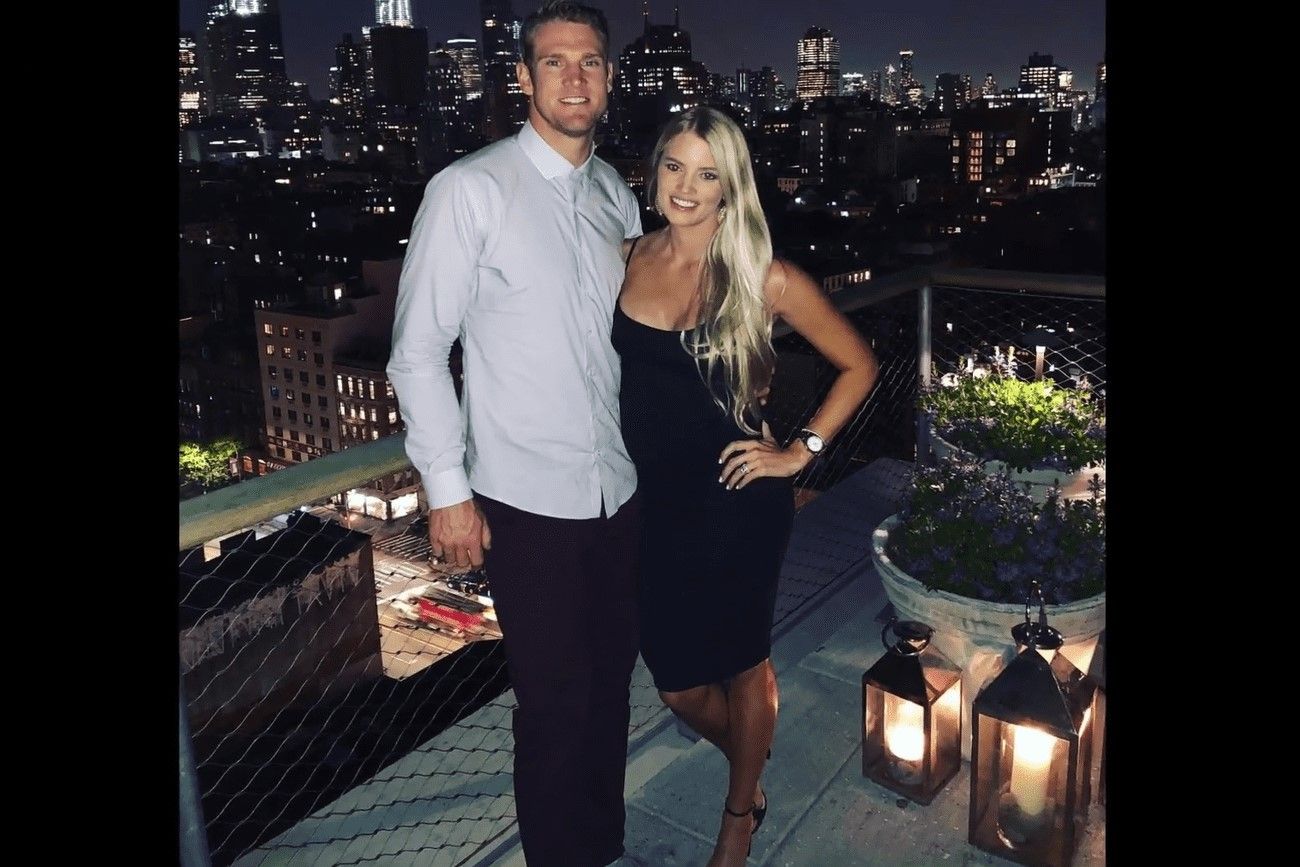 @😱THIS IS RYAN TANNEHILL'S WIFE!LAUREN TANNEHILL! NFL NEWS!/ American Football News/YouTube.com
Ireland Borba (ex-girlfriend) and Dak Prescott
The Dallas Cowboys quarterback has been linked to many women over the years. But as his supporters believed, it was the relationship with the Instagram model Ireland Borba that could develop into something more serious. The couple was first spotted at the wedding of one of Duck's teammates. The model supported her lover at sporting events. But as it became known later, they still broke up. Tabloids write that Duck is currently dating another model on Instagram.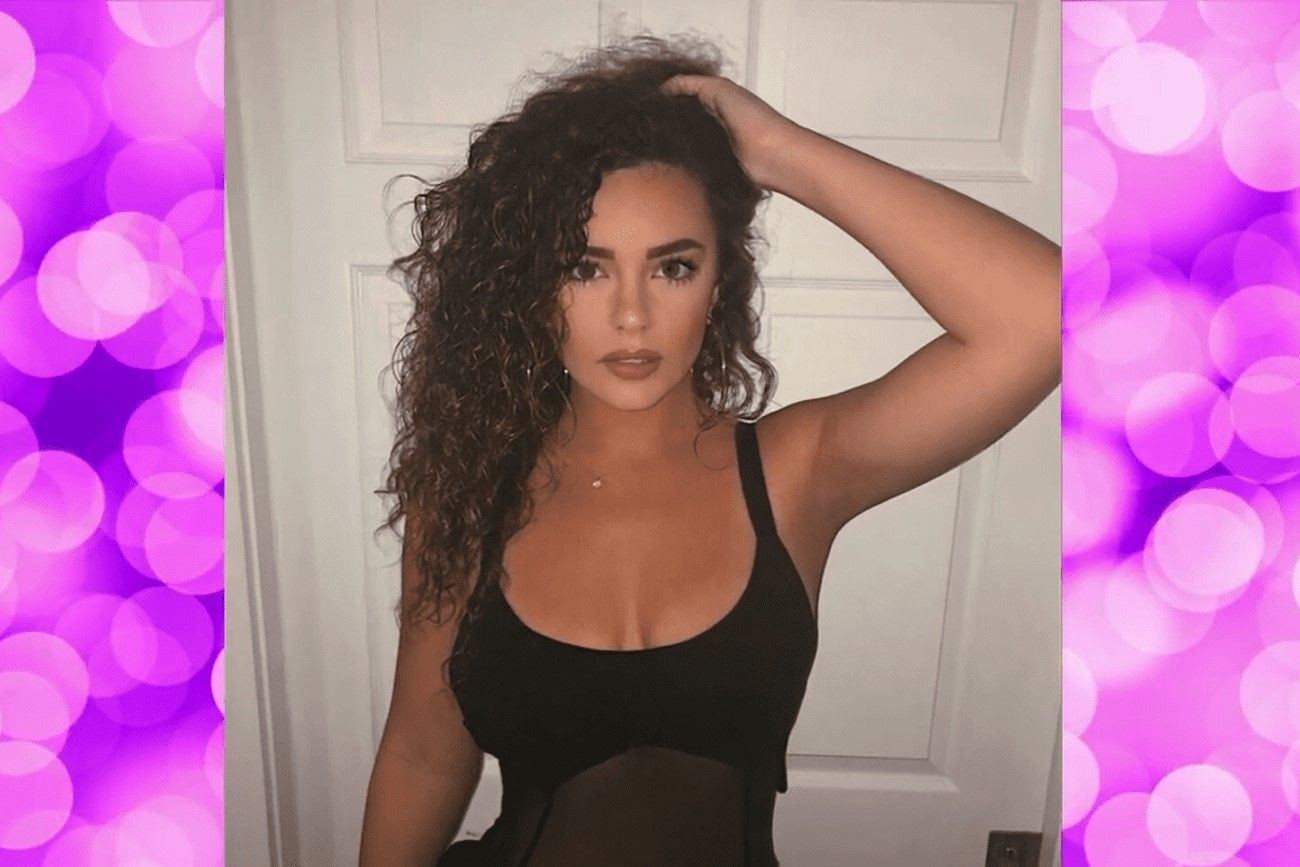 @Dak Prescott Girlfriends List: Dating History/CelF/YouTube.com
Claudia Sampedro and Julius Peppers
Model and actress Claudia Sampedro and linebacker Julius Pepper of the Carolina Panthers have been dating since 2014. The couple has two children from prior relationships in addition to their shared child. However, Claudia's resemblance to reality television star Kim Kardashian was not the only thing that made her famous online. The two also shared similar personalities. In actuality, Sampedro dated Reggie Bush, another American football player who was famous for dating Kim Kardashian.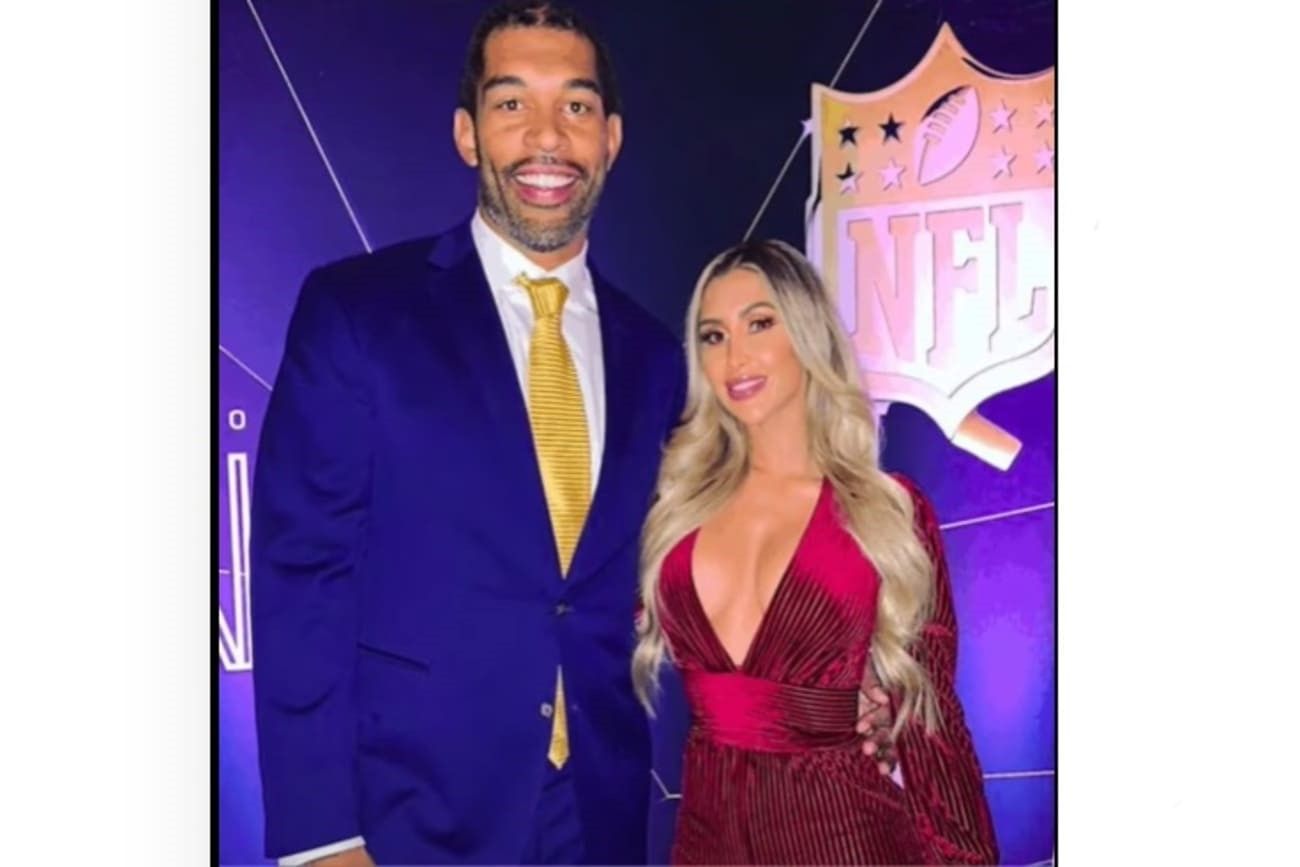 @Julius Peppers Claudia Sampedro 🤍🖤💑 #Shorts #NFL #LoveStatus#WAGS/World TV/YouTube.com
Kelly Hall and Matthew Stafford
One of the best player contracts in sports history belongs to Matthew Stafford. In addition to his success as a player both on and off the field, he is married to Kelly Hall, who is among the list's most attractive women. She first met Stafford while cheerleading at the University of Georgia. Chad Hall, her brother, is a current coach for the Buffalo Bills as well as a former player.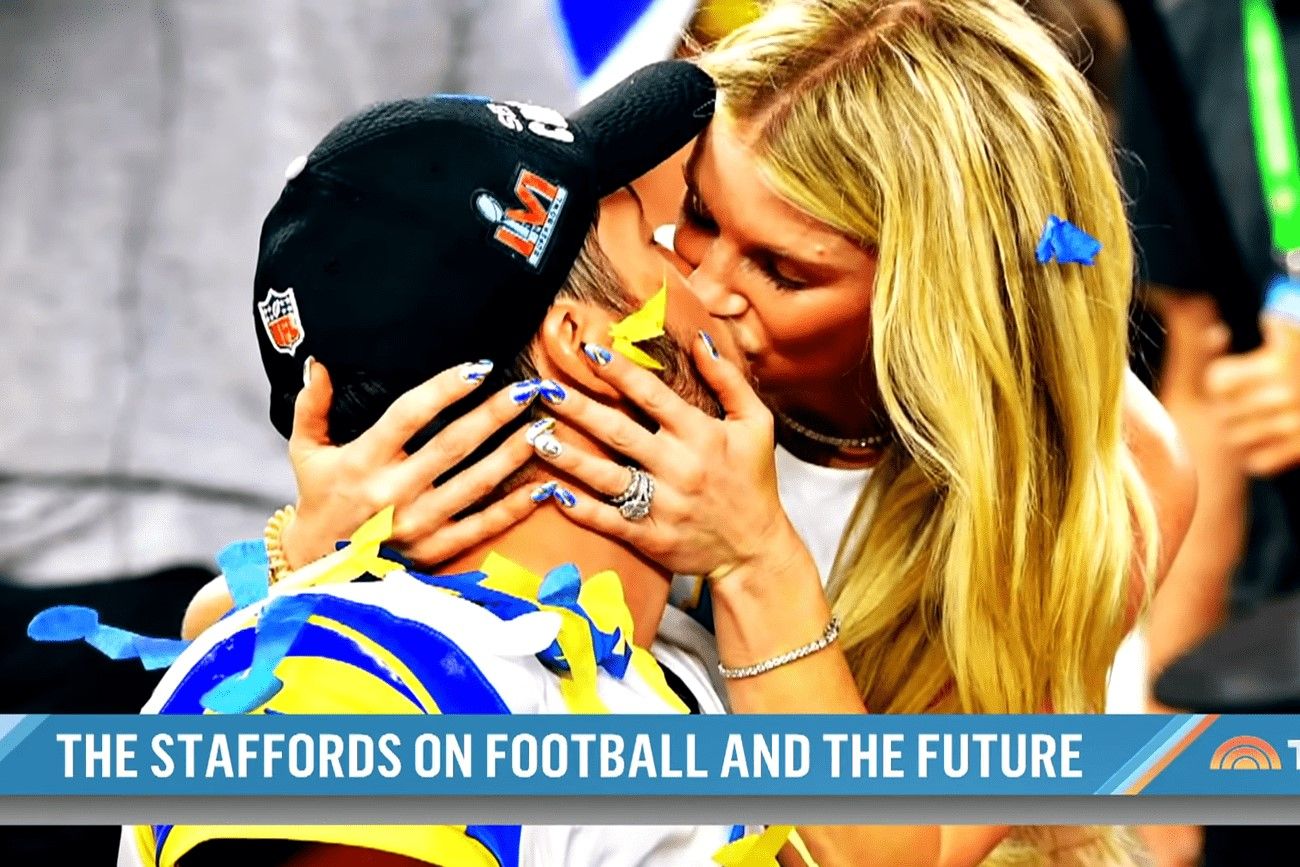 @Matthew And Kelly Stafford Open Up About Their Personal Journey And Super Bowl Win/TODAY/YouTube.com
Kayla Nicole (ex-girlfriend) and Travis Kelce
The best tight end right now, outside of The Gronk, is probably Travis Kelce. A few years ago, he met Kayla Nicole. She is a well-known journalist who participated in many sports broadcasts and hosted a number of music programs. But after 5 years of relationship, in 2022, the athlete and the journalist broke up.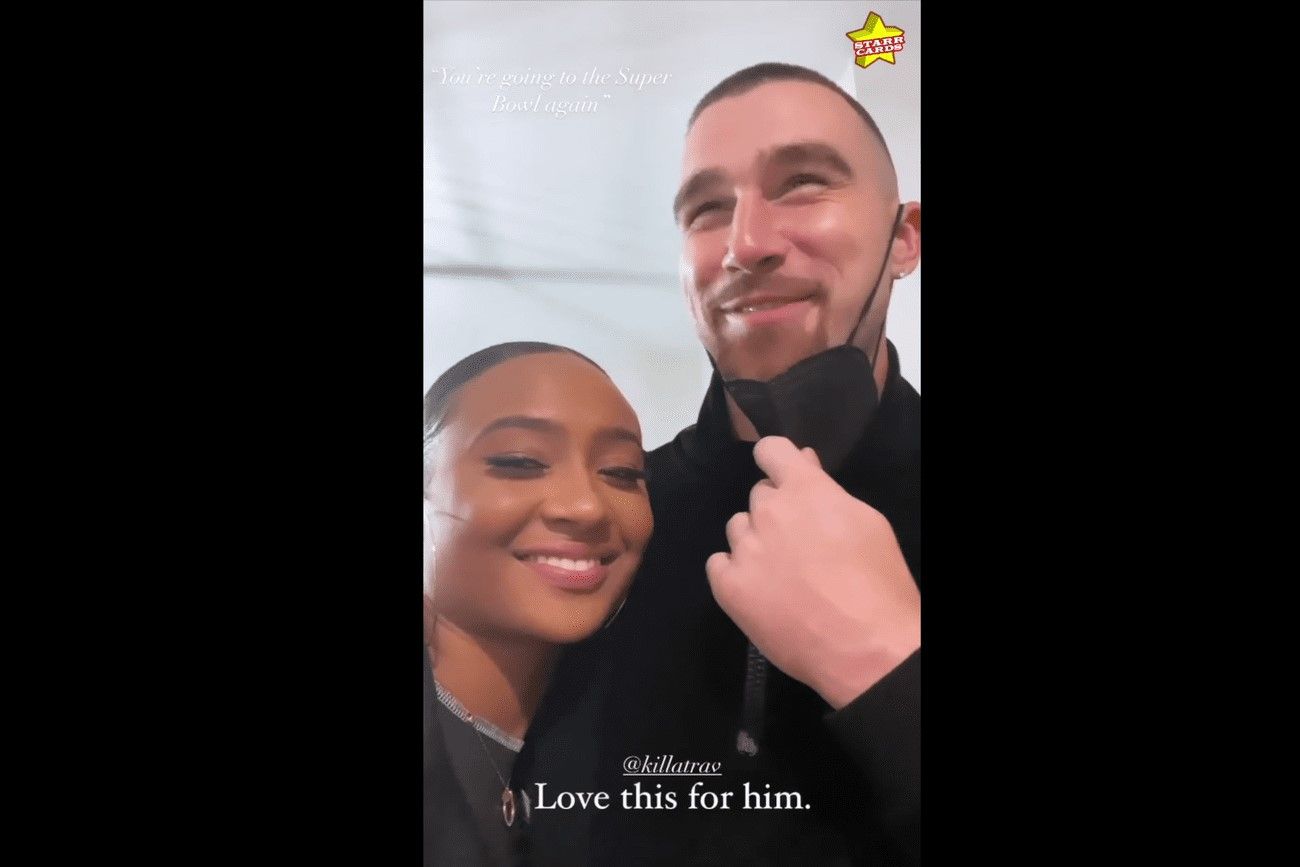 @Model Kayla Nicole provides an inside look at dating Travis Kelce from Super Bowl to Super Bowl/Starr Cards/YouTube.com
Morrisa Jenkins (ex-wife) and Malcolm Jenkins
In 2008, Morrisa Jenkins and Eagles safety Malcolm Jenkins began dating. They have been married since 2011. Since then, they have had two daughters, Elle in 2013 and Sela in 2018, shortly before Malcolm played for his team in the Super Bowl. But recently it became known that the couple broke up. However, no one knows the details of their breakup.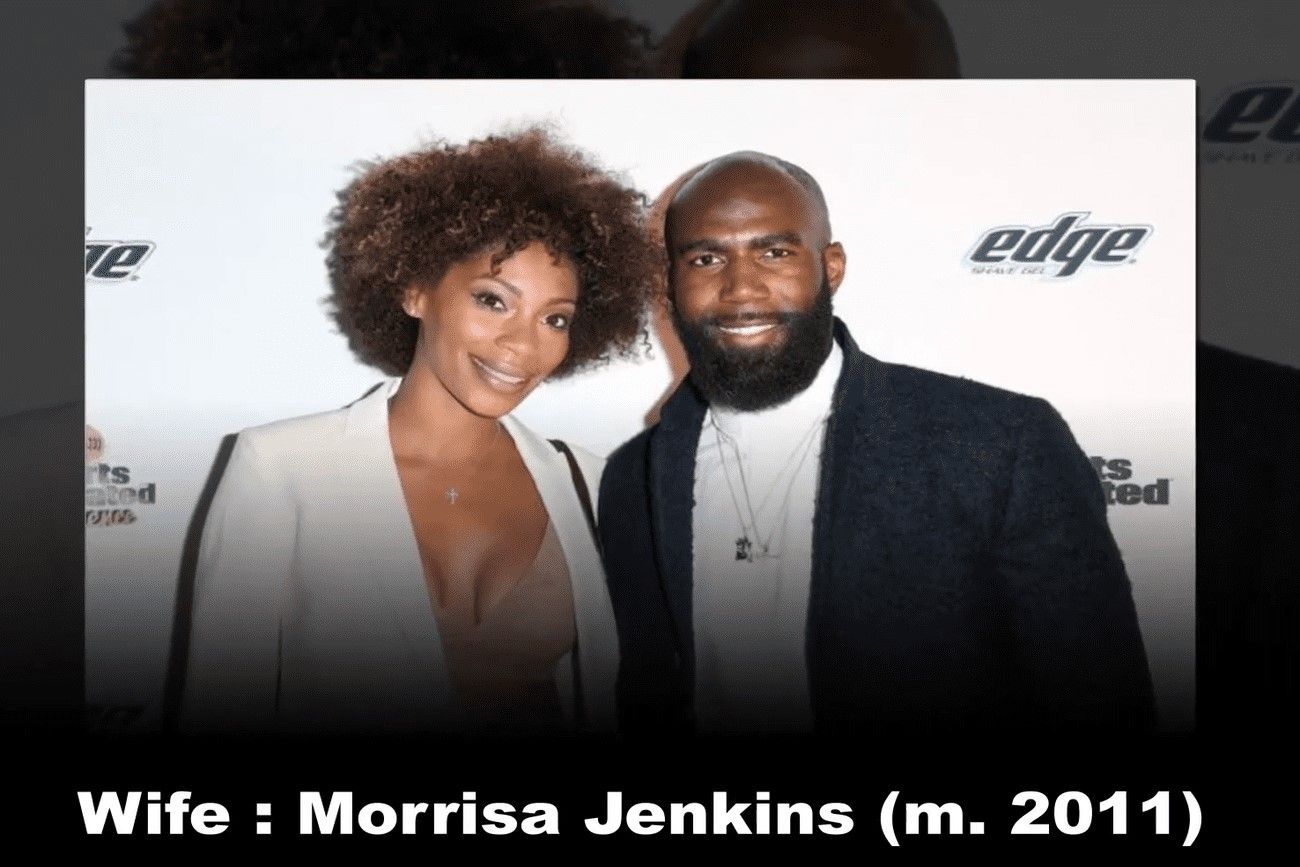 @Malcolm Jenkins Family With Daughter and Wife Morrisa Jenkins 2020/Celebrity Nation/YouTube.com
Emily Wilkinson and Baker Mayfield
In January 2018, while watching a Los Angeles Clippers game, Cleveland Browns quarterback Baker Mayfield revealed his connection with Emily Wilksonson to the public. June, seven months later, saw Mayfield pop the question to Emily, and the couple excitedly shared the happy news with their Instagram followers. The blonde beauty traveled to Los Angeles and began working as a patient coordinator at Galanis Plastic Surgery, where Mayfield and Wilksonson first became acquainted. She left the plastic surgery clinic after declaring that it was her "favorite job ever," moving to Nebraska with Mayfield.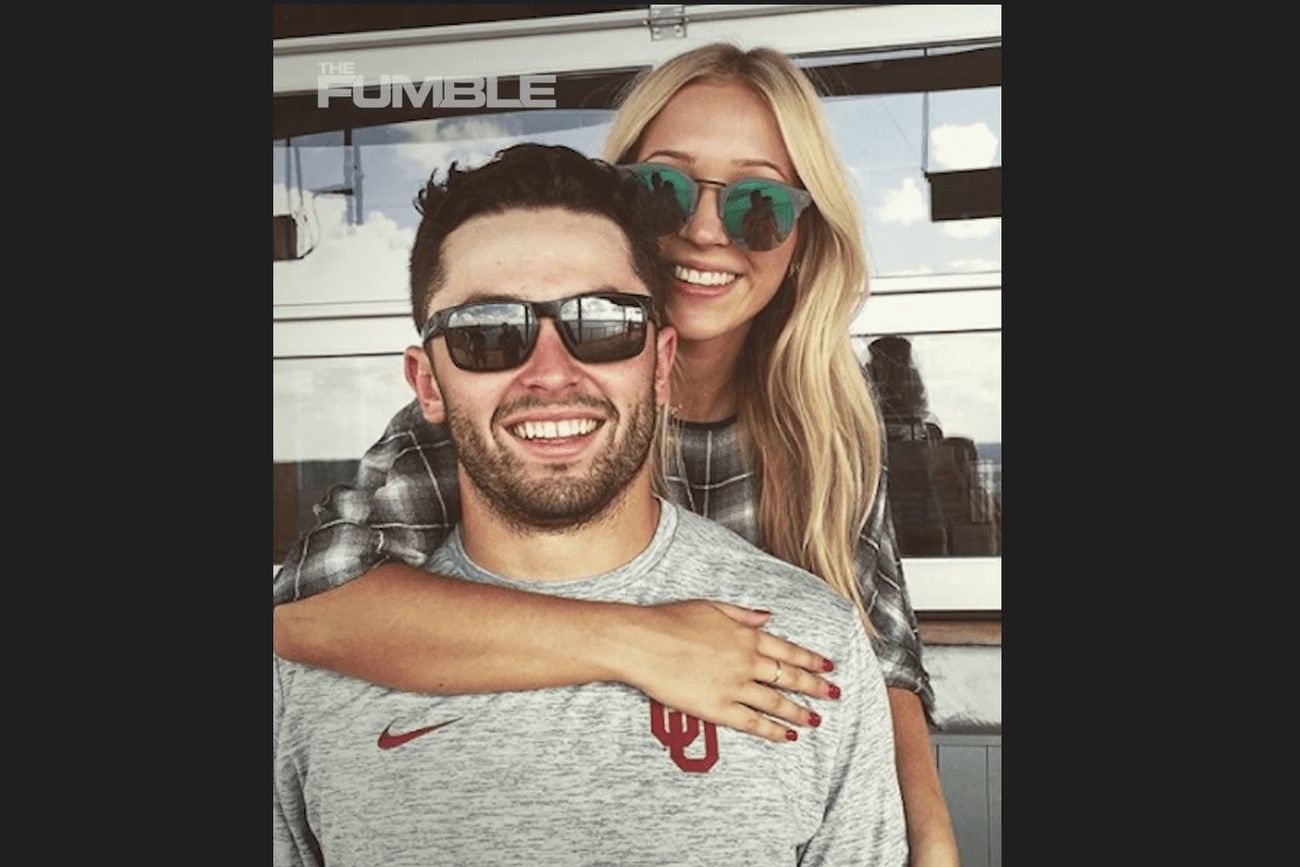 @Baker Mayfield DUMPS His Girlfriend for Instagram Baddie Emily Wilkinson/ The Fumble/YouTube.com
Katherine Webb and AJ McCarron
Although Katherine Webb is married to AJ McCarron, the Bengals' backup quarterback, she has achieved her own level of notoriety as the former "Miss Alabama" and Sports Illustrated Swimsuit model. We can see why Miss Webb attracted the football player's attention, but the general public first became aware of her in 2012 when she made an appearance on television during a collegiate football game. She received a request to serve as a "Miss USA" judge after becoming famous over night.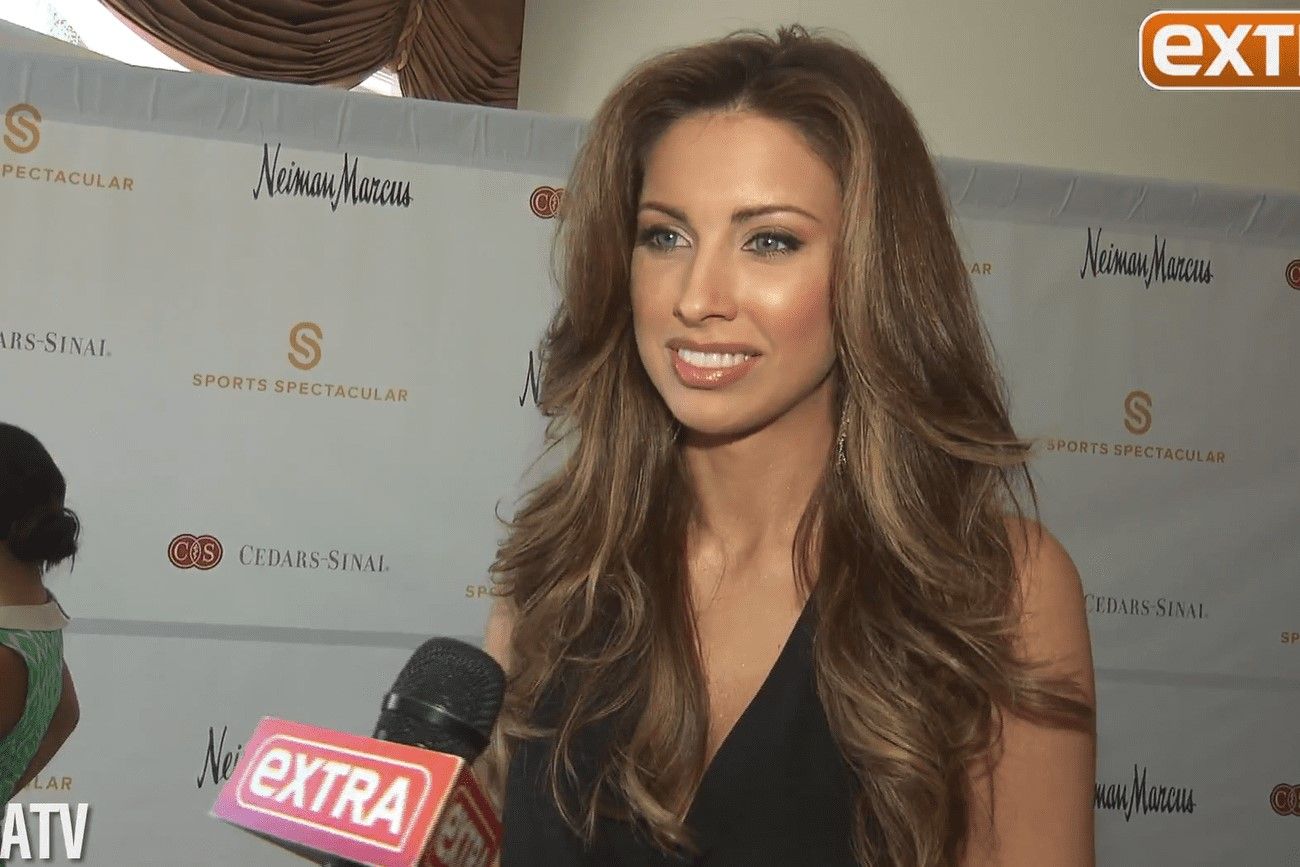 @Katherine Webb Shows Off Her Engagement Ring, Shares Wedding Details!/ extratv/YouTube.com
Gisele Bundchen (ex-wife) and Tom Brady
Tom Brady, one of the greatest quarterbacks in NFL history, and Gisele, one of the most famous supermodels on the planet, have long been one of the most famous couples in the world. They were married for 13 years, but in October 2022, the couple announced their divorce on their Instagram pages.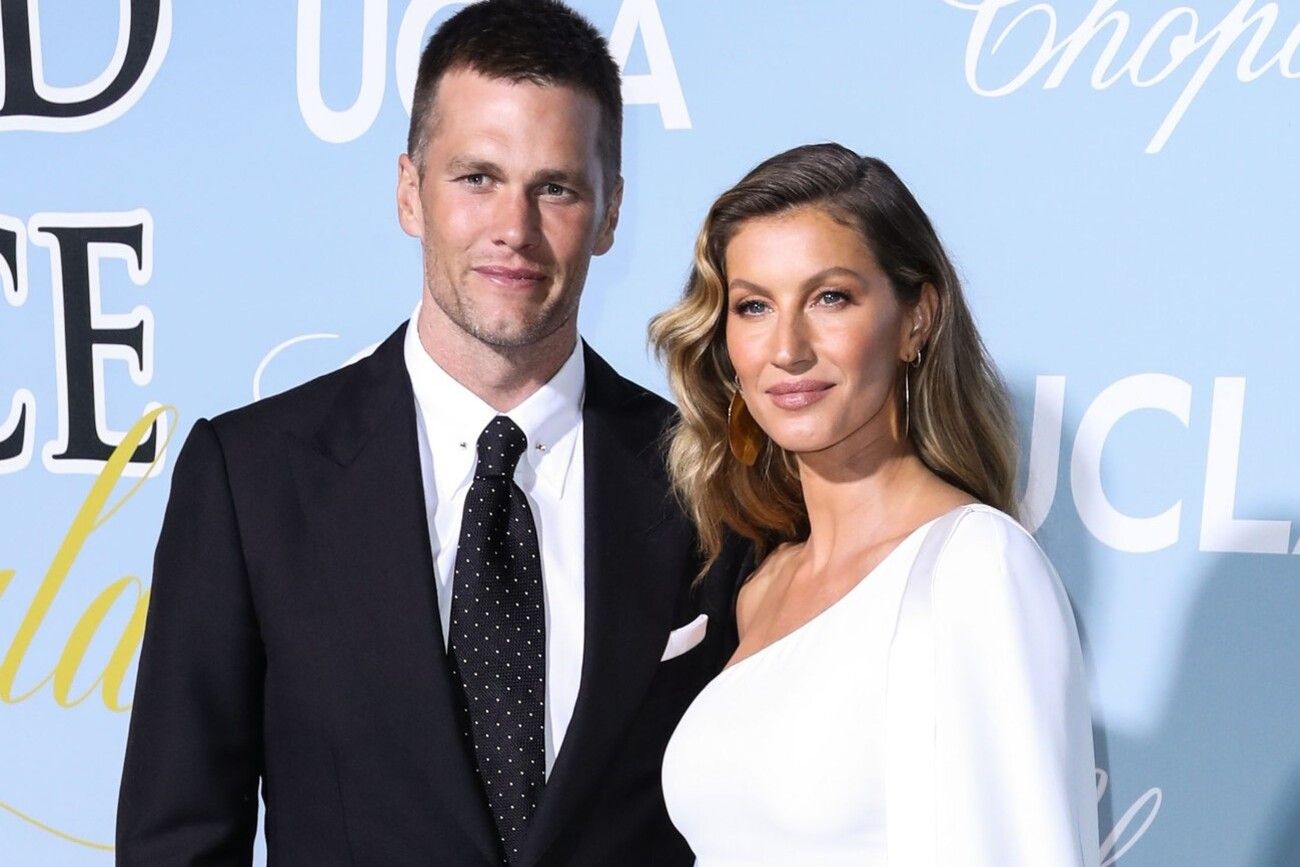 Brittany Williams (ex-girlfriend) and Josh Allen
Brittany Williams, a former Fresno State cheerleader, dated the NFL player for several years. On her Instagram feed, Brittany showed that she is a devoted girl, regularly cheering for Josh at his football games and wearing shirts with his name on them. But in the summer of 2023, it became known that the couple broke up.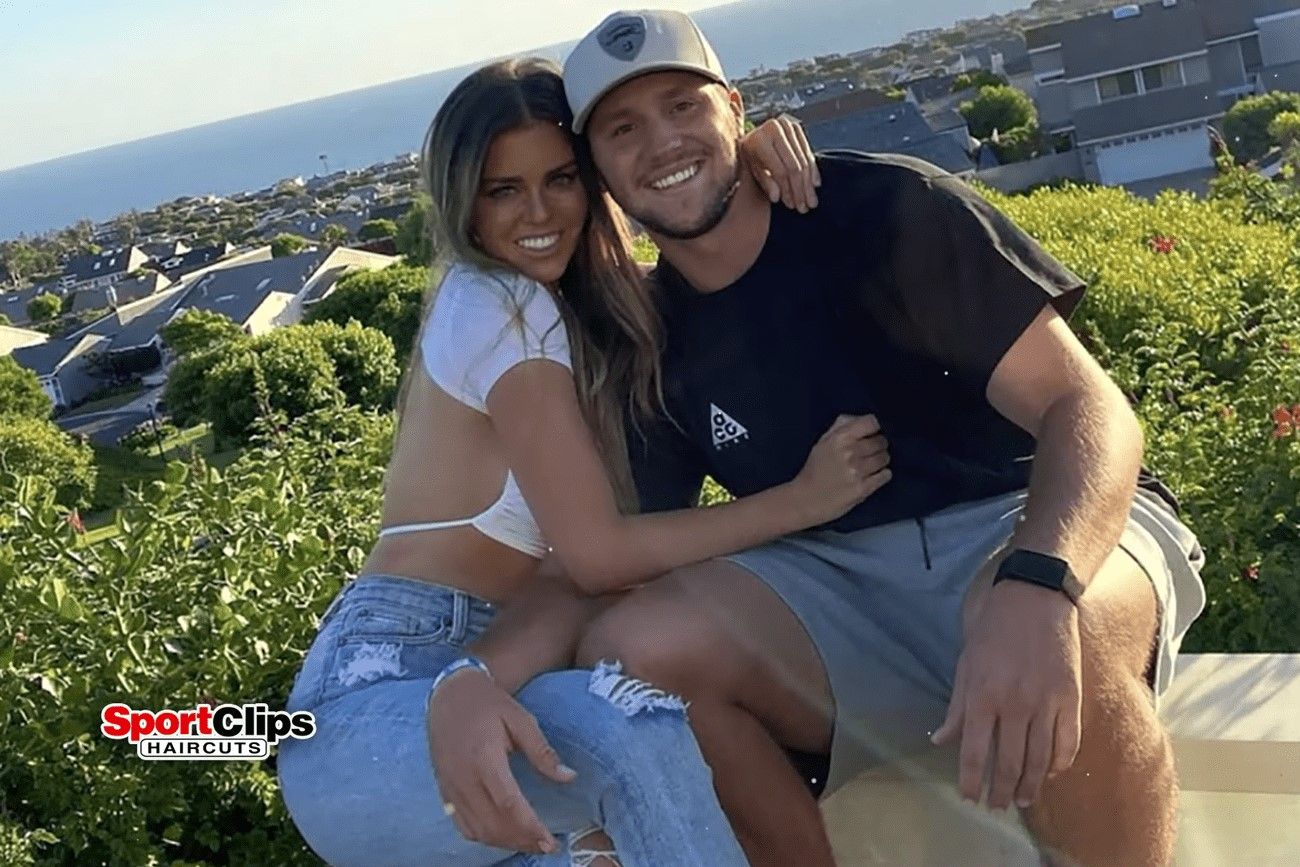 @Josh Allen breaks up with Girlfriend? April 22, 2023/Roc Sports Now/YouTube.com
Julie Ertz and Zach Ertz
With Zach playing tight end for the Eagles and Julie playing for the US Women's National Football Team, Zach Ertz and Julie Ertz appear to be an athletic power couple. The beauty plays midfield for her side and is a goal scorer last year with 14 goals in 57 appearances. The couple apparently met in college. Julie had a lot to celebrate when she learned her husband was headed to the Super Bowl after scoring for the USA squad while playing against Denmark earlier this year.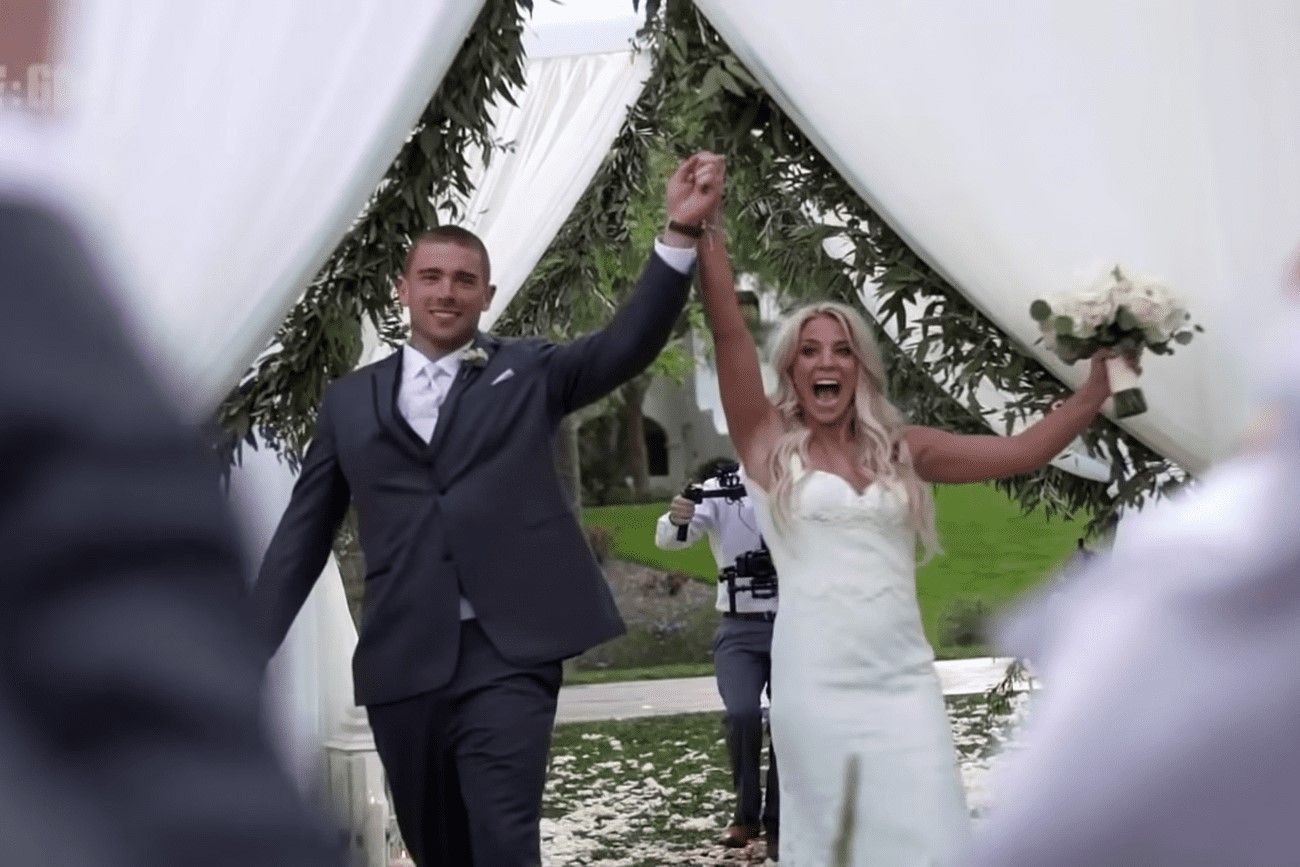 @E60 Zach and Julie Ertz Documentary/Ryan Smith: Sacking Mental Illness Podcast/YouTube.com
Elise Tate and Golden Tate
Elise Tate and Golden Tate, a wide receiver for the Detroit Lions, first met in a bar over a college weekend. They have been married since 2017. They had a girl called Londyn Marie Tate as their first child earlier this year, and they have been managing the Golden Future Foundation since 2014. Every year, Detroit Lions players and supporters get together to raise money for their foundation, a nonprofit organization devoted to improving the lives of veterans and their families. The foundation raised an astounding $50,000 last year.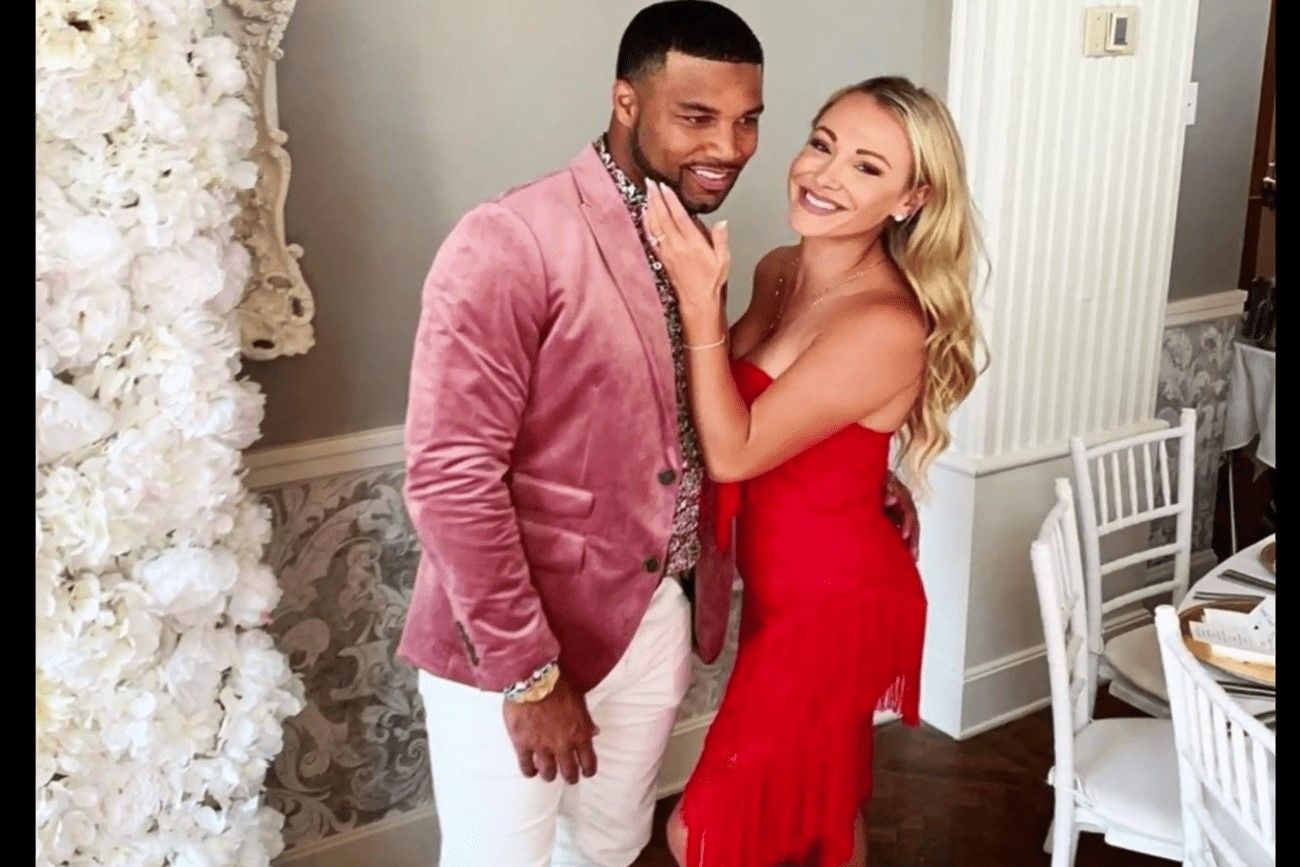 @🔥😱THIS IS GOLDEN TATE'S WIFE! ELISE TATE! NFL NEWS!/ American Football News/YouTube.com
Anna Congdon and Saquon Barkley
Saquon Barkley started dating Anna Congdon, a sophomore at Penn State, when he was developing into the running back for the team as a junior. In 2018, Barkley participated in his first NFL season with the Giants, and in April, the pair welcomed a daughter called Jada Clare. When it comes to sharing their love or their lovely baby daughter on Instagram, the pair doesn't hold back. Since they are a lovely little family of three, we can't really blame them either.
@Saquon Barkley Family Photos With Girlfriend Anna Congdon and Daughter Jada Clare Barkley 2019/ToptenCelibs/YouTube.com
Veronika Khomyn and Sean McVay
When Sean McVay took over as head coach of the Los Angeles Rams in 2017, he created history by becoming the league's youngest head coach at the age of just 30. Sean McVay is thriving in a variety of arenas besides sports. The Ohio native presently resides in Los Angeles with his fiancée, the model Veronika Khomyn. During a romantic getaway to Cannes, France, he proposed to her.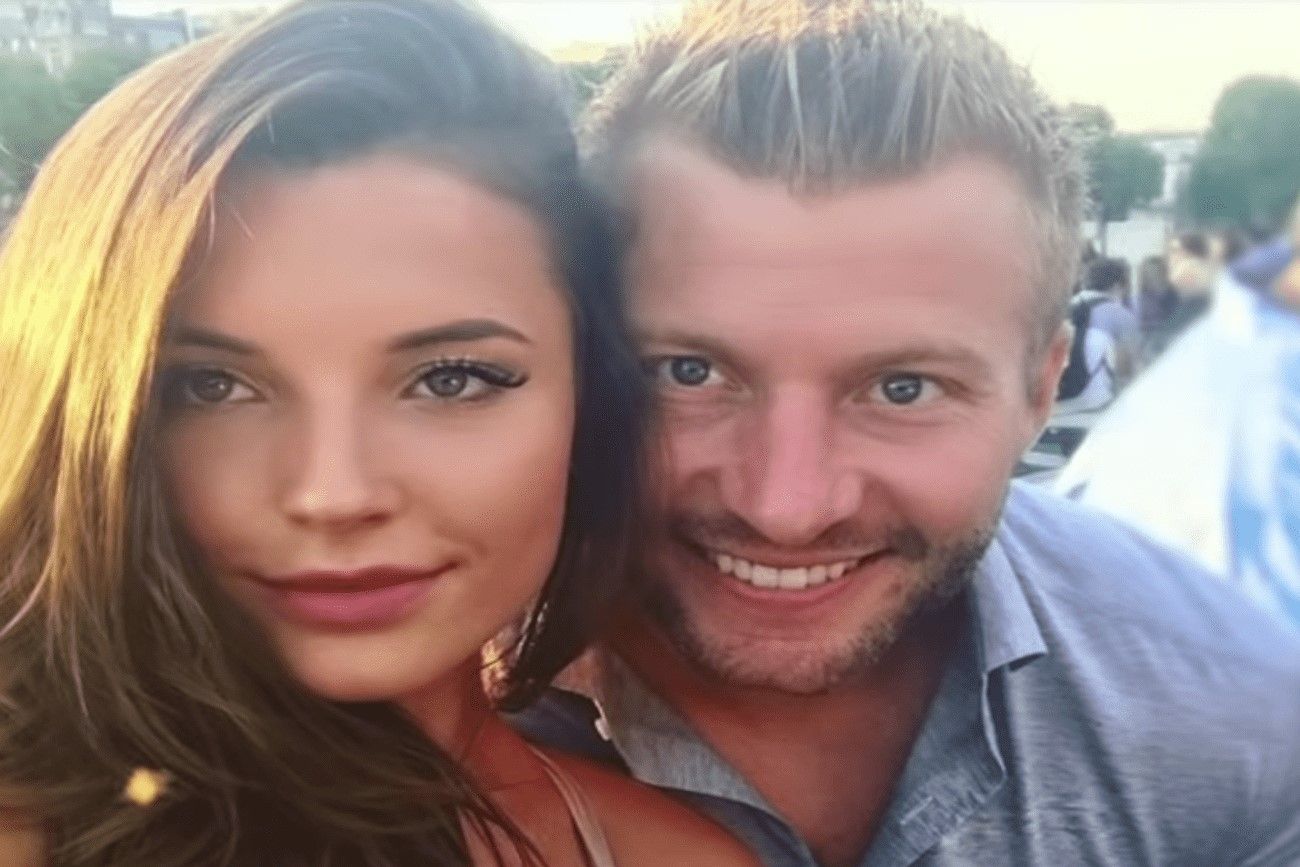 @Who is Veronika Khomyn: Sean McVay Girlfriend/By Krystyna/YouTube.com
Miranda Brooke and AJ Green
Since 2011, AJ Green has been dominating for the Cincinnati Bengals. The wide receiver met singer/actress Miranda Brooke not long before joining his current squad. They bonded quickly, and five years into their romance, the college sweethearts got married in 2015. The fact that John Legend, of all people, sang at their wedding may go unnoticed by casual fans. The couple has two boys as of the year 2020.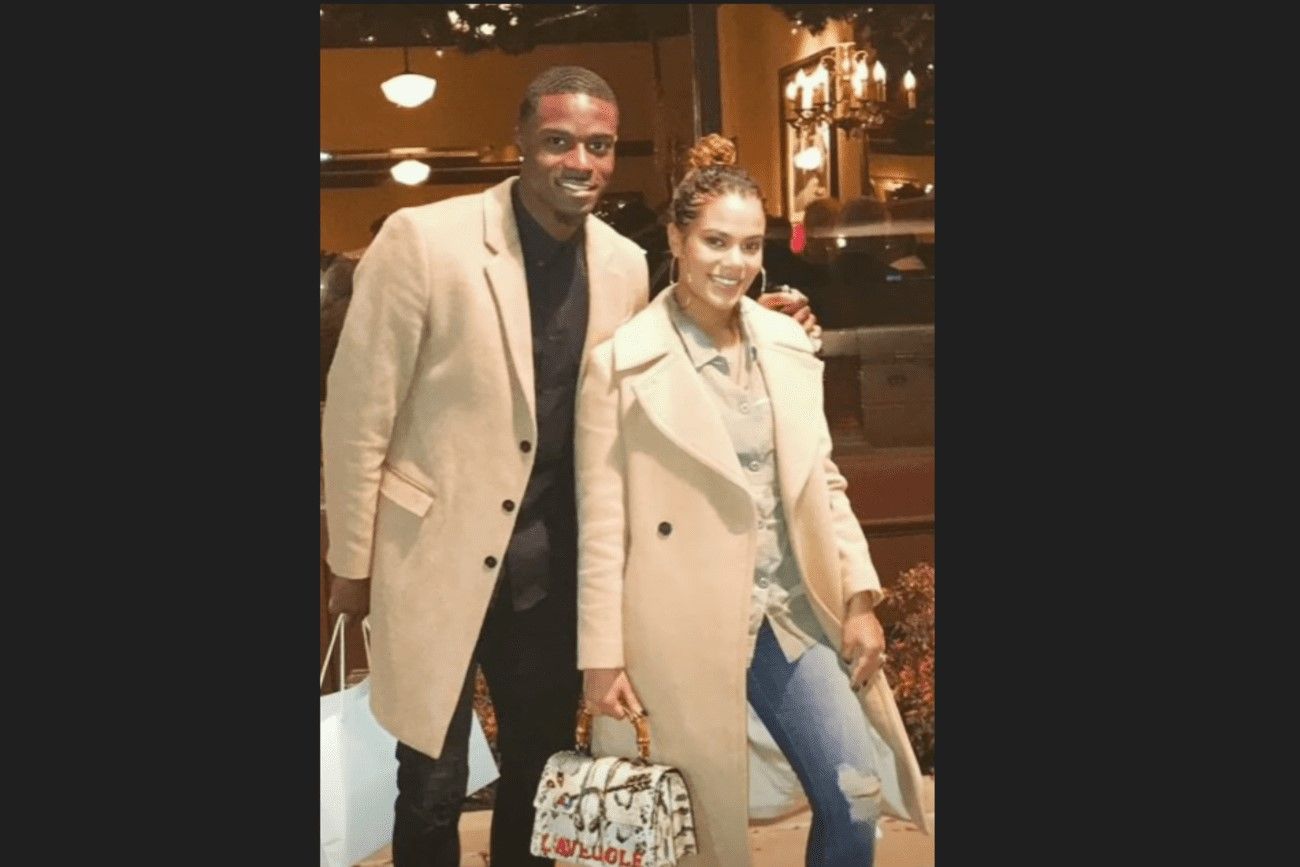 @A J Green and Miranda Brooke Beautiful Moments #Shorts/Celebrity Time/YouTube.com
Anna Burns and Wes Welker
Wes Welker made the smooth transition from playing in the NFL to coaching in it quite quickly. Welker, a former wide receiver for the Patriots and other teams, is presently working with the San Francisco 49ers as their wide receiver coach. Welker wed Anna Burns, the 2005 Miss Hooters Pageant winner, in 2012. Burns, a former swimsuit model as well, notably criticized Ray Lewis following the Patriots' 2013 AFC Championship loss to the Ravens.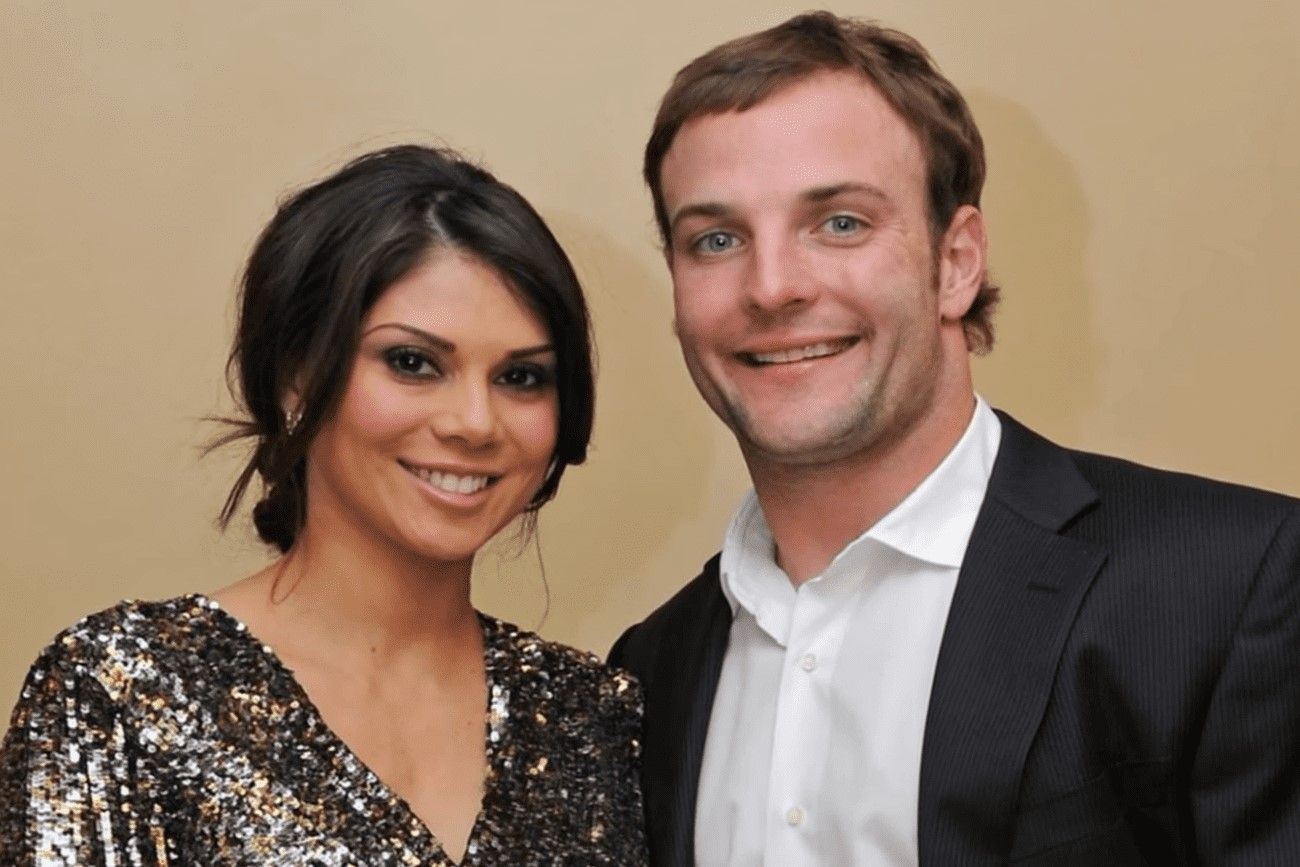 @Top 10 Hottest NFL WAGs 2015/Mr.TOP 10/YouTube.com
Kara Olsen and Greg Olsen
Greg Olsen, a tight end with the Carolina Panthers, has a lot to be proud of outside of his professional career. Greg married Kara, his longtime love, more over ten years ago, when she was a freshman at the University of Miami. The couple has since given birth to three children, including two twins. T.J., one of the twins, has hypoplastic left heart syndrome. Greg and Kara are putting in a lot of effort to support their son during the entire process.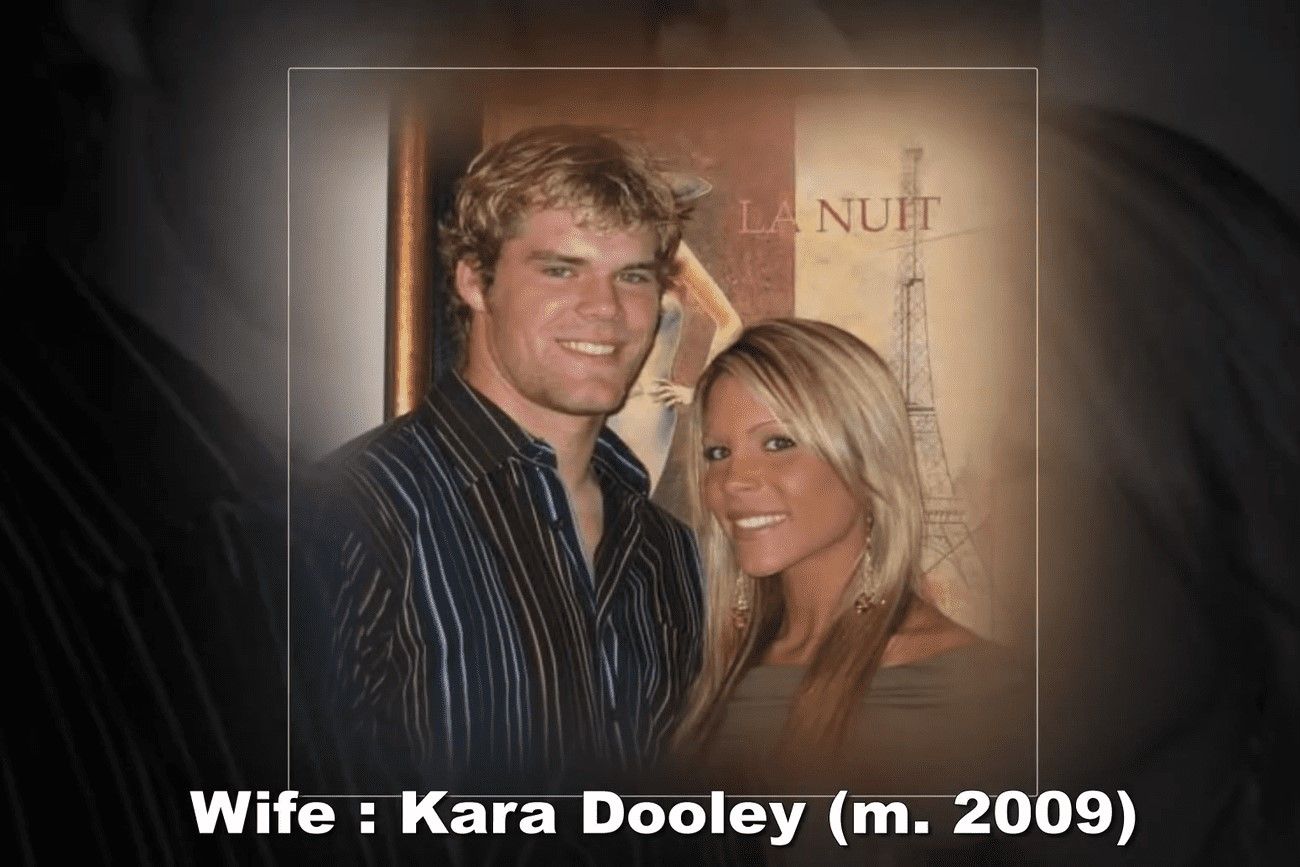 @Greg Olsen Family With Daughter,Son and Wife Kara Dooley 2020/Celebrity Nation/YouTube.com
Ashley Moss and Richard Sherman
Richard Sherman is happy to represent the San Francisco 49ers since 2018, and at the same time, his love life also seemed to be heading in the right direction. The cornerback and Ashley Moss have been together for a while; their two children were born in 2015 and 2016, respectively. The couple then exchanged vows in the spring of 2018. They had already been "a thing" for five years when Sherman shared a picture of the two of them on Instagram.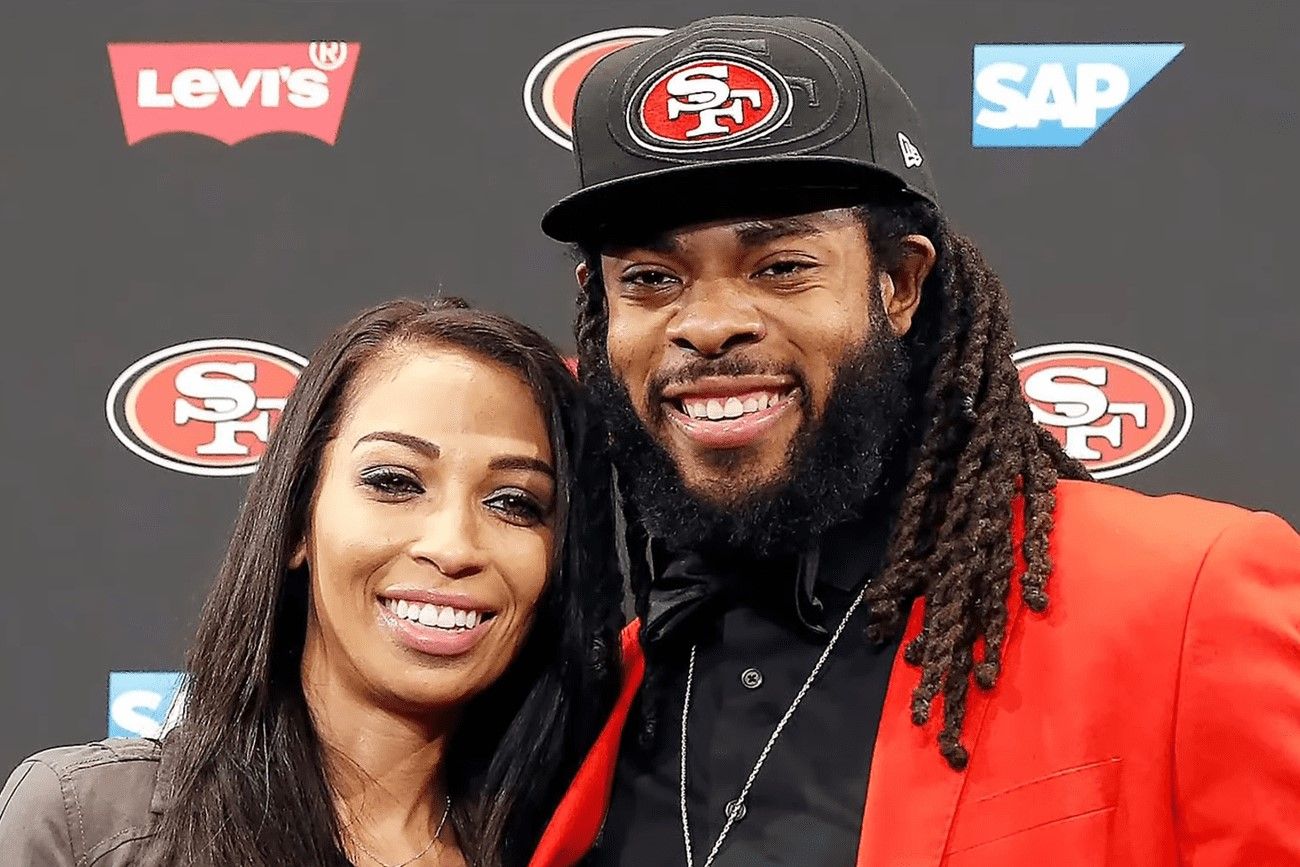 @Richard Sherman Family With Daughter,Son and Wife Ashley Moss 2020/Celebrity Nation/YouTube.com
Claire Marino and Dan Marino
Dan Marino joined the Dolphins as one of the most eligible bachelors, but in 1985, he wed Claire, the love of his life. The Marinos established The Dan Marino Foundation in 1992 with the goal of providing special-needs kids with opportunities for independence. The charity provides funding for autistic children's initiatives, therapies, and research. Since its inception, it has assisted hundreds of thousands of families and raised over 22 million dollars.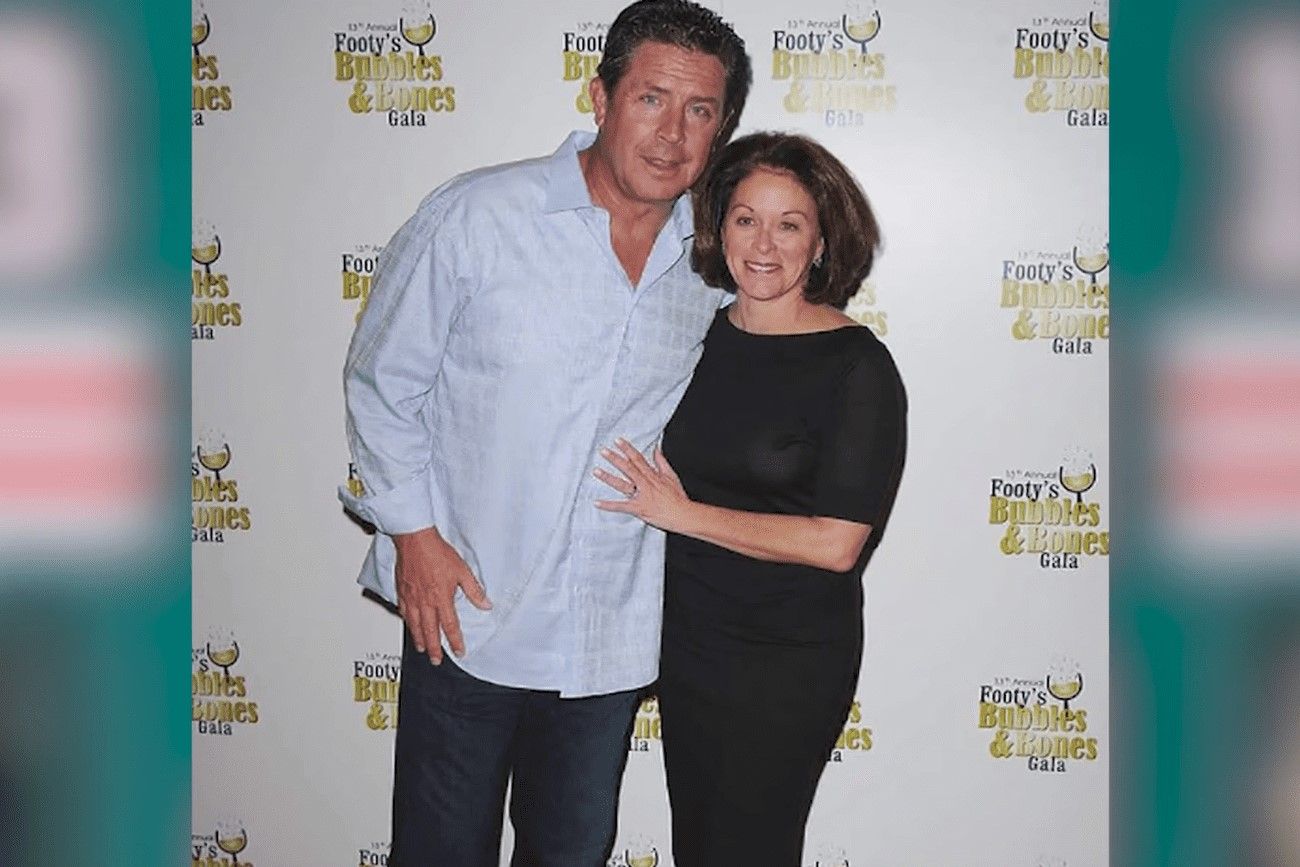 @How Dan Marino almost went broke because of a scandal involving a woman and Tupac?/ Football Money/YouTube.com
Abby Manning and Eli Manning
Eli Manning of the New York Giants wed Abby McGrew in 2008 after first meeting the Nashville, Tennessee native at Ole Miss in 2002. One of Manning's two brothers, Peyton Manning, will go into the Hall of Fame. In addition, their father, Archie Manning, was an NFL quarterback as well. Eli noted that there are now six ladies around him, adding, "My wife has two sisters, then her mom comes, and it's six on one."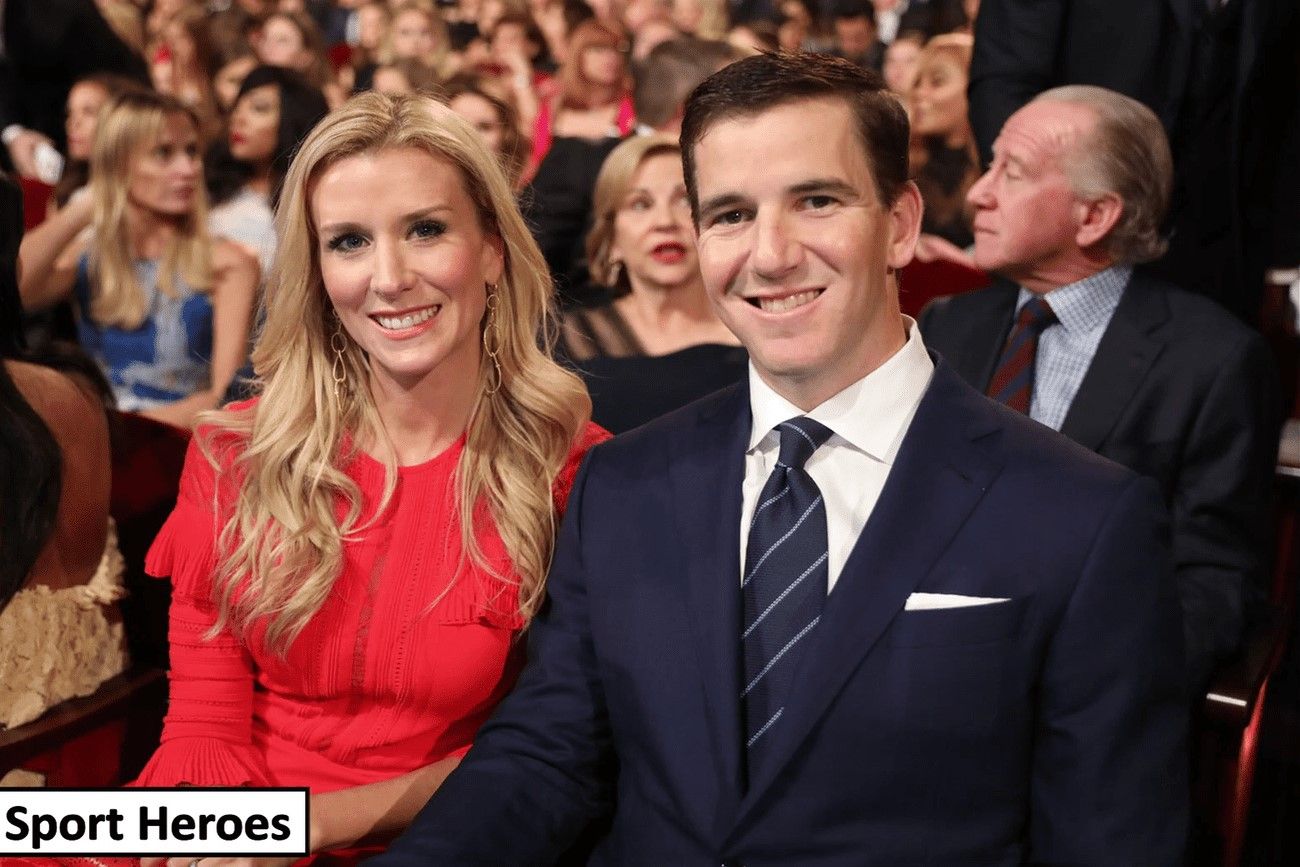 @Eli Manning's Amazing Wife Abby Mcgrew (2018)/ Sport Heroes/YouTube.com
Ashli Dotson and Mike Evans
Stunning Ashli Dotson wed wide receiver Mike Evans of the Buccaneers in 2016, the same year their first kid was born. Evans rarely discusses his personal life, but his on-field success speaks for itself. The only sorrow in his life seems to be how poorly his team is performing, despite the fact that he is obviously an amazing talent who was similarly successful in finding a match. Perhaps the following season will mark Evans and the Buccaneers' big break.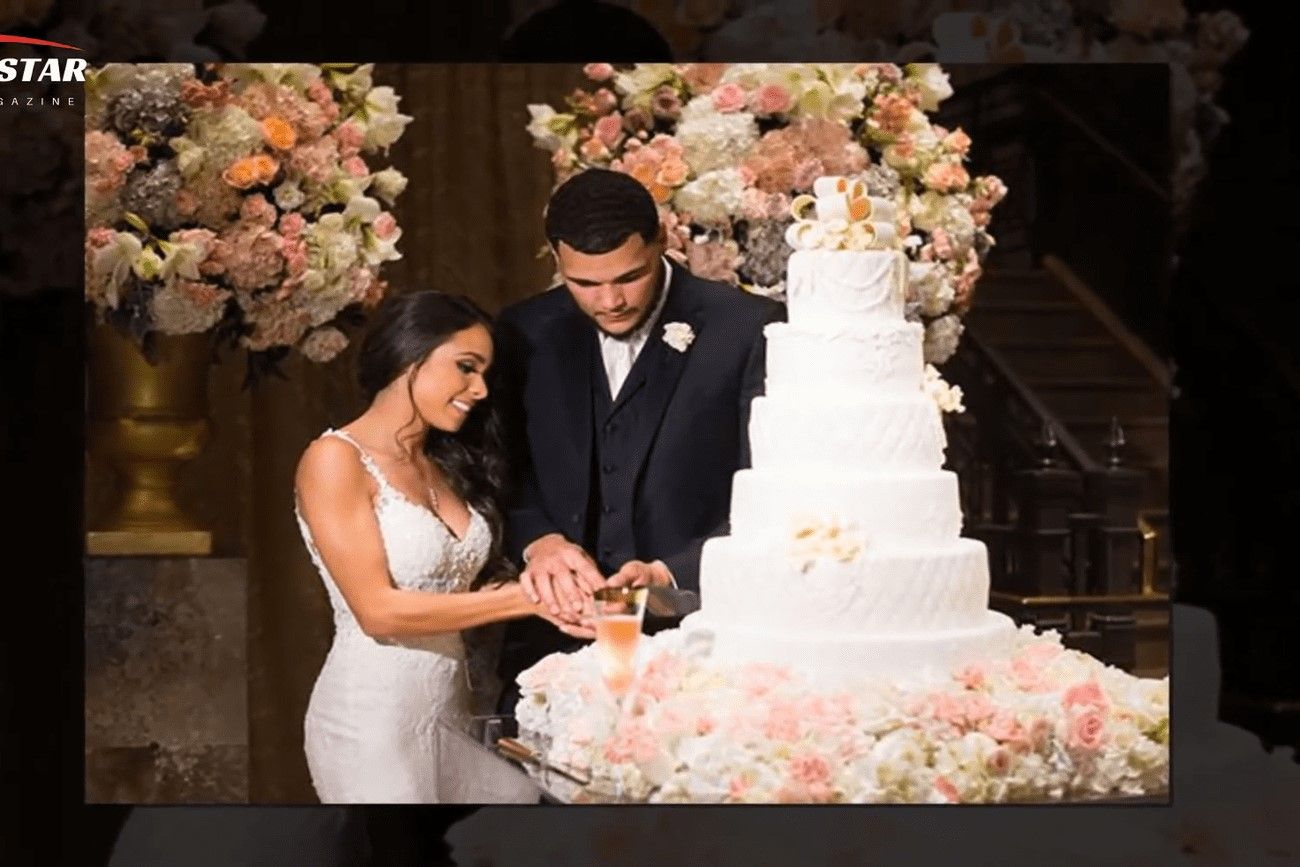 @Mike Evans Family Video With Wife Ashli Dotson/Agent Of Star/YouTube.com
Brittany Brees and Drew Brees
Drew Brees, the quarterback for the New Orleans Saints, and Brittany Brees met while they were both students at Purdue University in Indiana. While it was love at first sight for Drew, it was less than ideal for Brittany. Although Drew "bombed" their first date, he succeeded in winning Brittany's heart a few months later. The pair wed in 2003 and has four kids collectively. Brittany is gifted in many areas and currently devotes all of her time to the Brees' Dream Foundation.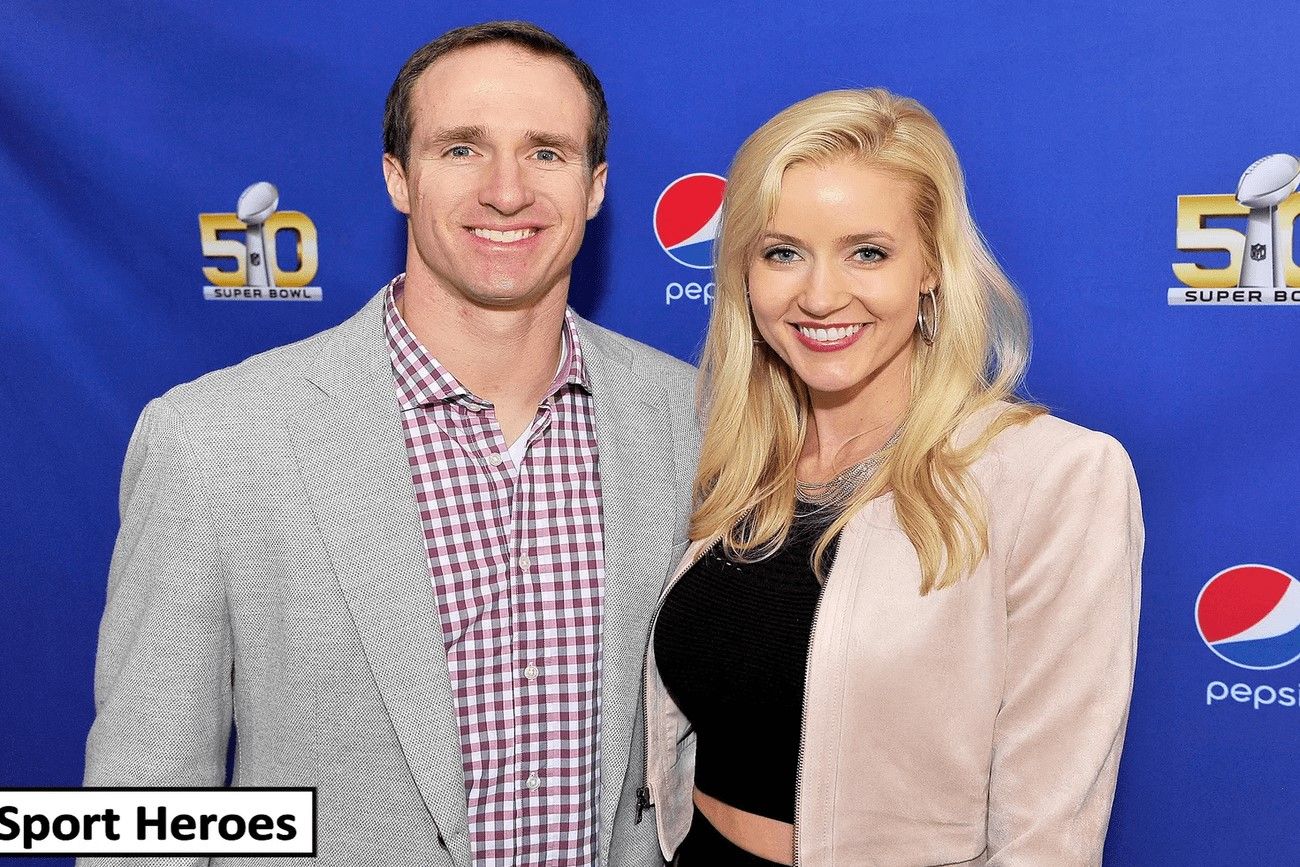 @Life Story of Drew Brees's Amazing Wife Brittany Brees/Sport Heroes/YouTube.com
Emily Nixon and Taysom Hill
Emily Nixon Hill was born and raised in College Station, Texas. She attended Brigham Young University, where she also met Taysom Hill, the love of her life. His career has progressed greatly as a result of Emily. Hill has played in four offensive skill positions, on both sides of the ball, and is listed as the Saints' backup quarterback on their depth chart. Being one of the NFL's most adaptable athletes has earned him the moniker "the human Swiss Army knife"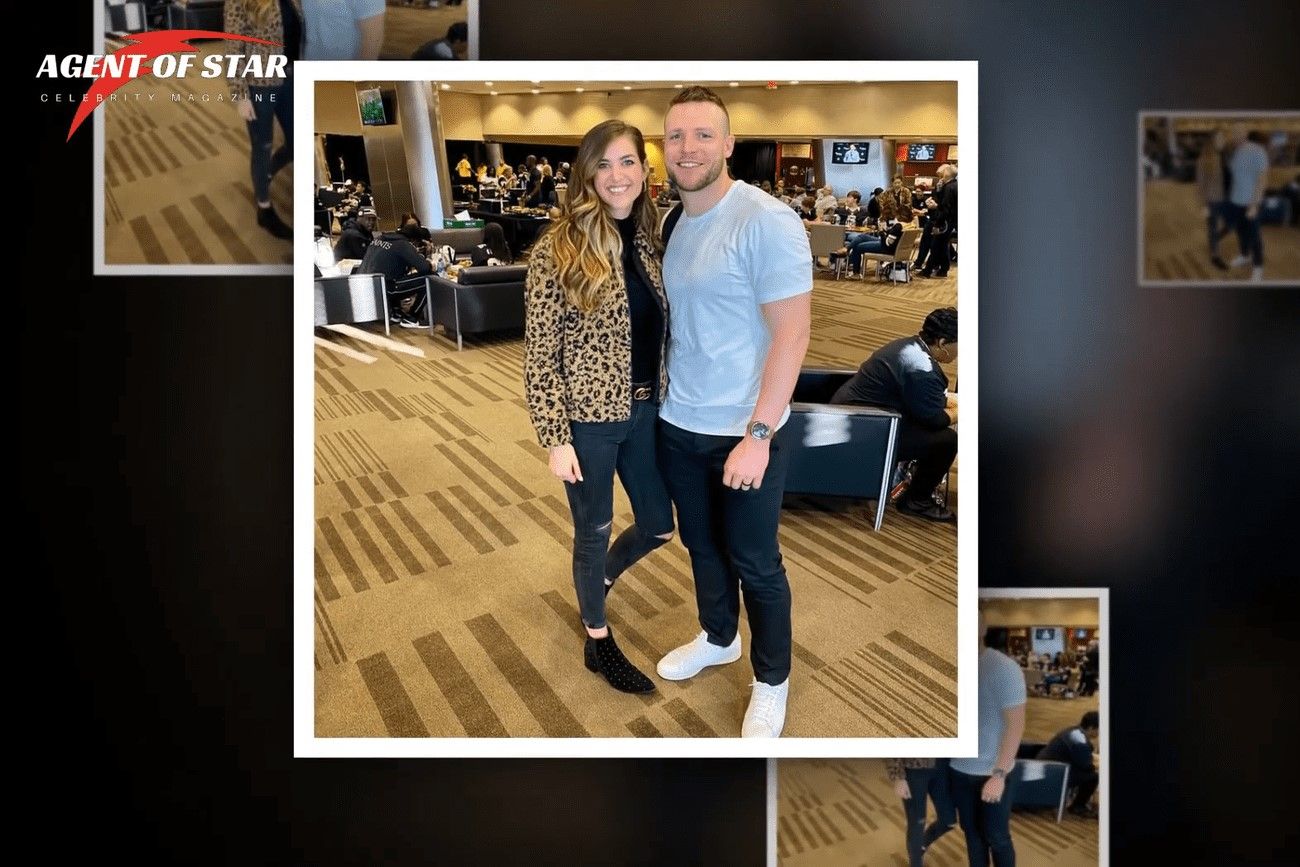 @Taysom Hill Family Video With Wife Emily Nixon/Agent Of Star/YouTube.com
Taylin Gallacher and Taylor Lewan
Nashville Titans In a ceremony in Big Sur, California, Taylor Lewan wed Taylin Gallacher, his longtime girlfriend. Naturally, his football team was present to share in his joy. The couple's daughter Wynne Rebel was born before they were married. Lewan joined the Titans in 2014 after being selected in the draft. He plays the offensive tackle position and is regarded as one of his team's best tacklers.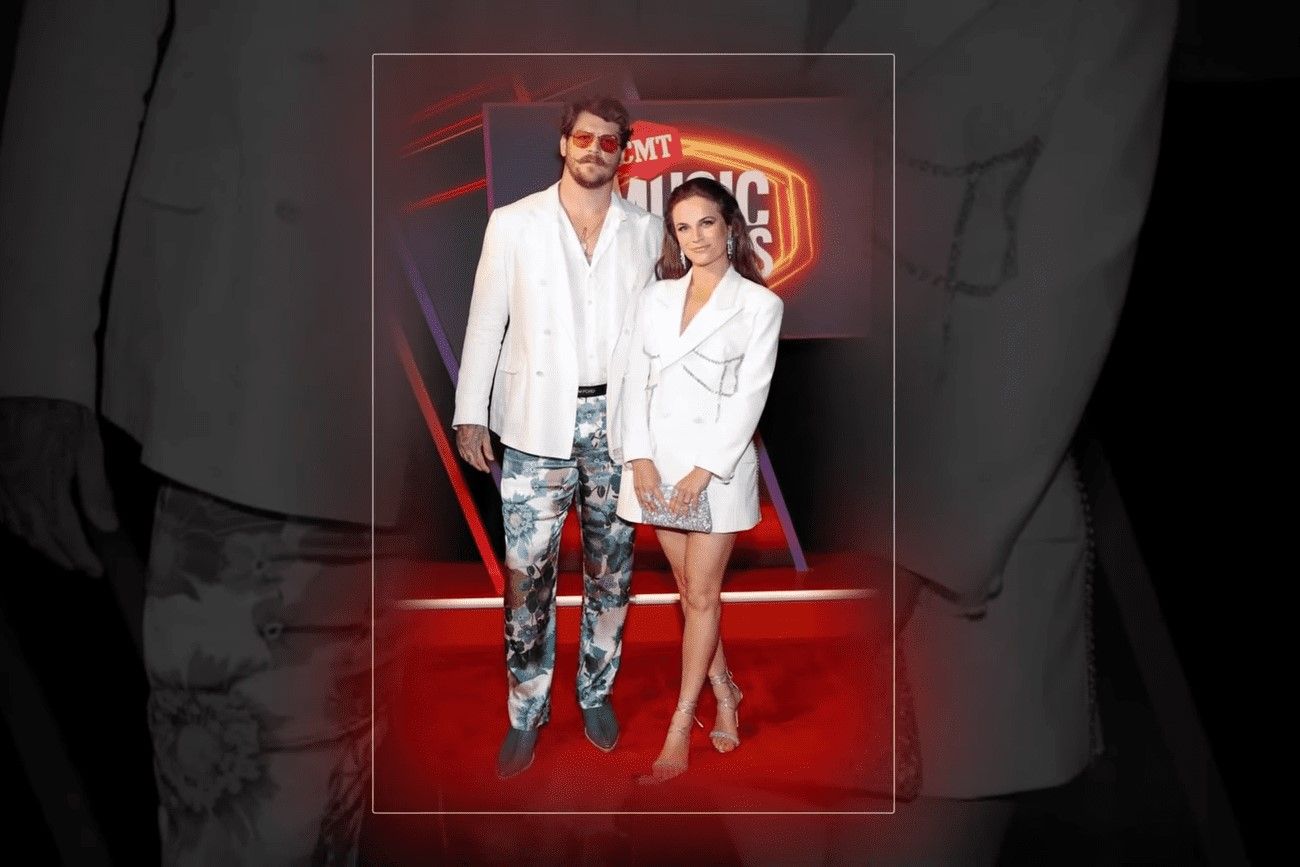 @Taylor Lewan Family With Wife Taylin Gallacher 2023/Celebrity Nation/YouTube.com
Claire Till and George Kittle
In 2017, the San Francisco 49ers selected George Kittle, who has since established himself as one of the league's top tight ends. He got married to his longtime love, Claire, and is succeeding on and off the field. Claire, like her husband George, attended the University of Iowa, and also participated in college athletics. She played for the women's basketball team for the Hawkeyes. The couple regularly posts photos of one another on social media to express their love for one another.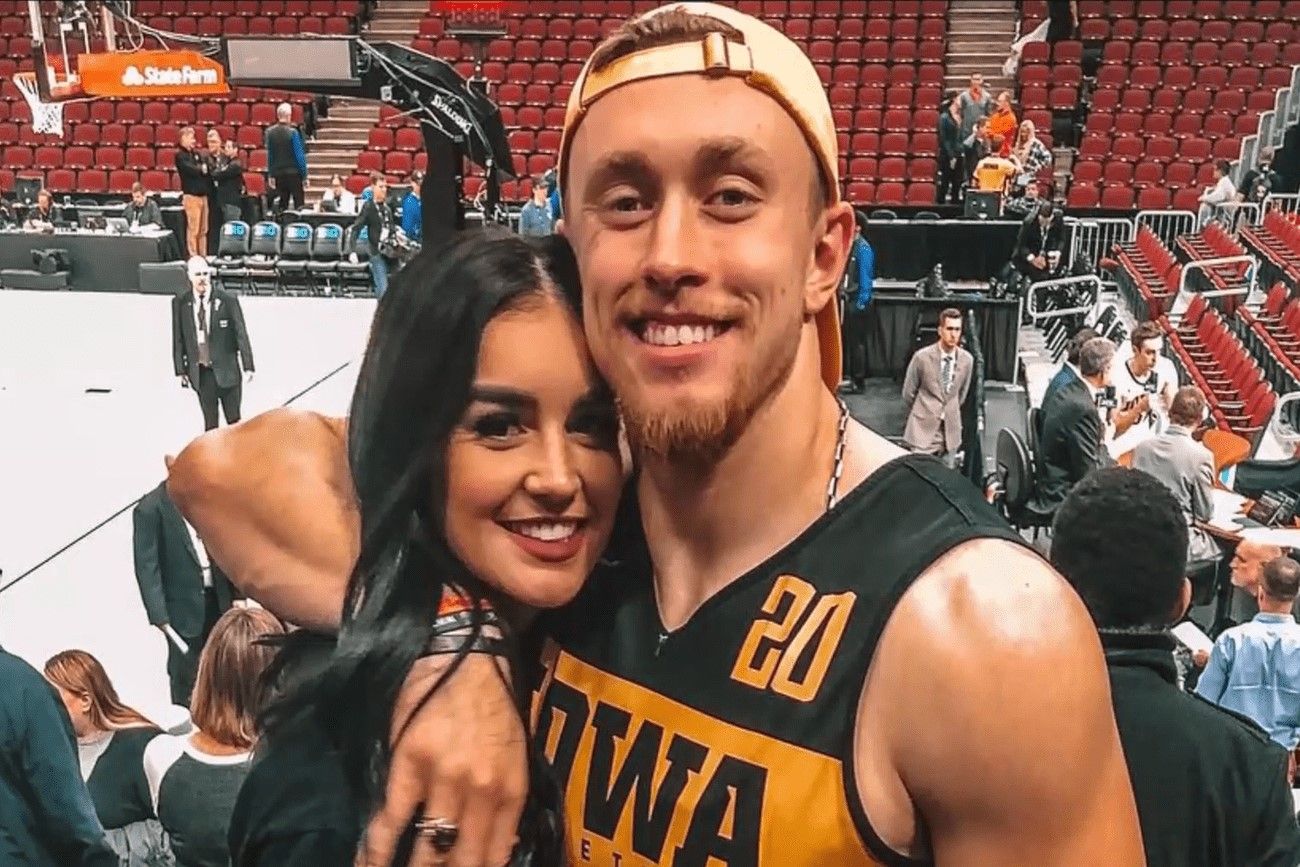 @George Kittle Family With Parents and Wife Claire Till 2020/ Celebrity Nation/YouTube.com
Devon Mostert and Raheem Mostert
Raheem has acknowledged that Devon has been his biggest supporter over the years and that without her, he would have long since given up playing sports. It should come as no surprise that the couple fell in love through their mutual passion of athletics since Devon was a standout soccer player in school. In 2012, they started dating, and in 2017, they got married. In 2019, they gave birth to a son they called Gunnar Grey.
@Raheem Mostert Family Video With Wife Devon Mostert/Celebrity Time/YouTube.com
Tori Moore and Nick Foles
Nick Foles and Tori Moore met while they were both students at the University of Arizona. Tori played volleyball, and Foles played football, as you've probably already surmised. For the couple, it was 'love at first sight'. Nick felt Tori could be the most beautiful person he had ever seen when he first laid eyes on her. The couple developed a deep friendship before they began dating. The couple welcomed their first child in June 2017.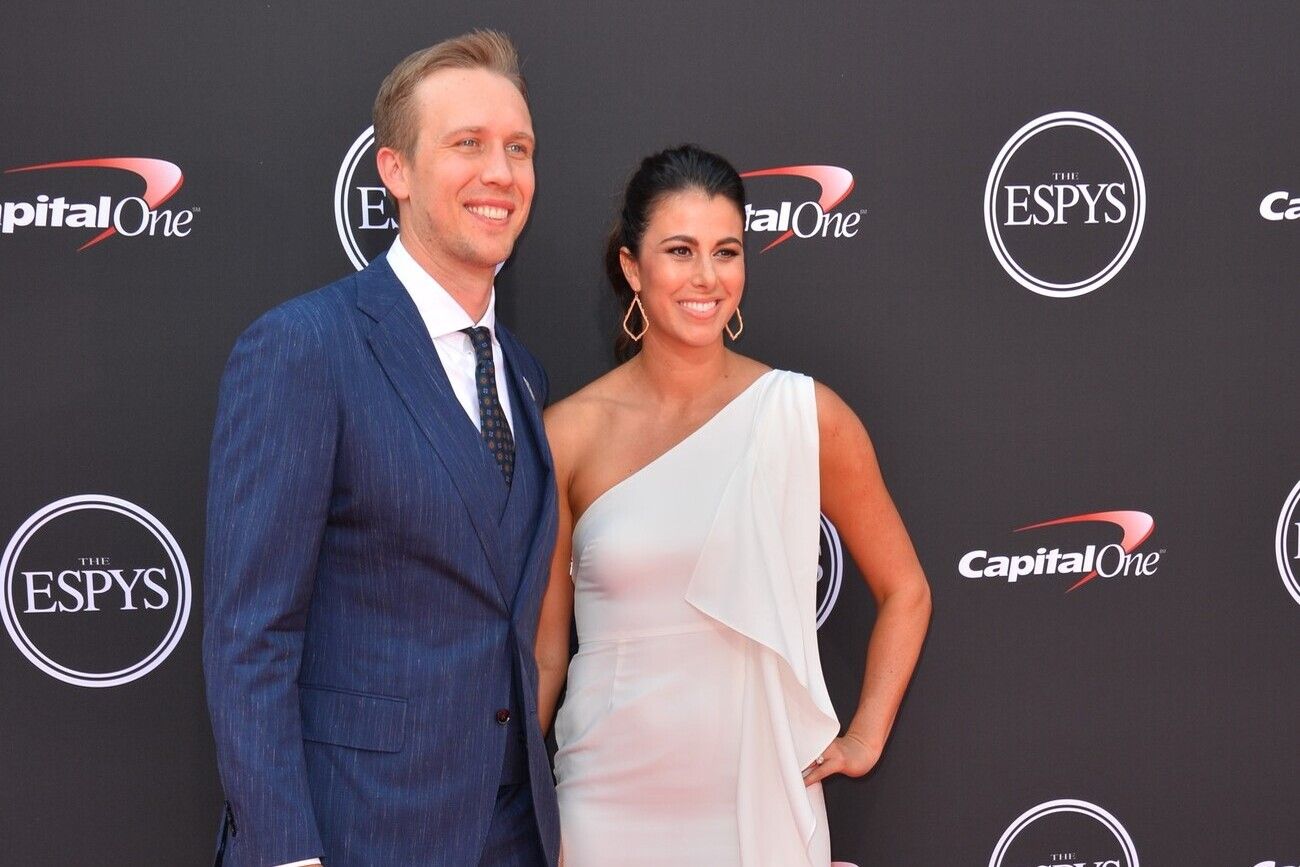 Julie Hampton and Kirk Cousins
Kirk Cousins, the quarterback for the Minnesota Vikings, started out with the Washington Redskins. Through a common friend, Cousins and his wife Julie Hampton connected in 2013, and after dating for 1.5 years, they were engaged. Julie believed they were taking a tour of the Capitol when Kirk got down on one knee and proposed to her there. After graduating from the University of Georgia, Hampton worked as an elementary school teacher.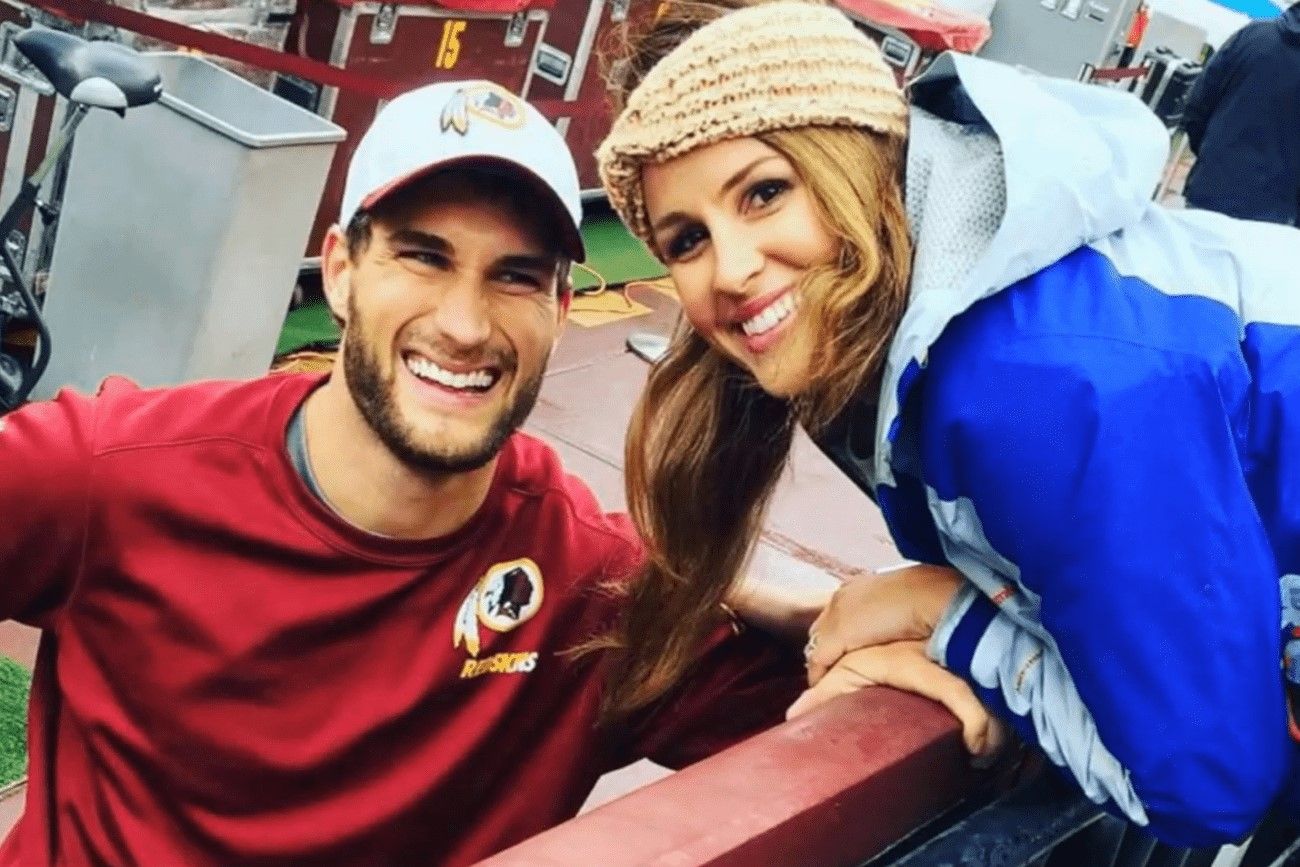 @Kirk Cousins Family Video With Wife Julie Hampton and Son/Celebrity Time/YouTube.com
Tiffany Rivers and Philip Rivers
Tiffany was raised in Alabama after being born in Alaska, where she also met Philip, her future husband. They started dating when they were in middle school and continued until their adolescence. Philip sought Tiffany's parents for their blessing before popping the question, as well as his coach. Nine children total were born to Tiffany and Philip; the couple's first kid was born while they were both still in college. The moment Philip became a father, according to his star quarterback's coach, he greatly matured.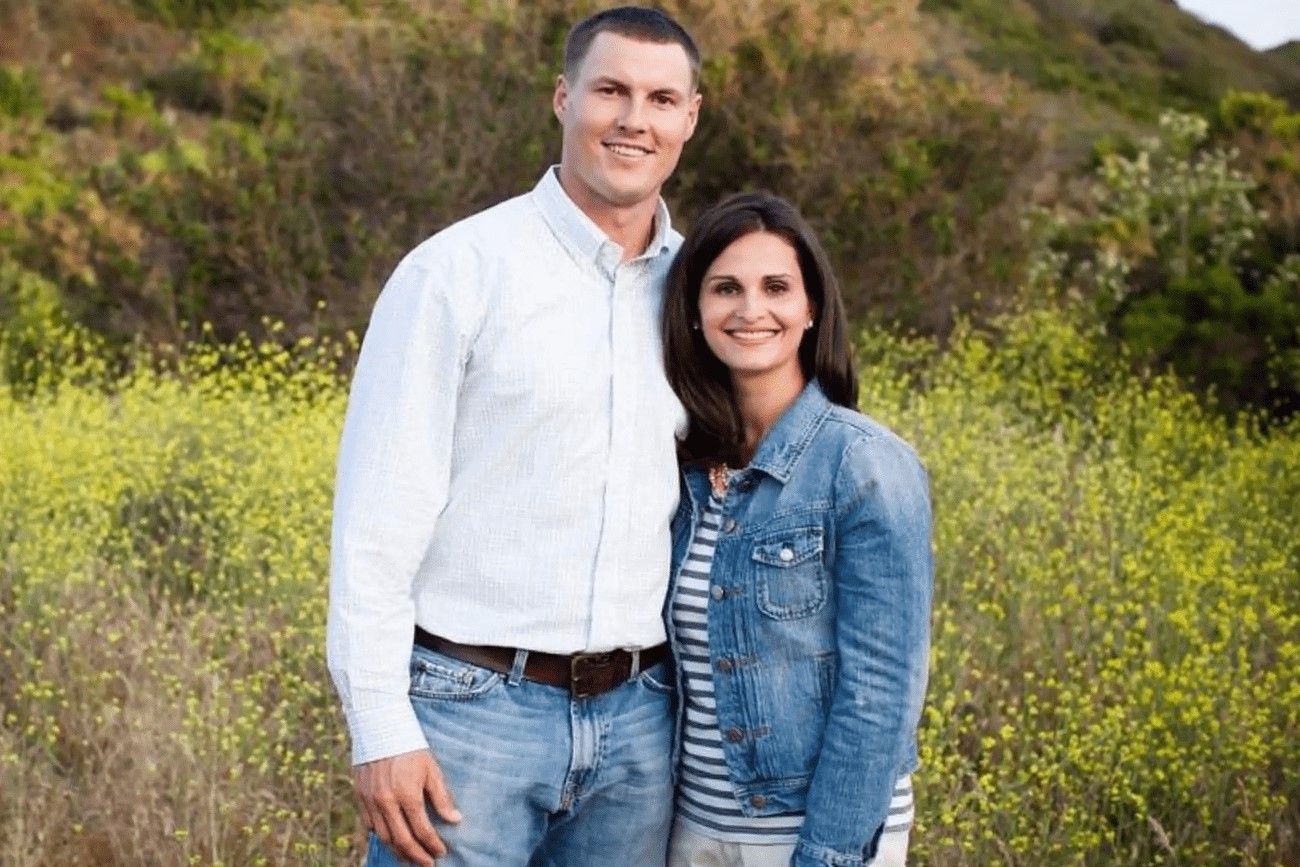 @Philip Rivers Family Photos With Daughter,Son and Wife Tiffany Rivers 2019/ ToptenCelibs/YouTube.com
Kayla Phillips (ex-girlfriend) and DeSean Jackson
DeSean Jackson, a player for the Philadelphia Eagles, dated Kayla Phillips for a while. The model is popular in social networks, in particular on Instagram. The couple met on the Internet.
However, recently it became known that the couple is no longer together.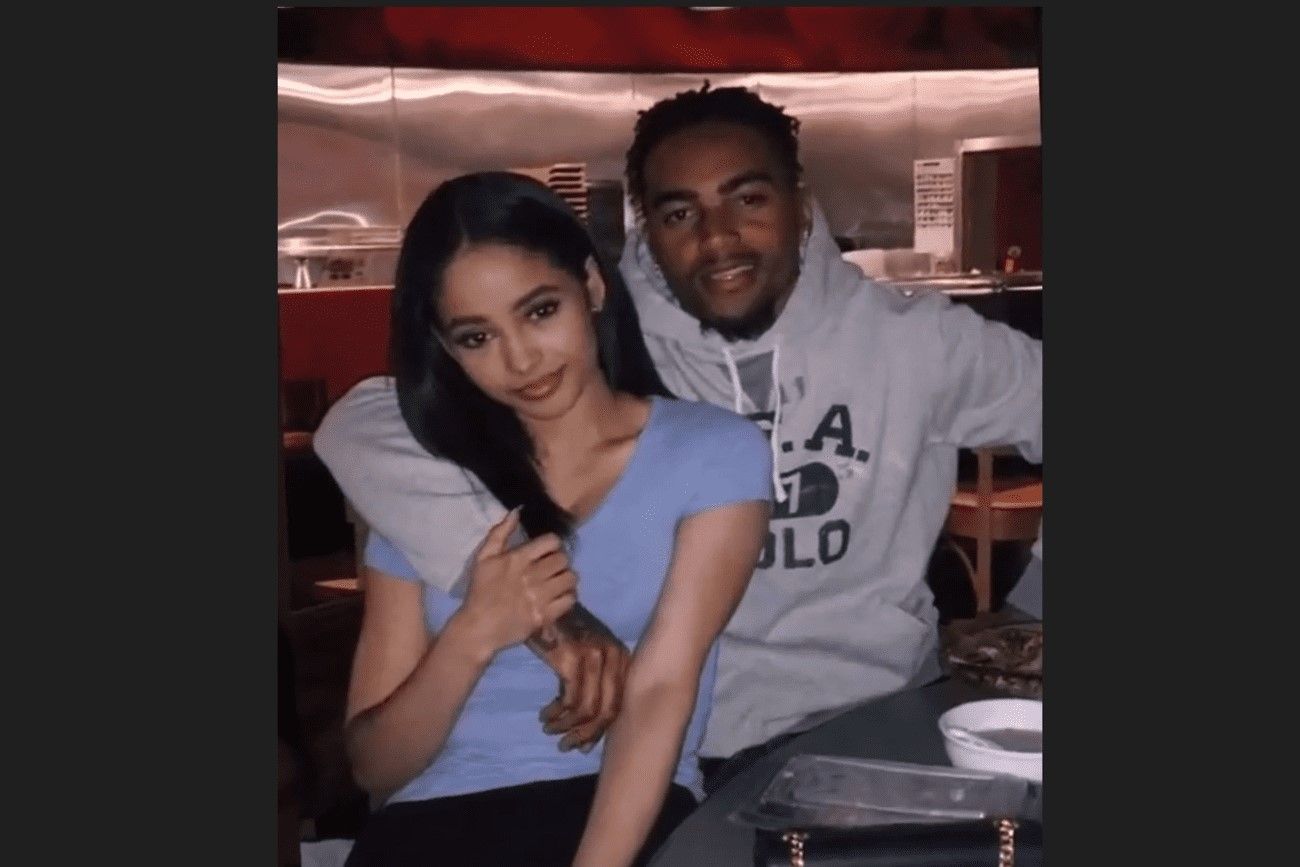 @DeSean Jackson Family With Son and Girlfriend Kayla Phillips 2020/Celebrity Nation/YouTube.com
Christen Harper and Jared Goff
Before they made their relationship official, Christen Harper and Los Angeles Rams quarterback Jared Goff were linked for months. However, neither Jared nor Christen will address the reports that their relationship began during the 2018–19 NFL season. The two were seen out together in March 2019. It makes natural that the couple would base themselves in Los Angeles for the time being as Christen is an aspiring actress.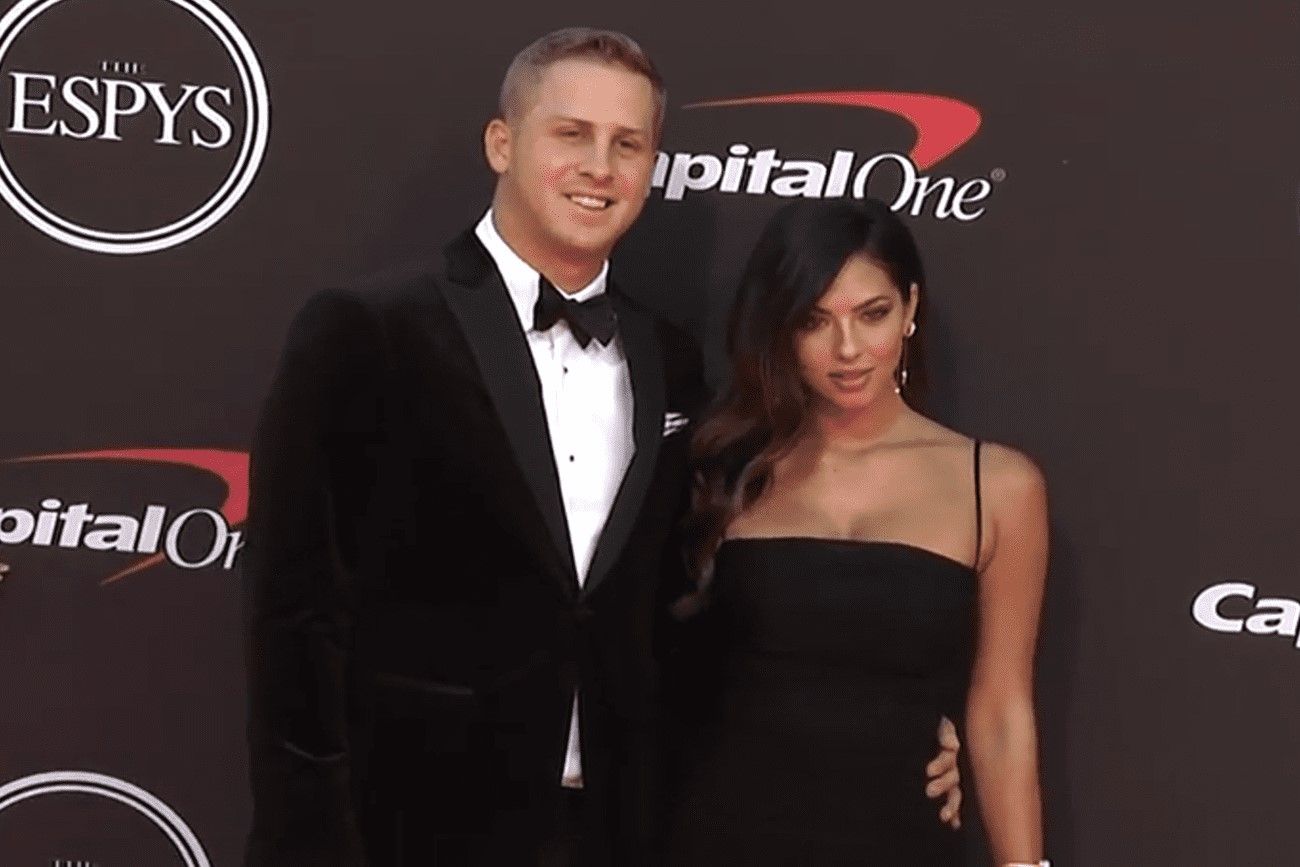 @Jared Goff and Christen Harper attend The 2019 ESPYs Red carpet/ Hot Videos/YouTube.com
Madison Oberg and Carson Wentz
When Philadelphia won its first Super Bowl, Carson Wentz, the Eagles' starting quarterback, was absent from the game. Wentz announced his engagement to his girlfriend Madison Oberg a few days after the team's victory. In 2018, the couple was hitched in Bucks County. From their engagement to their marriage, the couple has used social media to update their followers on their life. They just announced their first child, a daughter, was on the way via Instagram.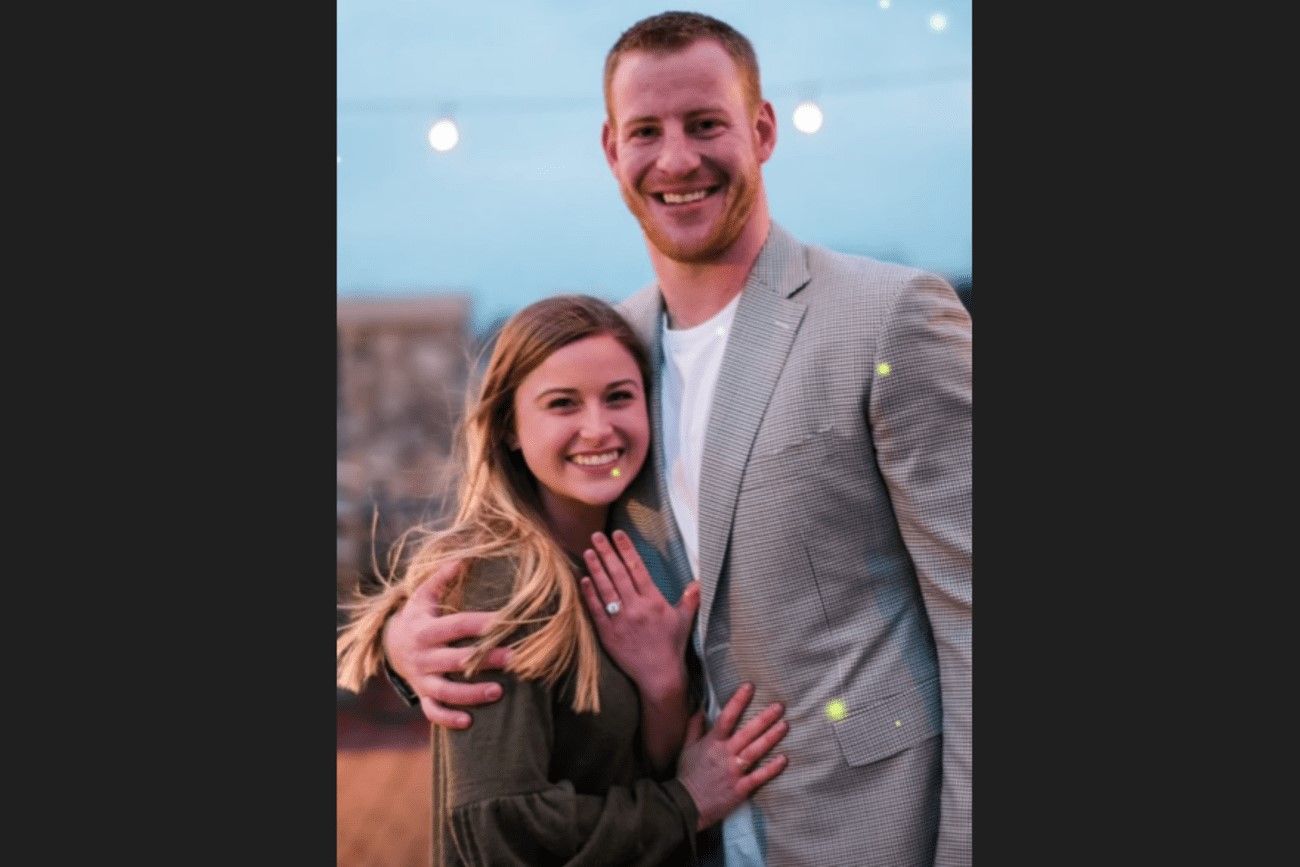 @Carson Wentz With Wife Madison Oberg #shorts/Celebrity Time/YouTube.com
Grace Allen and Ricardo Allen
Falcons of Atlanta free safety Ricardo Allen is succeeding both on and off the field. He first met his wife Grace in 2012, and it appears that common friends first set them up. It's also been said that Grace accidentally called Ricardo "Albert" on their first date! The pair got married three years later, and since then, they've had two kids and are expecting a third!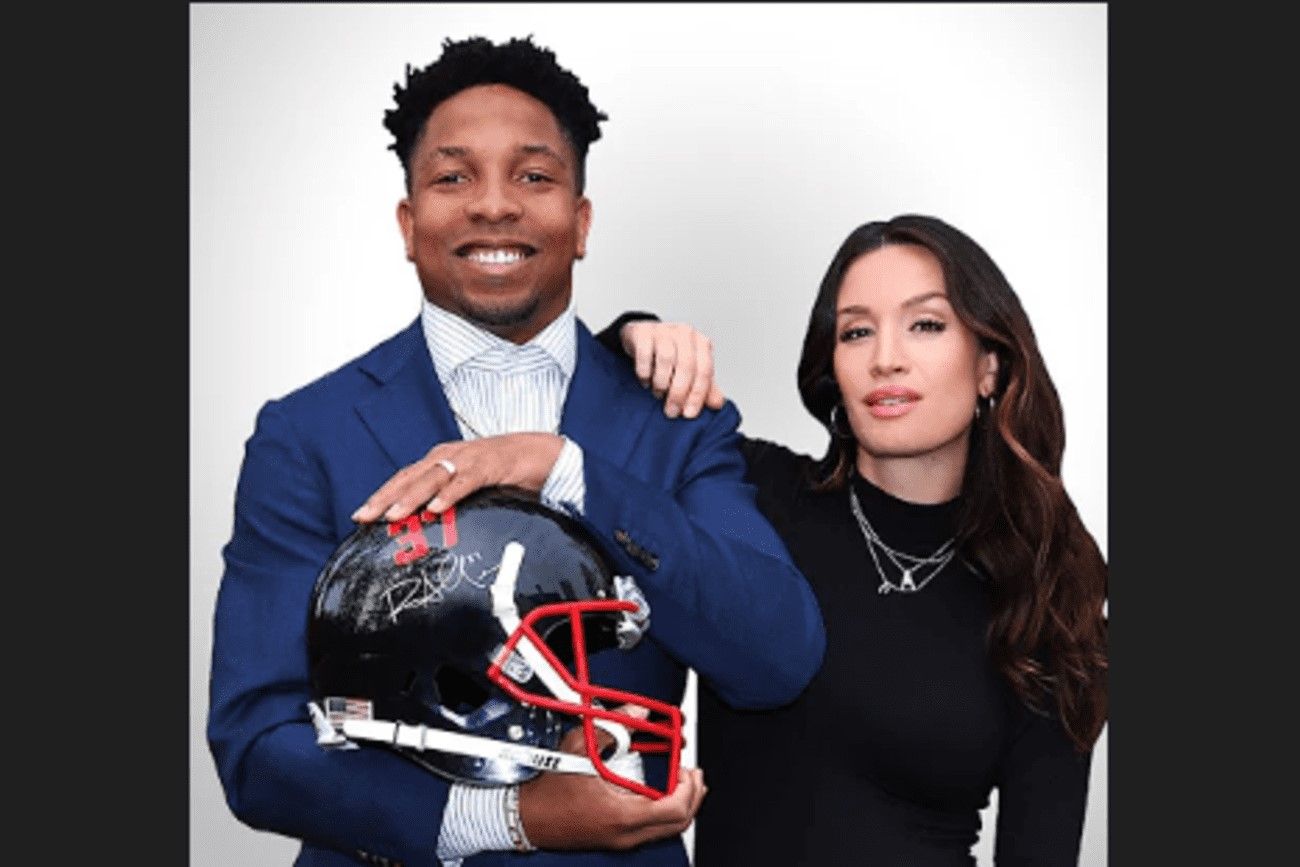 @Ricardo and Grace Allen - A Football Marriage/ Sports Spectrum/YouTube.com
Jessie James Decker and Eric Decker
Jessie James Decker is well-known in the public due to her 2.9 million Instagram followers. They are the delighted parents of Vivianne Rose, Eric, and Forrest Bradley. The reality personality and mother of three is the wife of the former Titans wide receiver, Eric Decker. Jessie, who was born in Italy, went on to become a singer/songwriter, the creator and designer of Kittenish, and the author of the book Just Jessie. This year, she will release a full-length Christmas album.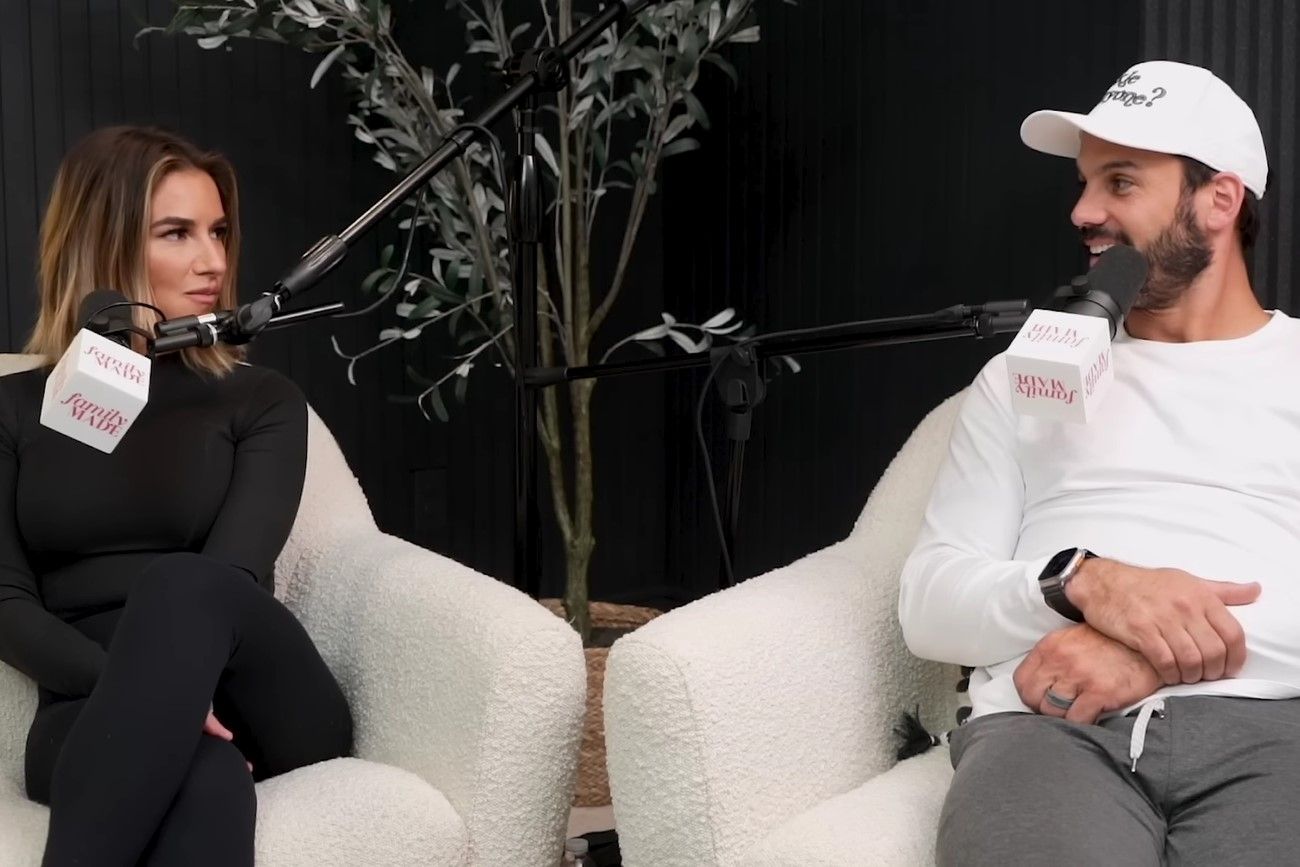 @Jessie James and Eric Deckers First Podcast/FamilyMade Media/YouTube.com
Sasha Gates and Antonio Gates
Despite being married to NFL tight end Antonio Gates since 2011, Sasha Gates also has a job. Sasha, a former model and hip-hop video sensation, now has her own collection of football-themed baby clothing. As the happy couple welcomed their second child, the celebrity wife was being filmed for the American reality show WAGS on the E! network. Ayla, a daughter, and Aven, a son, are the happy children of Sasha and Antonio.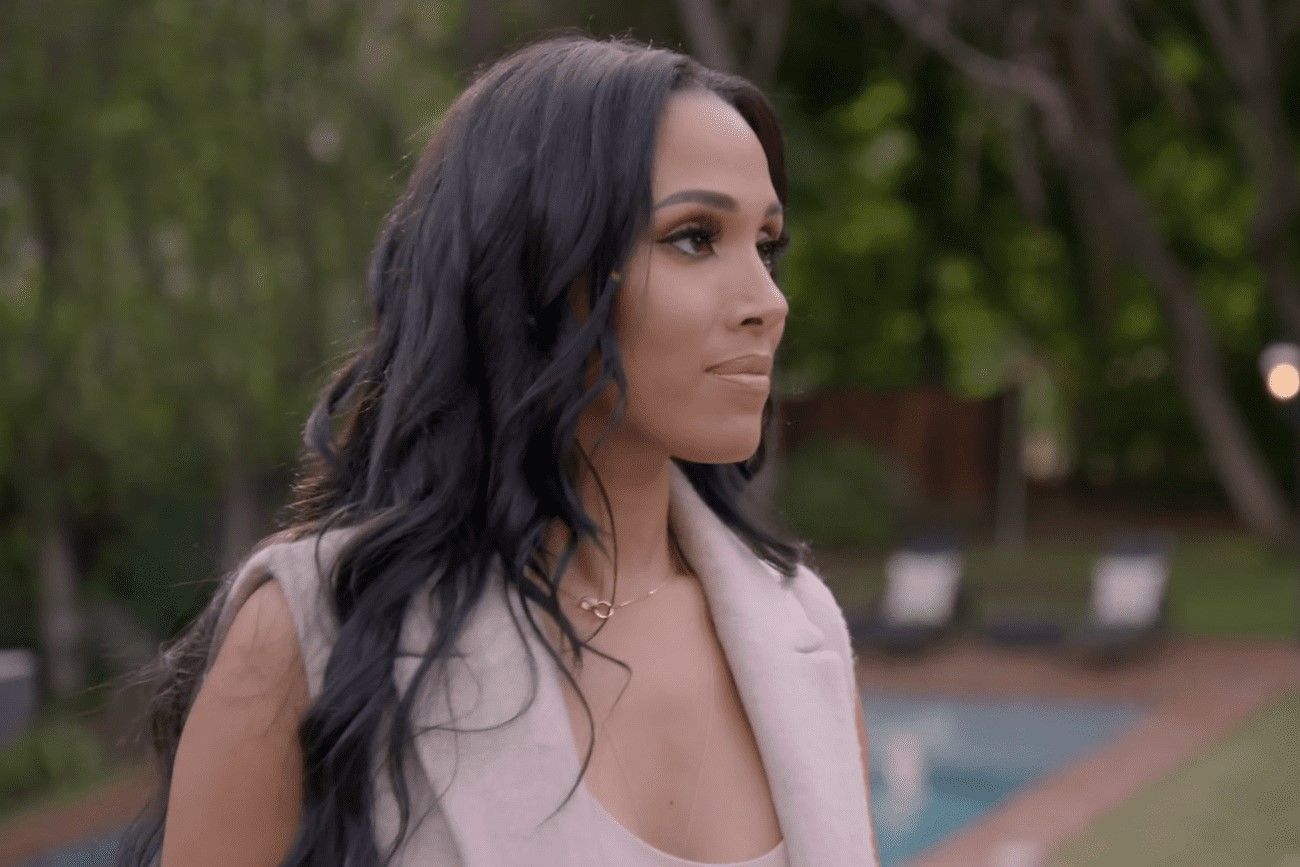 @WAGS LA | Sasha & Antonio Gates Talk Big Move to Los Angeles | E!/ E! Entertainment/YouTube.com
Danica Patrick (ex-girlfriend) and Aaron Rodgers
After breaking up with the beautiful Olivia Mann, few believed that Aaron Rodgers, the defender of the Green Bay Packers, would meet another equally attractive woman. But when he was spotted with racer Danica Patrick, he proved everyone wrong. Not only is she beautiful, but she is the only female IndyCar Series race winner after competing in the Indy Japan 300 in 2008. But in 2020, the athlete again surprised his fans when it became known that he and Danica are no longer together.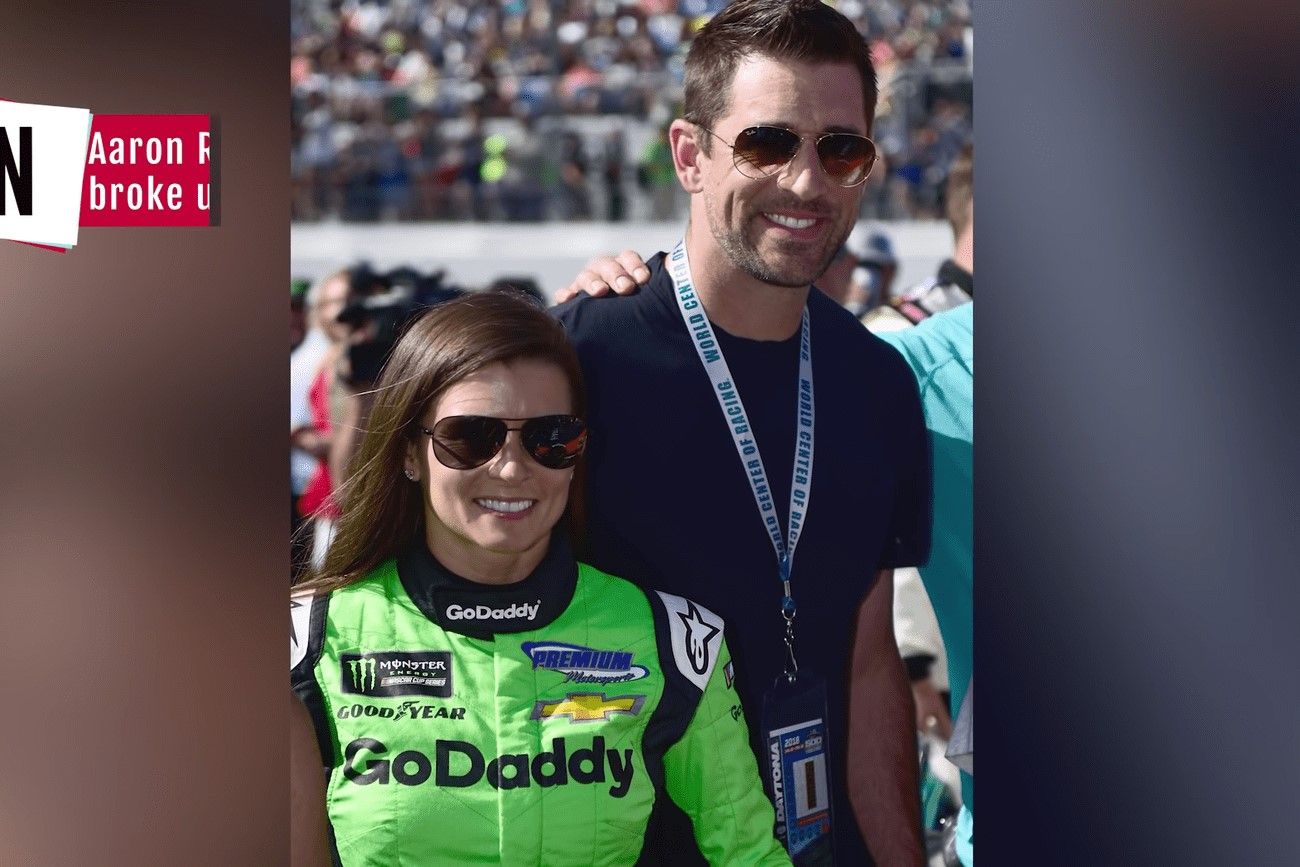 @Aaron Rodgers And Danica Patrick Broke Up And We Think We Know Why/Nicki Swift/YouTube.com
Brittany Matthews and Patrick Mahomes
Brittany Matthews, his high school sweetheart, is Patrick Mahomes' girlfriend. When they were both in high school in Texas, the couple began dating and have been together ever since. Ever since Mahomes joined the Kansas City Chiefs in 2017, Matthews has been his biggest supporter. She tweets about her man's victories live and shares anecdotes about them. Brittany is a sports enthusiast as well as a participant. Since graduating from college, the young woman has started her own fitness business and plays professional soccer in Europe.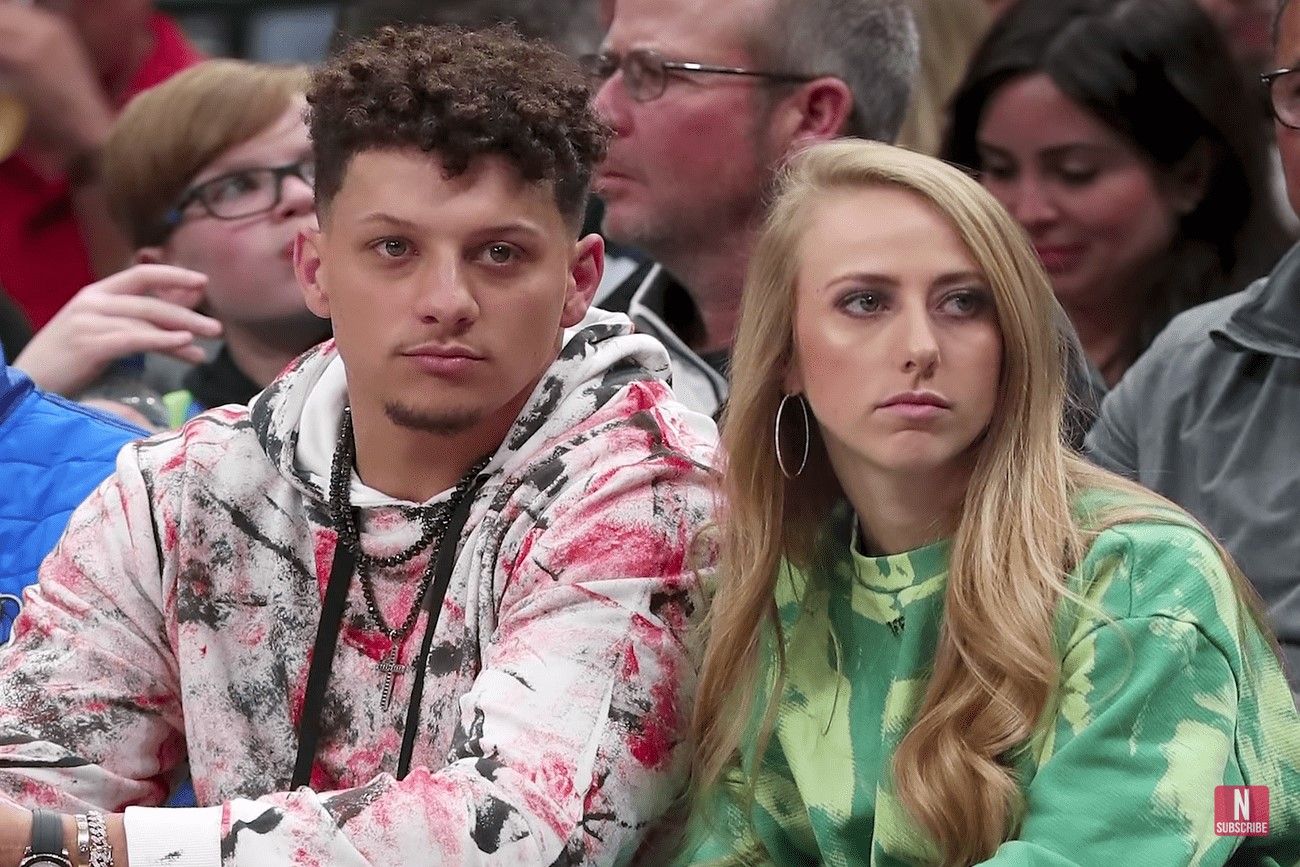 @The Truth About Patrick Mahomes' Relationship With Brittany/Nicki Swift/YouTube.com
Candice Crawford and Tony Romo
Tony Romo has previously dated famous women including singers Jessica Simpson and Carrie Underwood. However, he ultimately got married to former beauty queen Candice Crawford of Dallas. In 2003 and 2005, she was crowned Miss Texas Teen USA. She also won the 2007 Miss Missouri USA title. She is currently employed by a Dallas-area TV station as a sports reporter. Hawkins and Rivers, the couple's two children, were born.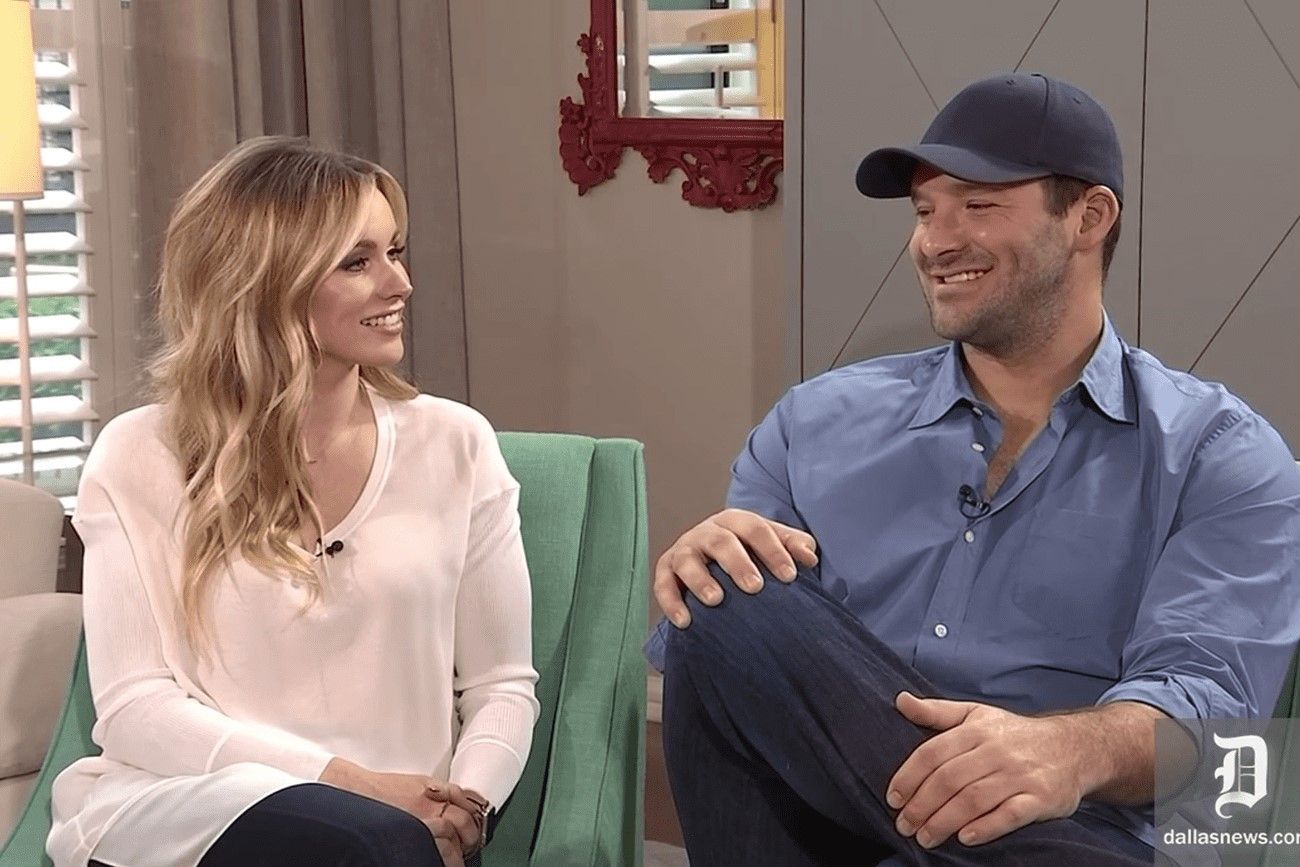 @Tony Romo and Candice Romo discuss how their children are so different/The Dallas Morning News/YouTube.com
Heather Neel and Derek Carr
It turns out that Heather Neel and quarterback Derek Carr were already close friends before they started dating. Neel once said to Carr, "You're not being the person I thought you were," during a time in their acquaintance. This prompted Carr to make changes in his life, and five years later, they were married. Carr has been a member of the Oakland Raiders' roster since 2014, but he has known Neel for a lot longer. The pair were married in 2012 and have three children together.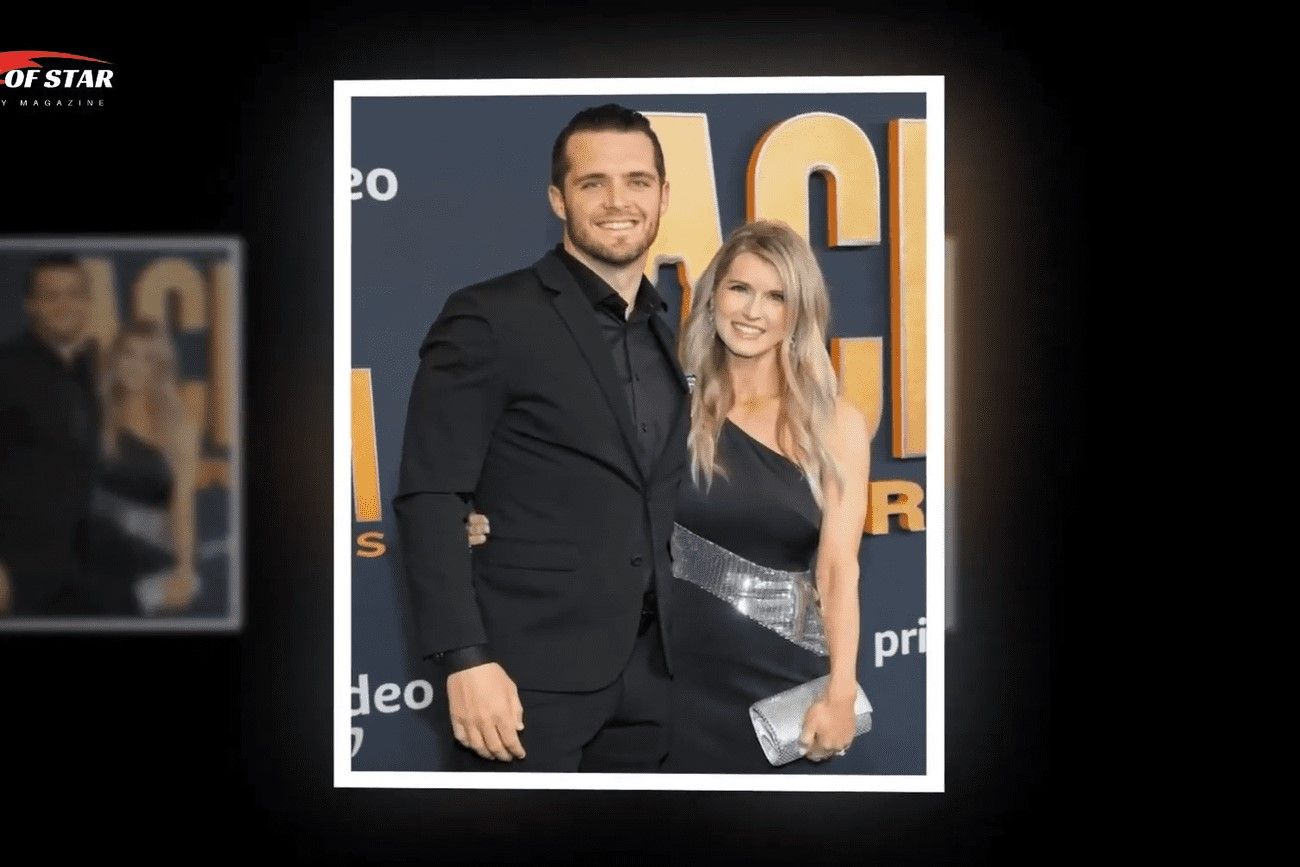 @Derek Carr Family Video With Wife Heather Neel and Children/Agent Of Star/YouTube.com
Elizabeth Barry and Alex Smith
After marrying quarterback Alex Smith of the Washington Redskins, Elizabeth Barry changed her name to Elizabeth Smith in 2009. The couple proposed in 2007 and have been blessed with three children: a daughter called Sloane, a son named Hudson, and a son named Hayes. Smith played for the San Francisco 49ers and the Kansas City Chiefs before joining the Washington Redskins. The pair supported opposing teams while Elizabeth was an Oakland Raiders cheerleader before to becoming Mrs. Smith. However, when it comes to their family, they are the ideal combination.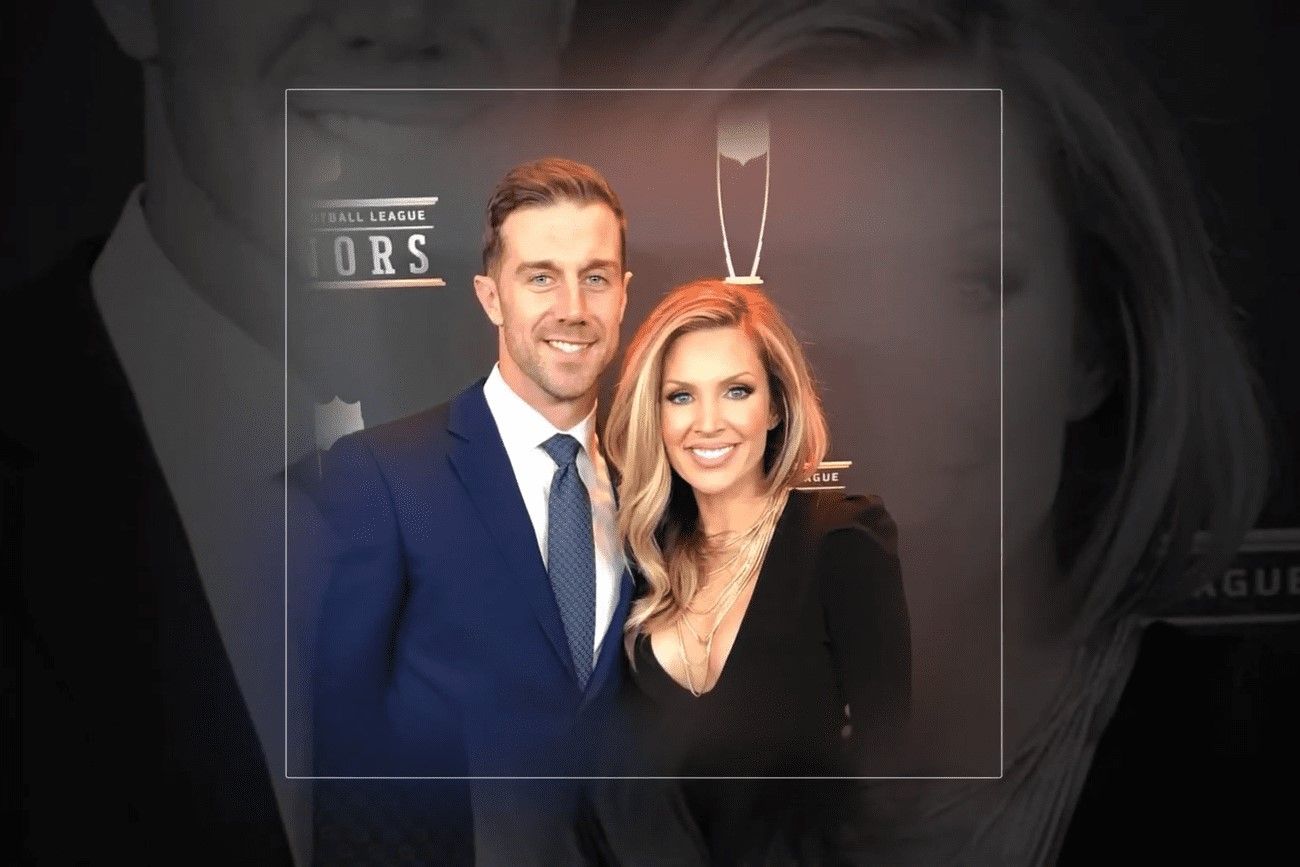 @Alex Smith Family With Daughter,Son and Wife Elizabeth Barry 2020/Celebrity Nation/YouTube.com