LGBTQ+ couples who were once in a relationship and you didn't even know it
20 Jul 2023
We are sure that this article will impress you! After all, if some homosexual couples are well known, then you have probably already forgotten about others. Yes, LGBTQ+ couples who have failed to get married or have a long-term relationship. And believe us, you have never guessed about some.
Amber Heard and Tasya Van Ree
A famous actress, Amber Heard who has been in movies including Aquaman and Pirates of the Caribbean: On Stranger Tides, and a photographer Tasya Van Ree dated for a number of years. In 2012, Tasya Van Ree and Amber Heard called it quits and the details of their breakup were not covered in the media at the time in great depth. The particular reasons for their breakup have not been made public by either person because they are both discreet about their personal lives. By the way, after this relationship, Johnny Depp's lawyer at one of their court hearings accused actress Amber Heard of ill-treatment towards Tasya Van Ree.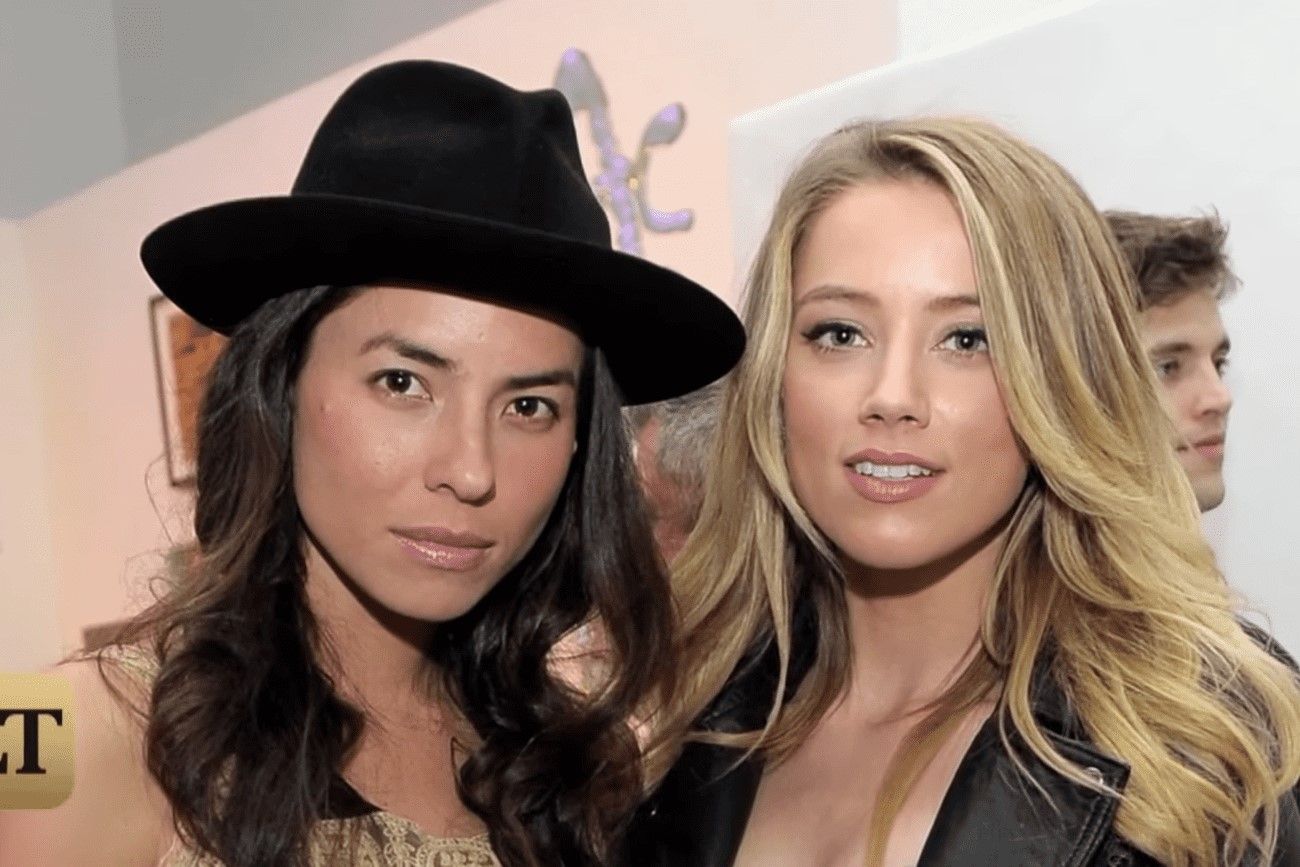 @Amber Heard's Ex-Girlfriend Says Actress Was 'Wrongfully Accused' in 2009 Domestic Violence Arrest/Entertainment Tonight/YouTube.com
Amber Heard and Bianca Butti
In the media, it became known that since the winter of 2020, Amber Heard has been dating cameraman Bianca Butti. The couple did not comment on the relationship in the press, but the paparazzi followed the girls everywhere! By the way, Amber went to a libel hearing in London with her lover. However, by the end of the year, rumors appeared in the press that the girls had broken up. This is such an interesting and rich personal life for a celebrity!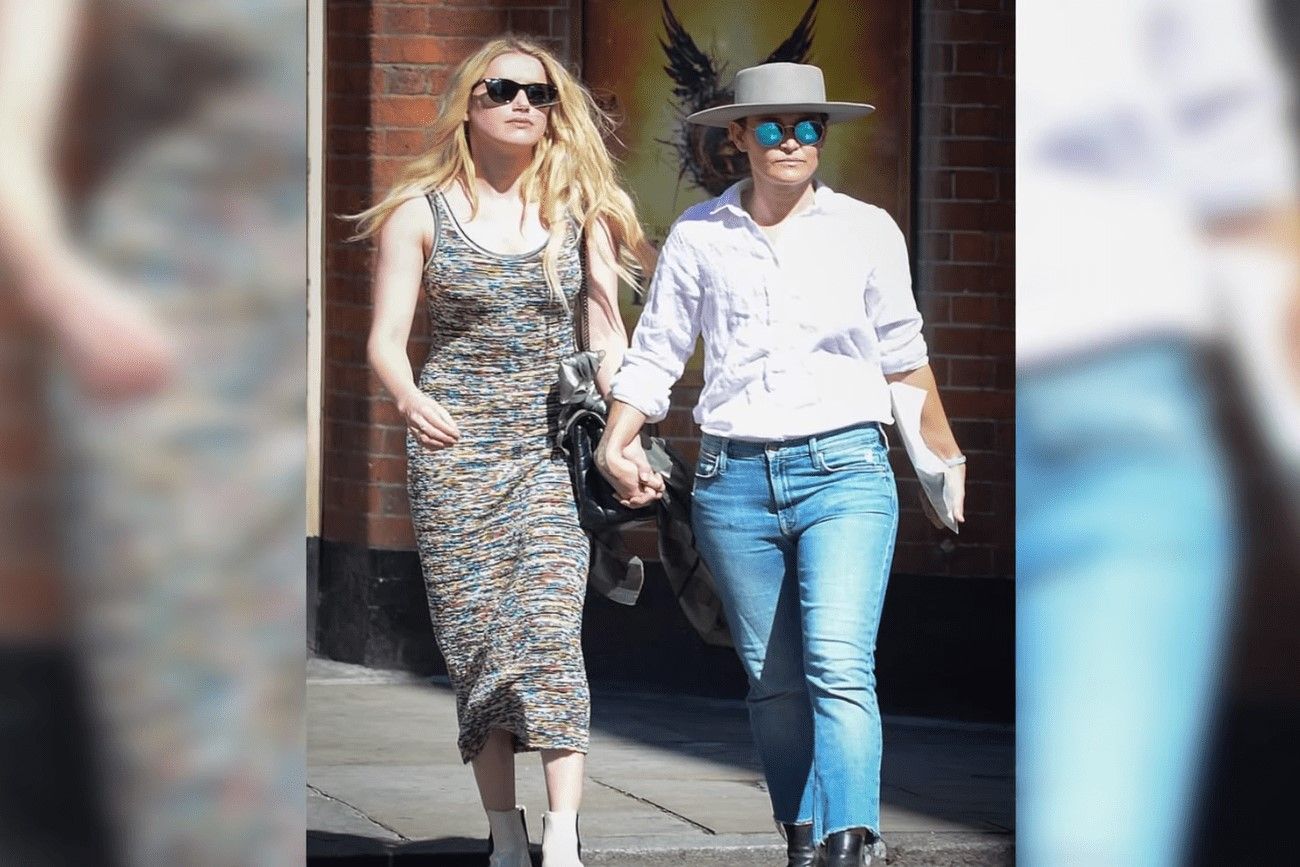 @Who is Amber Heard's Girlfriend Bianca Butti?/ Celeb Hints/ YouTube.com
Sam Smith and Brandon Flynn
For 9 months, British musician Sam Smith and 13 Reasons Why star Brandon Flynn enjoyed each other and delighted fans with their touching photos on social networks. However, in the end, this relationship did not end happily and the couple broke up. The media wrote that the reason for the breakup was too tight schedules of the stars. While Brandon was focusing on his acting career, Sam Smith was busy developing his musical career. After parting, the musician deleted joint photos with the actor from Instagram, which only confirmed the rumors about their separation.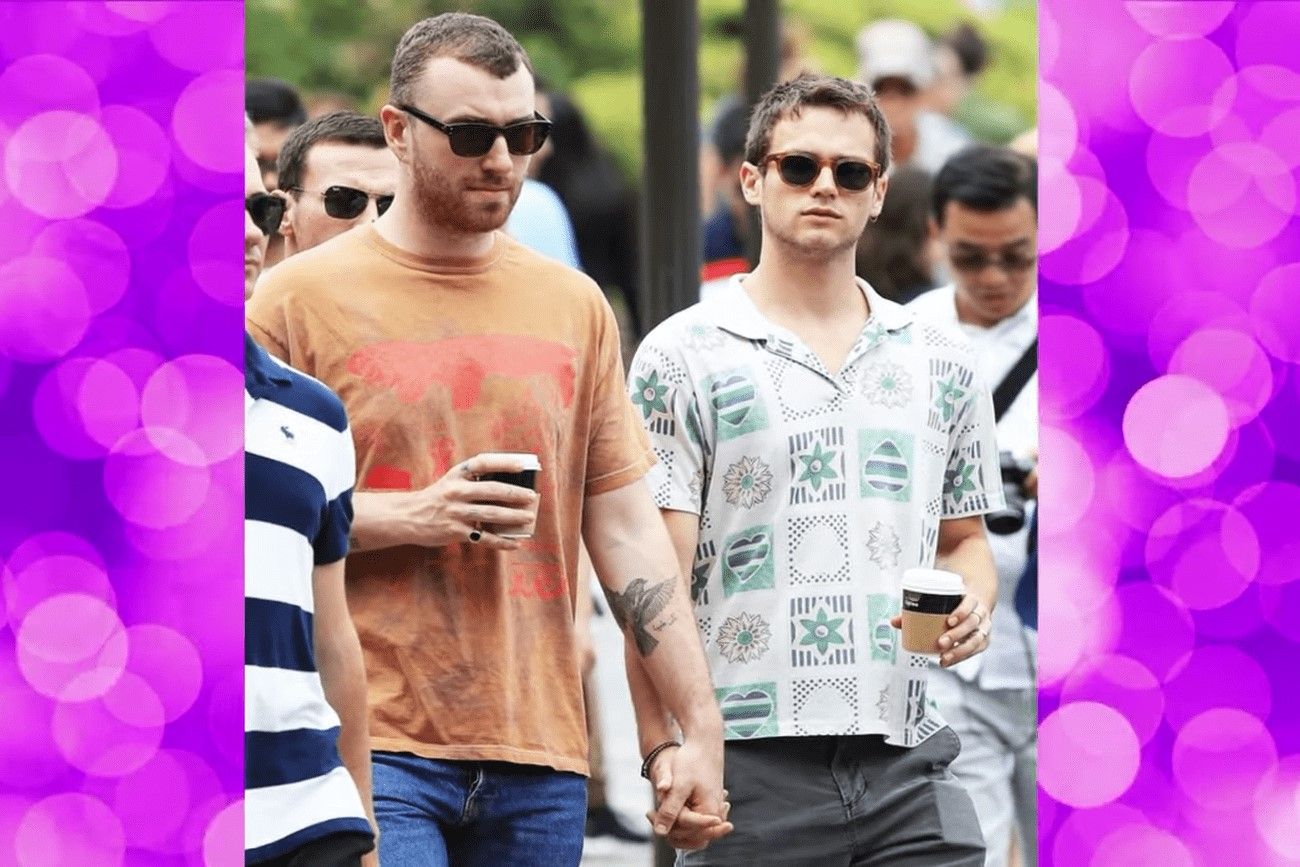 @Sam Smith Boyfriends List (Dating History)/ CelF/YouTube.com
Lindsay Lohan and Samantha Ronson
As with most of Lindsay Lohan's actions, Samantha Ronson's relationship with the actress sparked a press frenzy. In 2008, Lohan, a former child star turned party girl, began dating Ronson. The two also co-hosted events.
Since the end of this brief romance, Lohan has asserted that she does not identify as bi. On the other side, Ronson, who was frequently referred to as a lesbian in the media, is bi. Looking back, the DJ claimed that the couple's relationship was impacted by the excessive paparazzi coverage.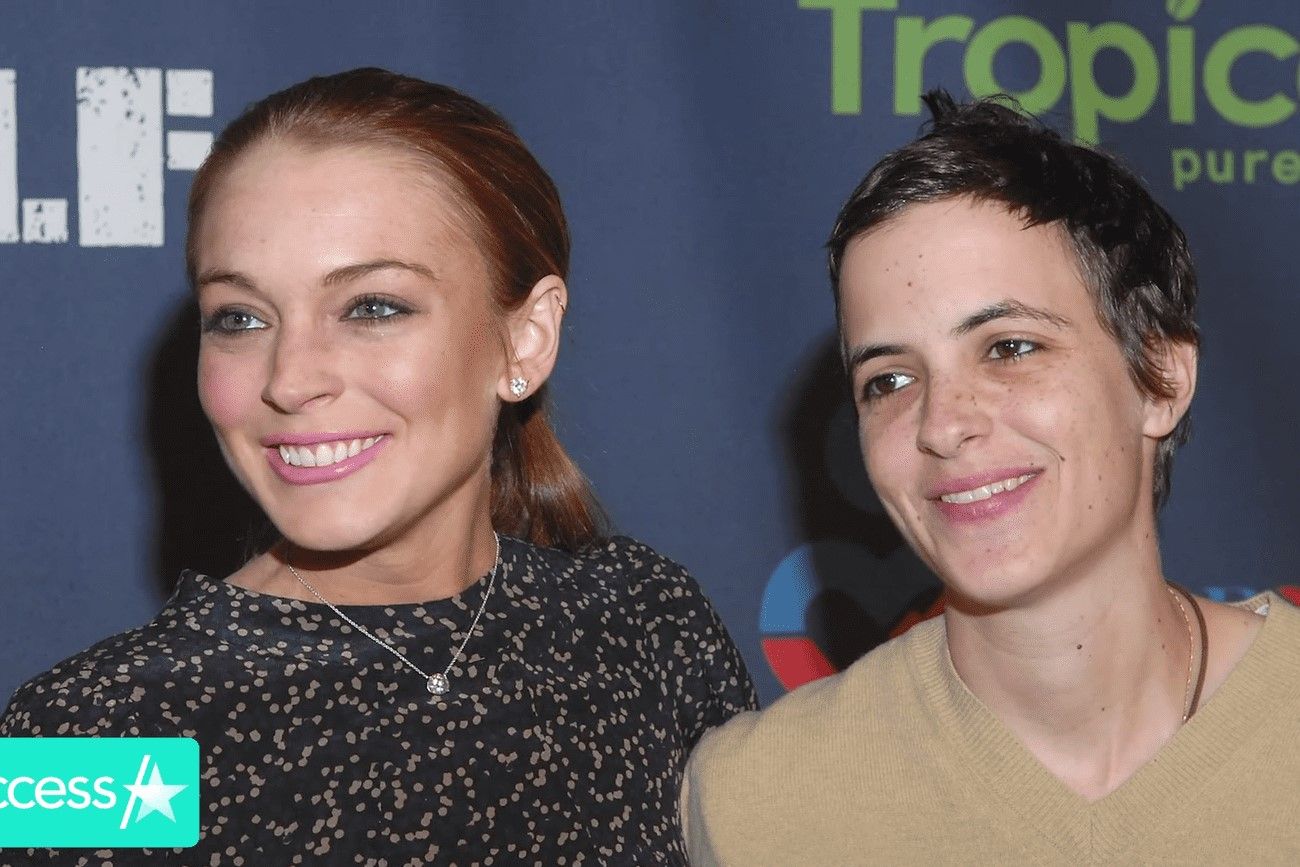 @Lindsay Lohan's Ex-Girlfriend Samantha Ronson Reacts To Her Pregnancy/Access Hollywood/YouTube.com
Jillian Michaels and Heidi Rhoades
Finally, we discuss personal trainer Jillian Michaels and her unhappy marriage to Heidi Rhoades. They had two children together before calling it quits in 2018.
Let's simply say I believe in healthy love, Michaels has replied when asked about her preferences. It would be fantastic if I found love with a woman. It would be amazing if I found true love with a man. as long as you adore someone. Currently, the TV celebrity is dating Deshanna Marie Minuto, a designer.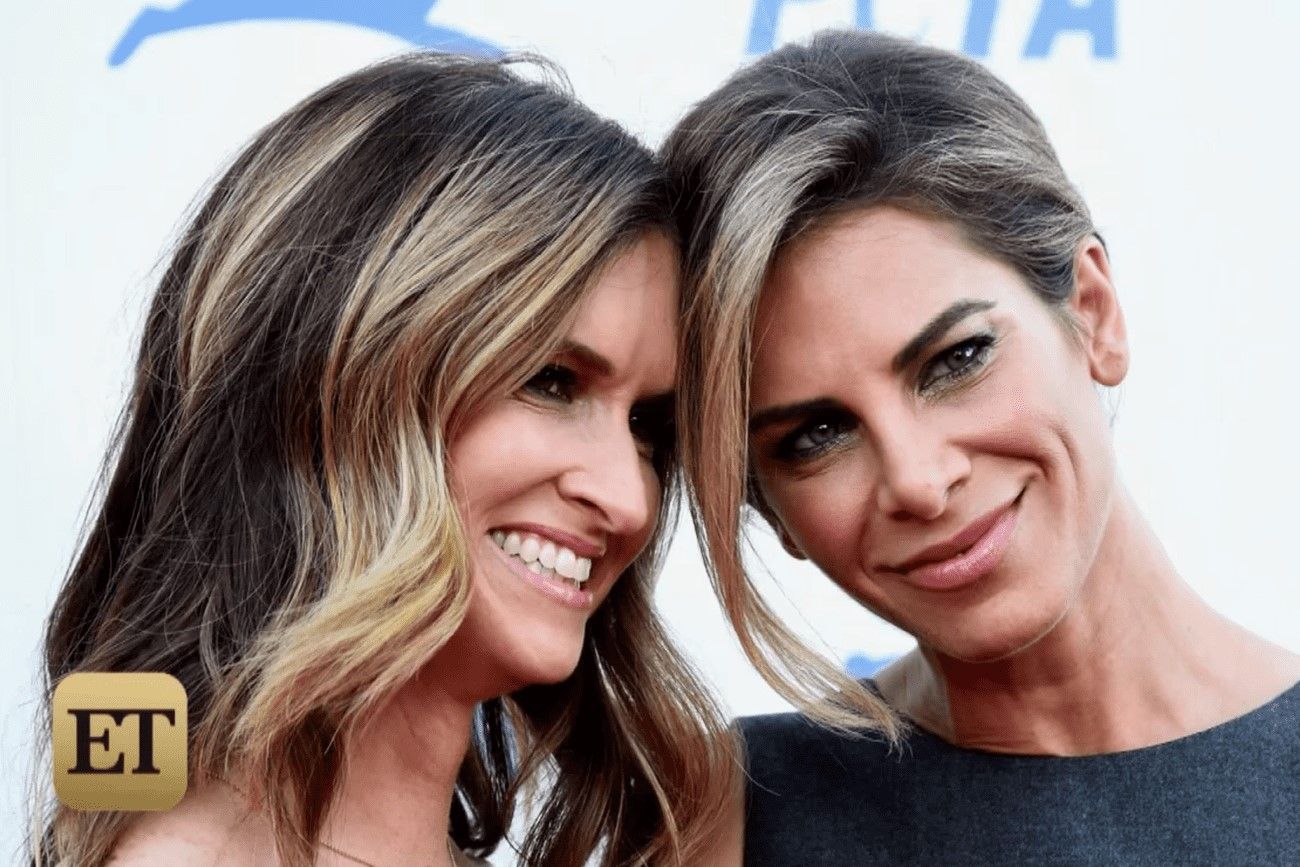 @Watch Jillian Michaels' Adorable Proposal to Girlfriend Heidi Rhoades on 'Just Jillian'/ Entertainment Tonight/YouTube.com
Ireland Baldwin and Angel Haze
Ireland Baldwin, the actress who is the daughter of actors Alec Baldwin and Kim Basinger, has long been well-known. In 2014, the rapper Angel Haze dated the model and actress. The rapper gave her the song Candlxs as a gift. At New York Fashion Week, Baldwin's cousin introduced the two of them.
Raykeea Raeen-Roes Wilson, better known as the American musician Angel Haze, is transgender. Baldwin entered a recovery facility for emotional abuse after calling it quits on their brief relationship.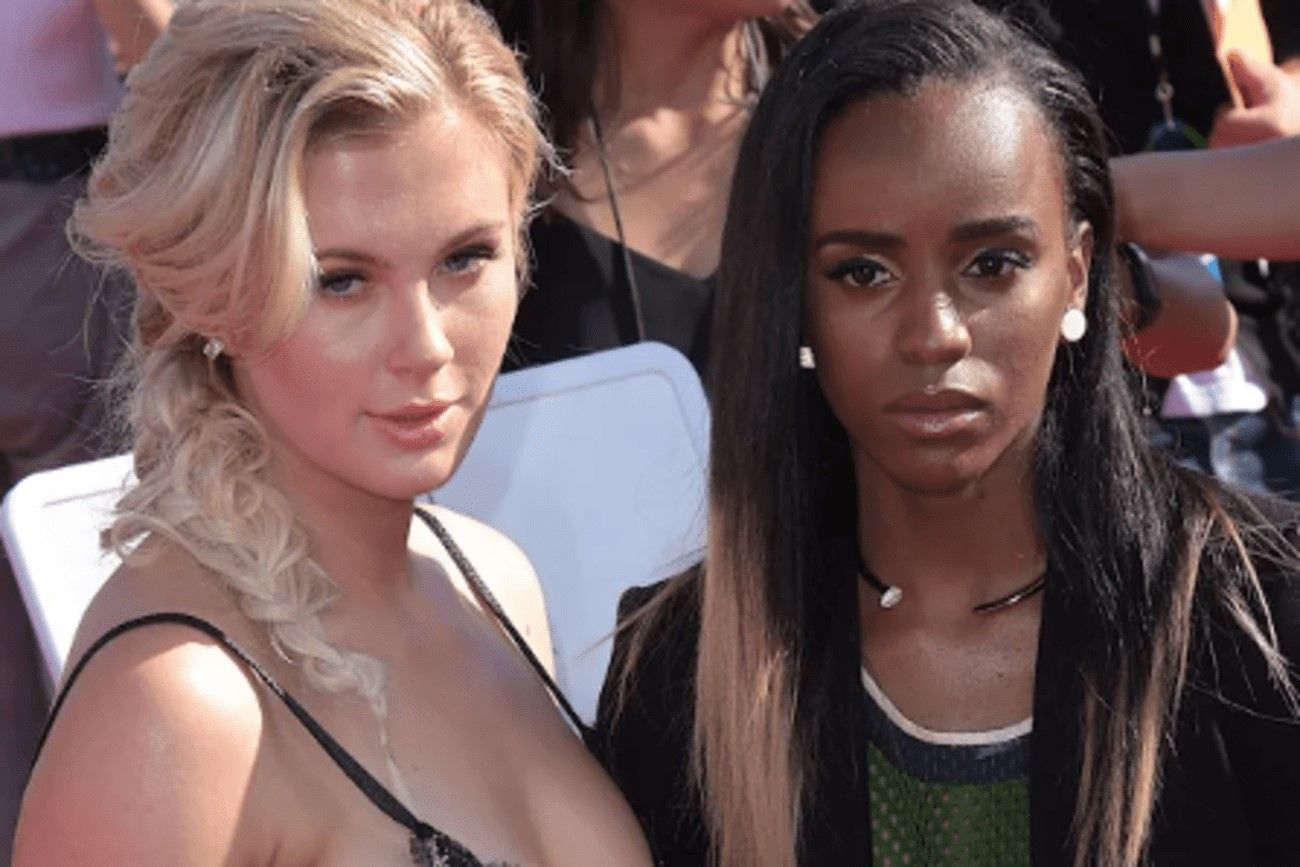 @Angel Haze og Ireland Baldwin/ Se og Hør Norge/YouTube.com
Kristen Stewart and Stella Maxwell
Actress Kristen Stewart is another celebrity who has been on this list multiple times. Stella Maxwell, a model who was once her girlfriend, also makes a few appearances. This couple dated for three years, from 2016 to 2018, and then briefly in 2019. Maxwell self-identifies as gay, whereas Kristen Stewart is bisexual.
Kristen Stewart has remarked that being a member of the LGBTQ community has had an impact on her profession while discussing her preferences. She mentioned receiving a warning not to go out in public with a girlfriend.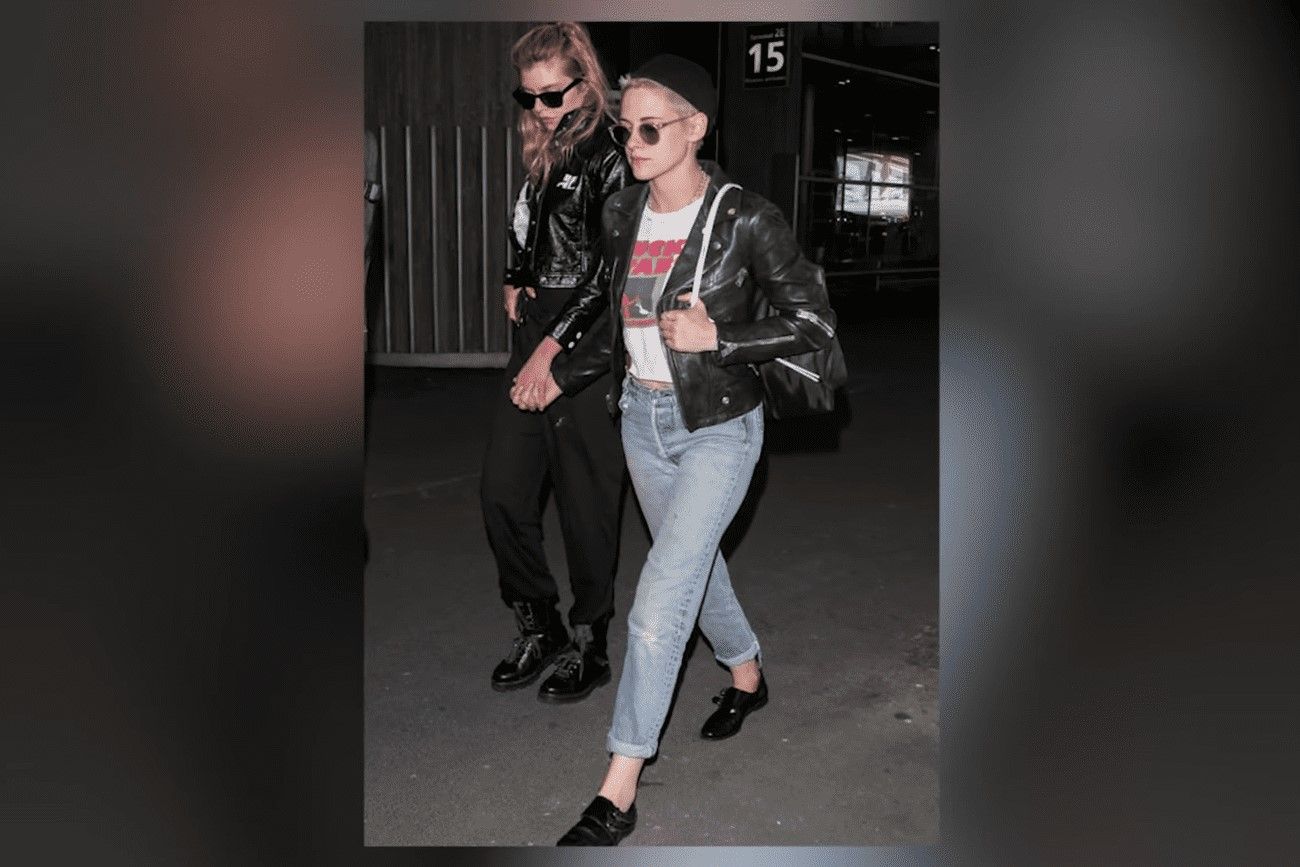 @Who has Stella Maxwell dated? Girlfriends List (UNTILL 2021)/ Dating History/YouTube.com
Sara Gilbert and Linda Perry
Although Sara Gilbert and Linda Perry haven't been apart for very long, many people are unaware that they once had a committed relationship. Following the breakup of a long-term romance, the actress and singer began dating Linda Perry, the lead singer for the band 4 Non Blondes.
After some time, the couple got married and welcomed Rhodes Emilio Gilbert into the world. Sadly, Sara Gilbert and Linda Perry decided to legally separate themselves four years later.
@Sad News For Sara Gilbert And Linda Perry/The List/YouTube.com
Antoni Porowski and Joey Krietemeyer
Antoni Porowski, a member of the Fab Five, may not have been on your radar in terms of dating for a while. Porowski and his co-star Jonathan Van Ness pretended to be dating for a period by sharing loving photos on their shared Instagram account. But it turns out that @jvntoni was only for entertainment.
Antoni Porowski dated businessman Joey Krietemeyer before moving on to date businessman Kevin Harrington. This seven-year relationship ended in 2018.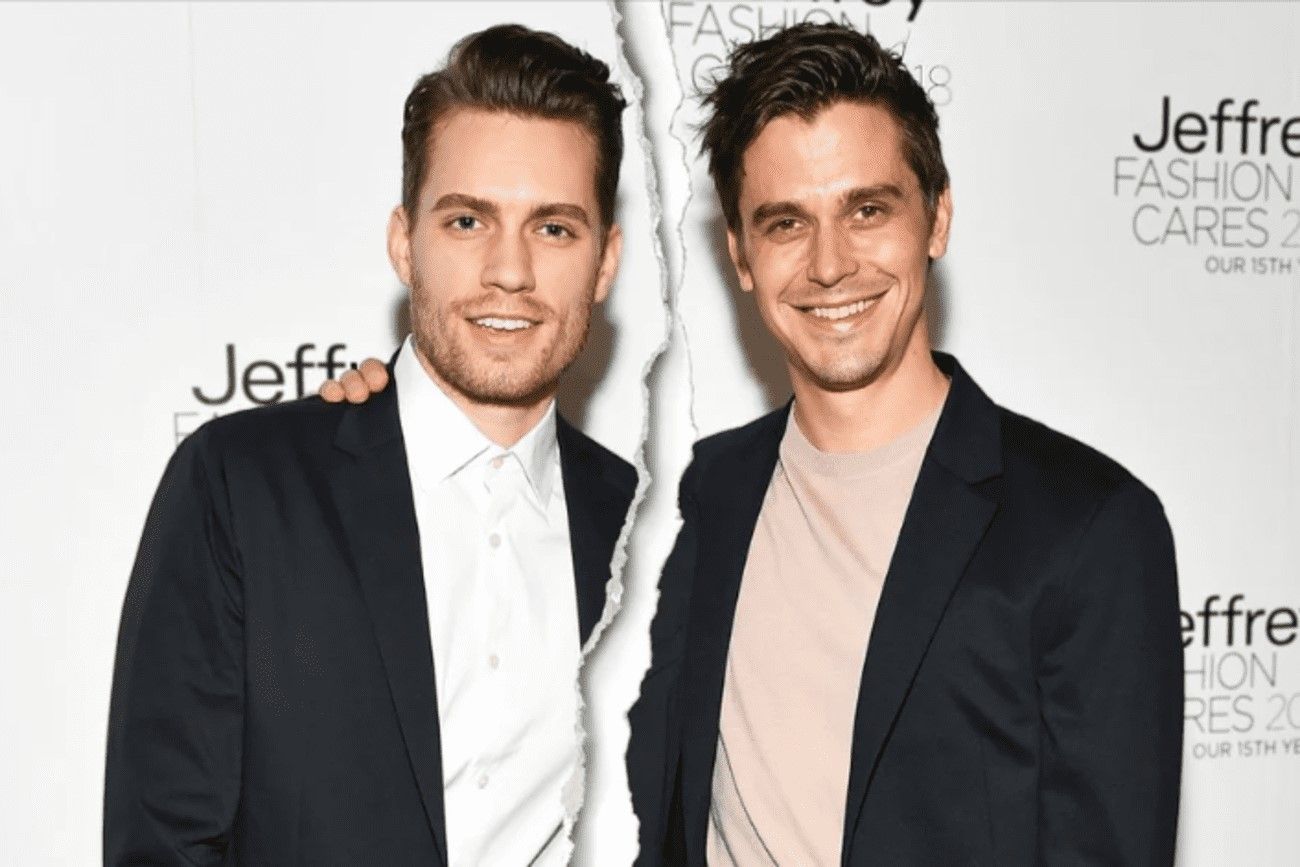 @Lamboo-/Reddit.com
Melissa Etheridge and Tammy Lynn Michaels
In 1993, Grammy and Oscar winner Melissa Etheridge openly revealed her sexual orientation. She soon married director Julie Cypher, with whom she had children. The singer then began dating actress Tammy Lynn Michaels a few years after their previous romance came to an end.
From 2002 to 2010, Melissa and Tammy were together. Johnnie Rose and Miller Steven, the twin boys of the couple, were born. This gay couple did hold a commitment ceremony in 2003, but they split up before being married.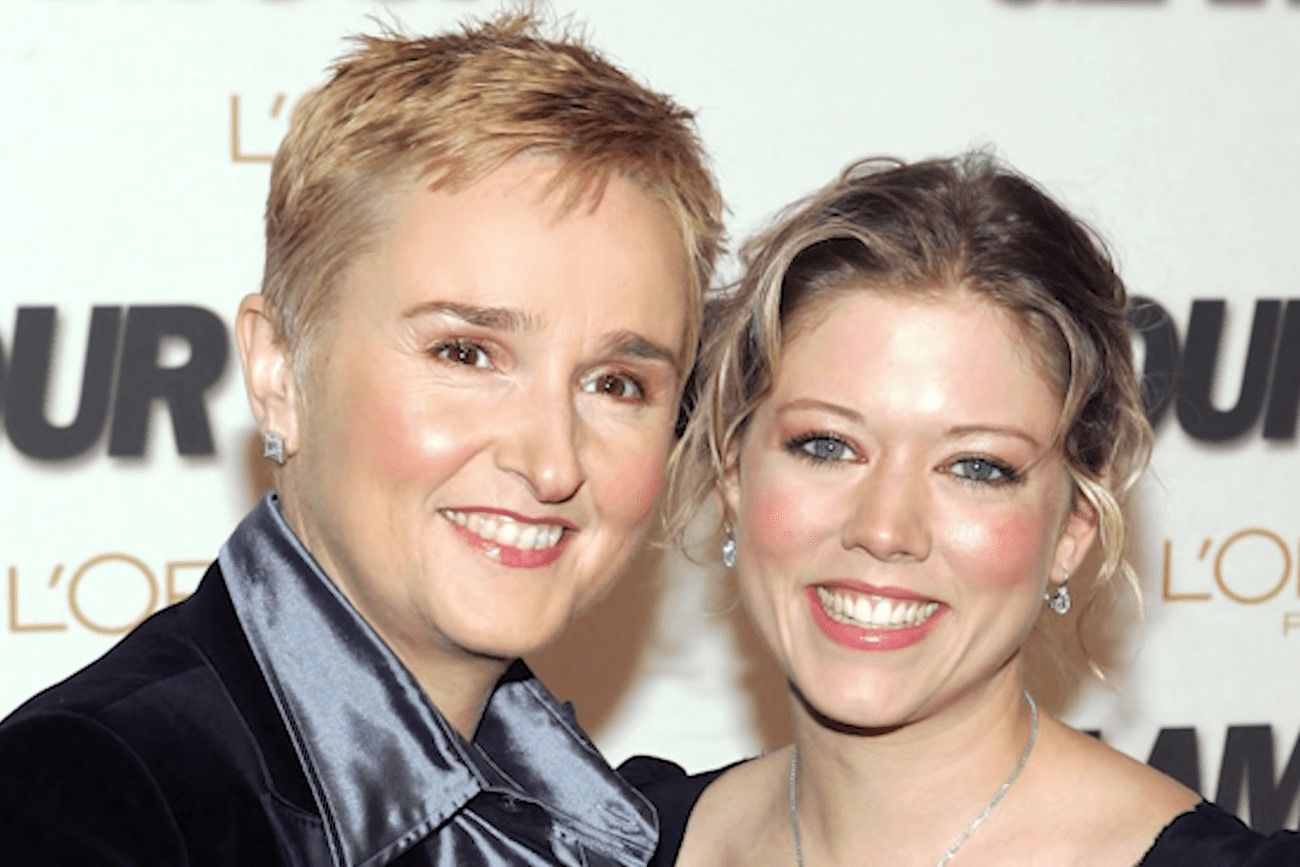 @Who Are Melissa Etheridge's Ex Partners?/ Nicki Swift/YouTube.com
Ross Mathews and Salvador Camarena
Ross Mathews, a reality television celebrity, is currently engaged to Dr. Wellington Garcia. The openly gay celebrity did, however, date Salvador Camarena for ten years before that.
From 2008 through 2018, this LGBT couple was together. In Mathews' words, "As we go forward, each of us feels as if he has a cheerleader in our corner — a family member for life," the split was quite amicable. We are content. I appreciate the love and well wishes from everyone.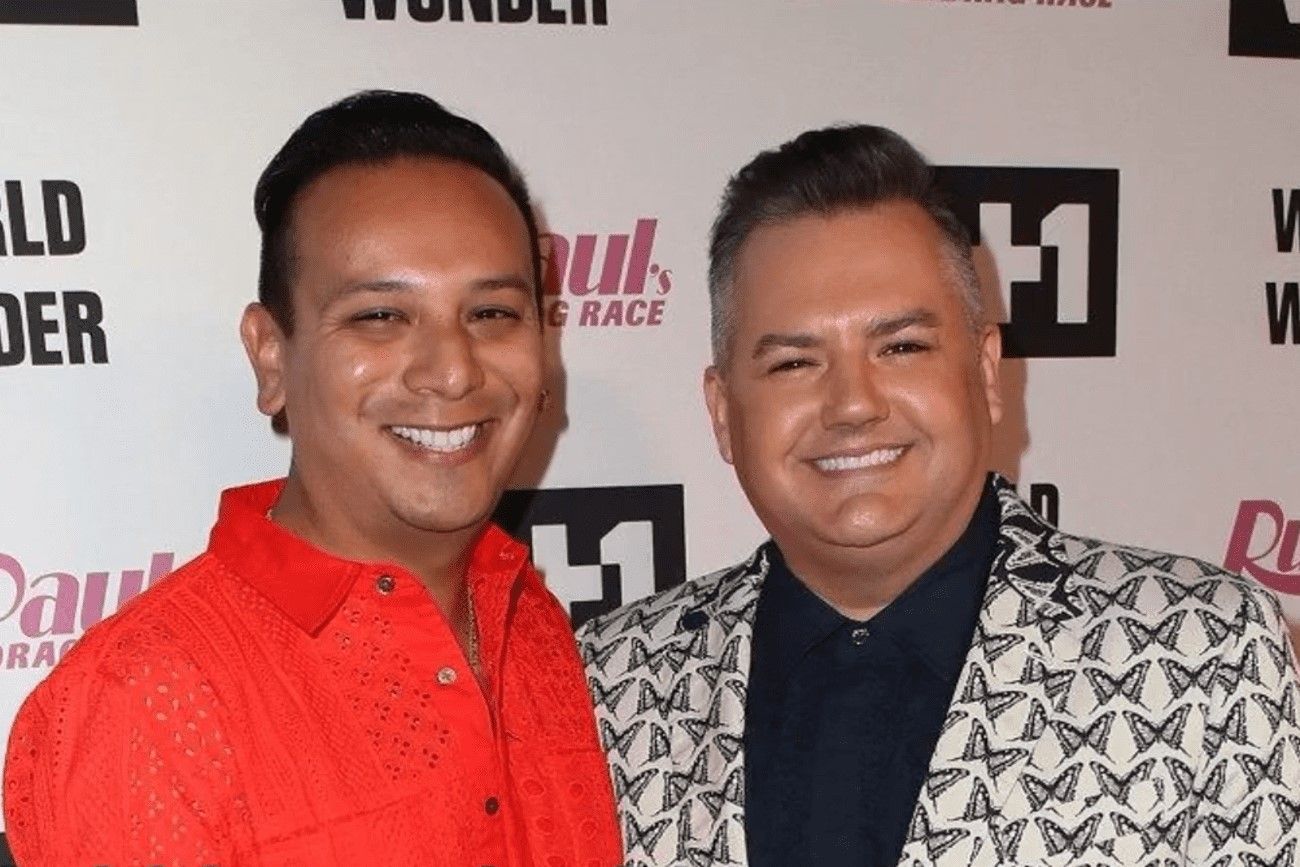 @Ross Matthews & Salvador Camarena Amicably Split Up After 10 Years Together/an air21991/YouTube.com
Sam Smith and Brandon Flynn
English singer-songwriter Sam Smith, who has won numerous awards, came out as gay in 2014. Later, in 2017, the vocalist of Stay With Me came out as genderqueer and eventually as non-binary. That same year, the actor confirmed that he was dating openly gay actor Brandon Flynn during an interview with Ellen DeGeneres. This famous gay couple split up in 2018 after only nine months together. Like so many of us, Sam Smith erased all of his photos with his ex after their separation.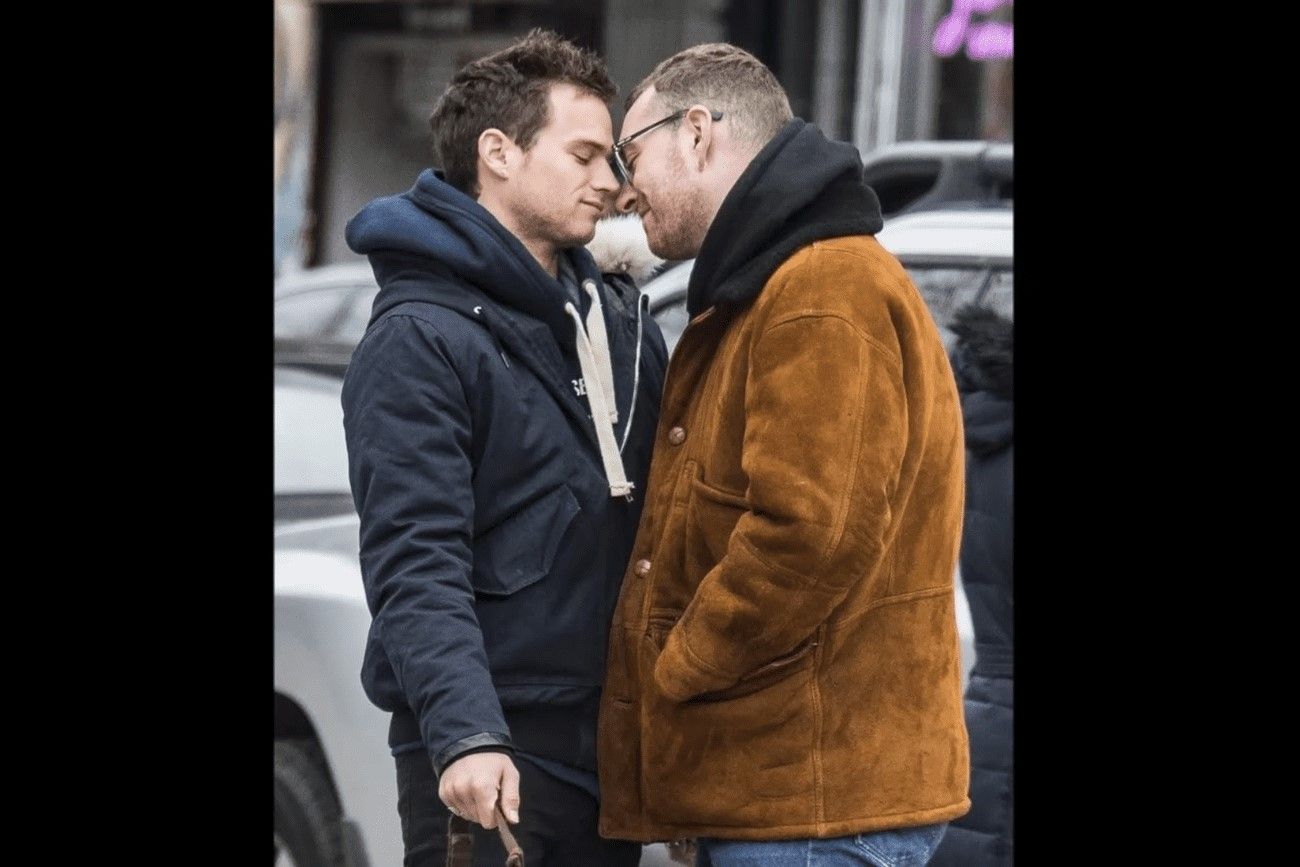 @Sam Smith and Boyfriend Brandon Flynn – 2018/CelebZone/YouTube.com
Ashley Benson and Cara Delevingne
Time to speak with model Cara Delevingne once more! The actress Michele Rodriguez is the only person we have seen the star date so far. Well, the attractive star dated American actress Ashley Benson from 2018 until 2020.
Delevingne raved over her partner, saying, "It's so nice to have someone in my life that supports me so much and loves me." Ashely Benson has been dating American rapper G-Eazy following their breakup.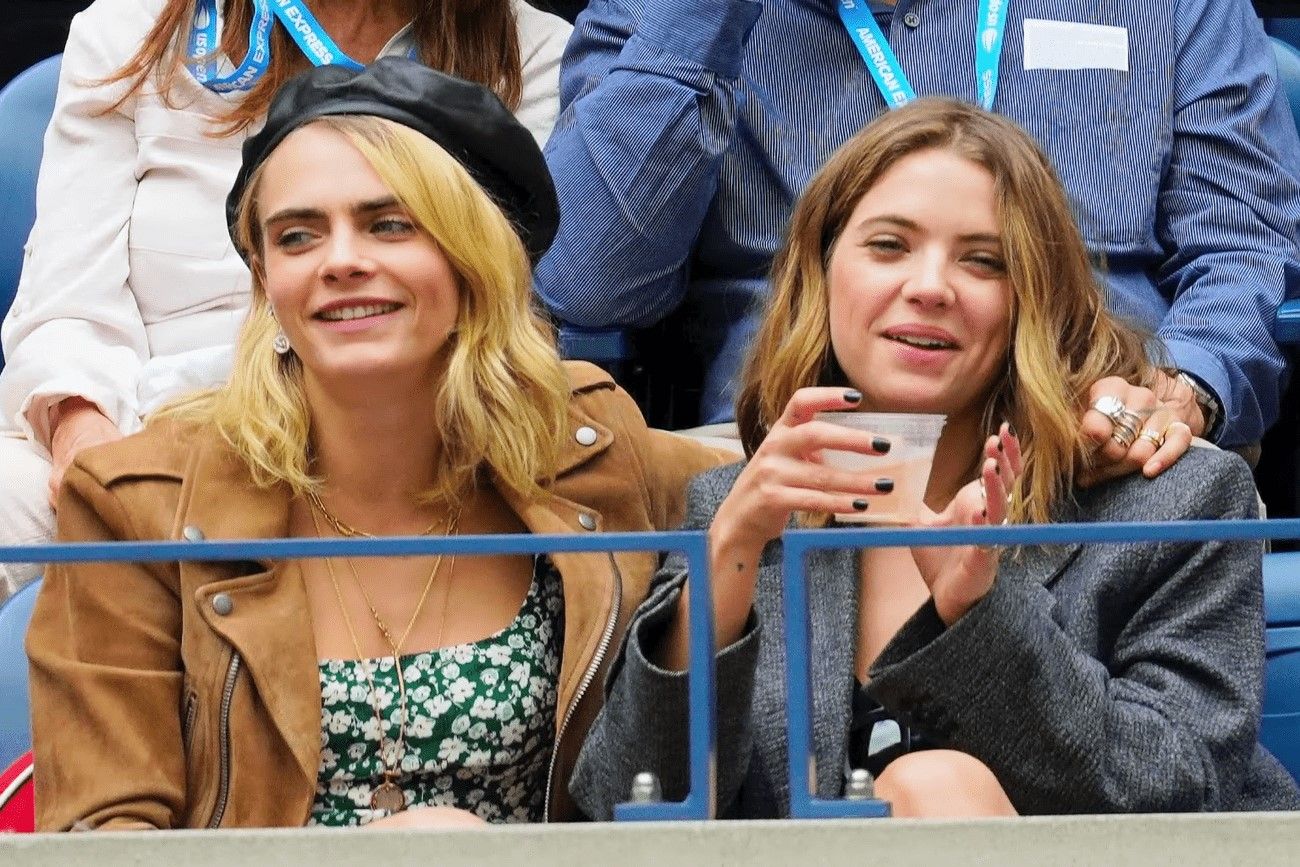 @How Cara Delevingne's Romance With Ashley Benson Changed Her | Rumour Juice/ Rumour Juice/YouTube.com
Ruby Rose and Jessica Origliasso
So far, it has been revealed that Phoebe Dahl, a fashion designer, and Australian actress Ruby Rose were engaged. After that union came to an end in 2015, the celebrity began dating fellow Australian Jessica Origliasso, who is half of the musical duo The Veronicas.
After dating in 2008, Ruby Rose and Jessica Origliasso reconnected in the years between 2016 and 2018. The singer from The Veronicas is fervently in favor of same-gender unions and despises having her sexual orientation assigned to her. Josh Katz and Billy Corgan are two other musicians that Jessica Origliasso has dated.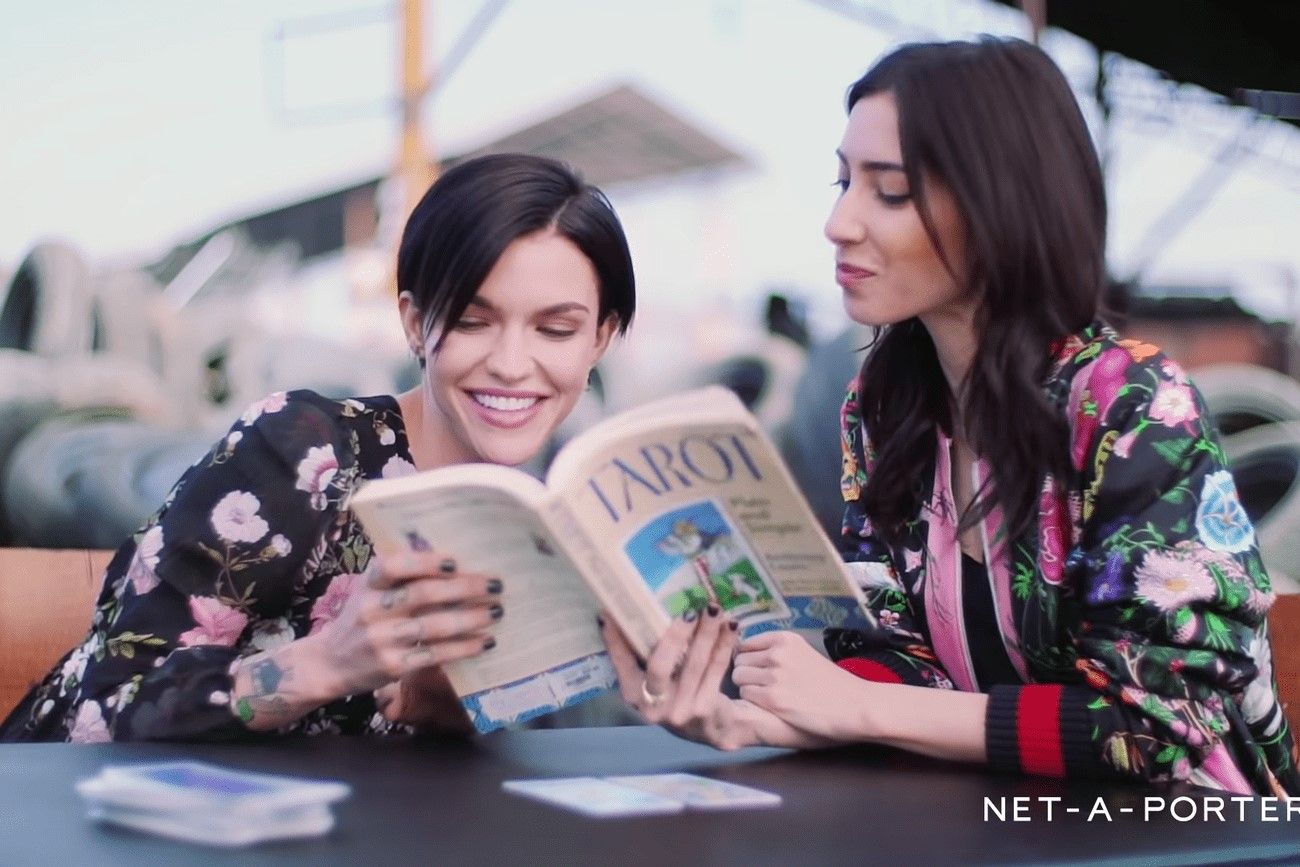 @Ruby Rose Reads Tarot Cards With Girlfriend Jessica Origliasso | NET-A-PORTER/NET-A-PORTER/YouTube.com
Jane Lynch and Lara Embry
The long-term partner of award-winning comedy actress Jane Lynch was clinical psychologist Lara Embry. At a fundraiser, the pair first connected, and they got married the following year. Haden Embry's daughter was given Jane Lynch as a stepmother after their marriage.
Sadly, the couple's divorce was finally formalized in 2014. According to reports, Lara Embry made off with a sizable sum of cash. California is a "half and half state, as it should be, so that's fine," Jane Lynch remarked.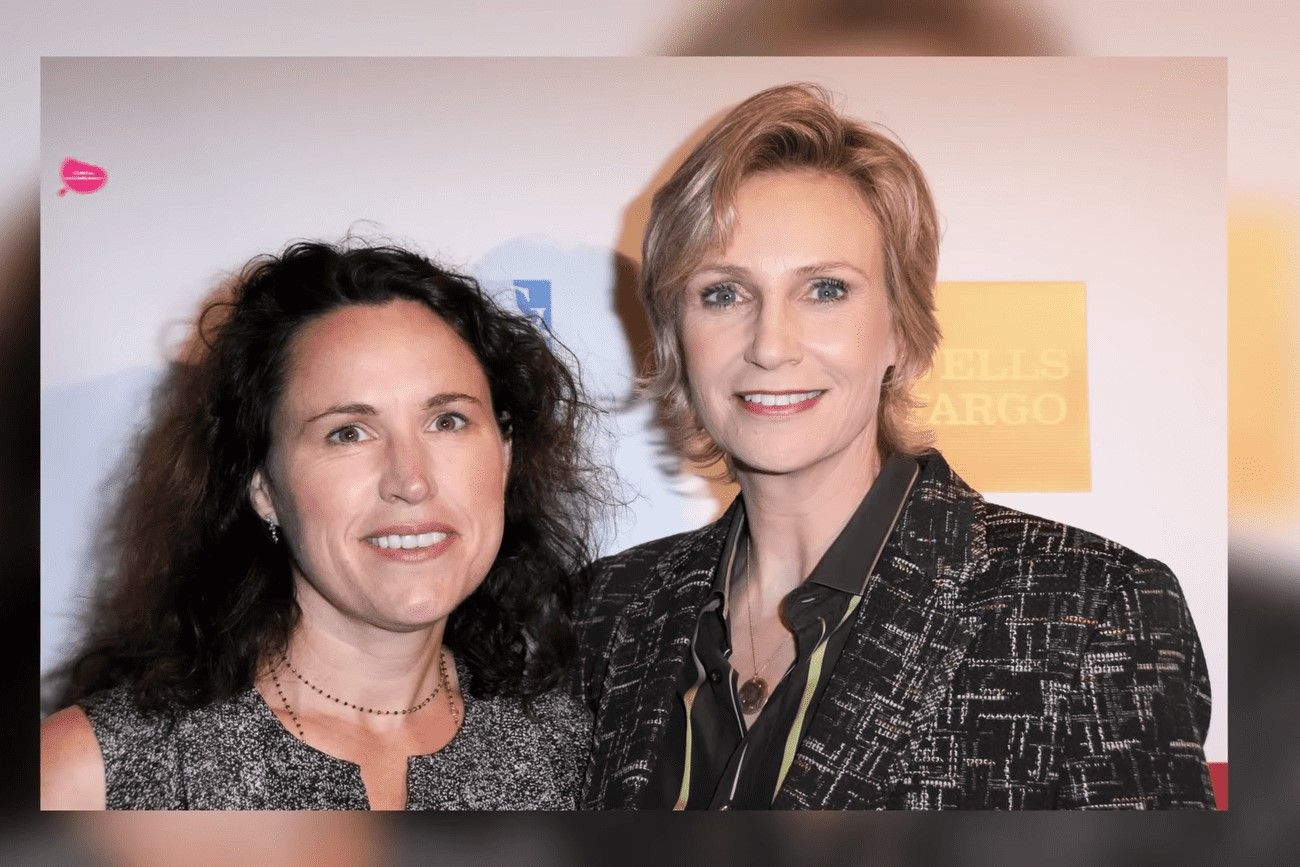 @How Jane Lynch Fell In Love After Messy Divorce | Rumour Juice/Rumour Juice/YouTube.com
Heather Matarazzo and Carolyn Murphy
In 2008, American actress Heather Matazarro made her engagement to musician Carolyn Murphy public for the first time. A few years later, it was revealed that the pair had broken up. Sadly, although they wanted to wed, it wasn't legal to do so in California at the time.
The pair relocated to New York in order to avoid California's regulations, but sadly they never made it to the altar. Since that time, Heather Turman, a writer and comedian, has been married to Heather Matarazzo.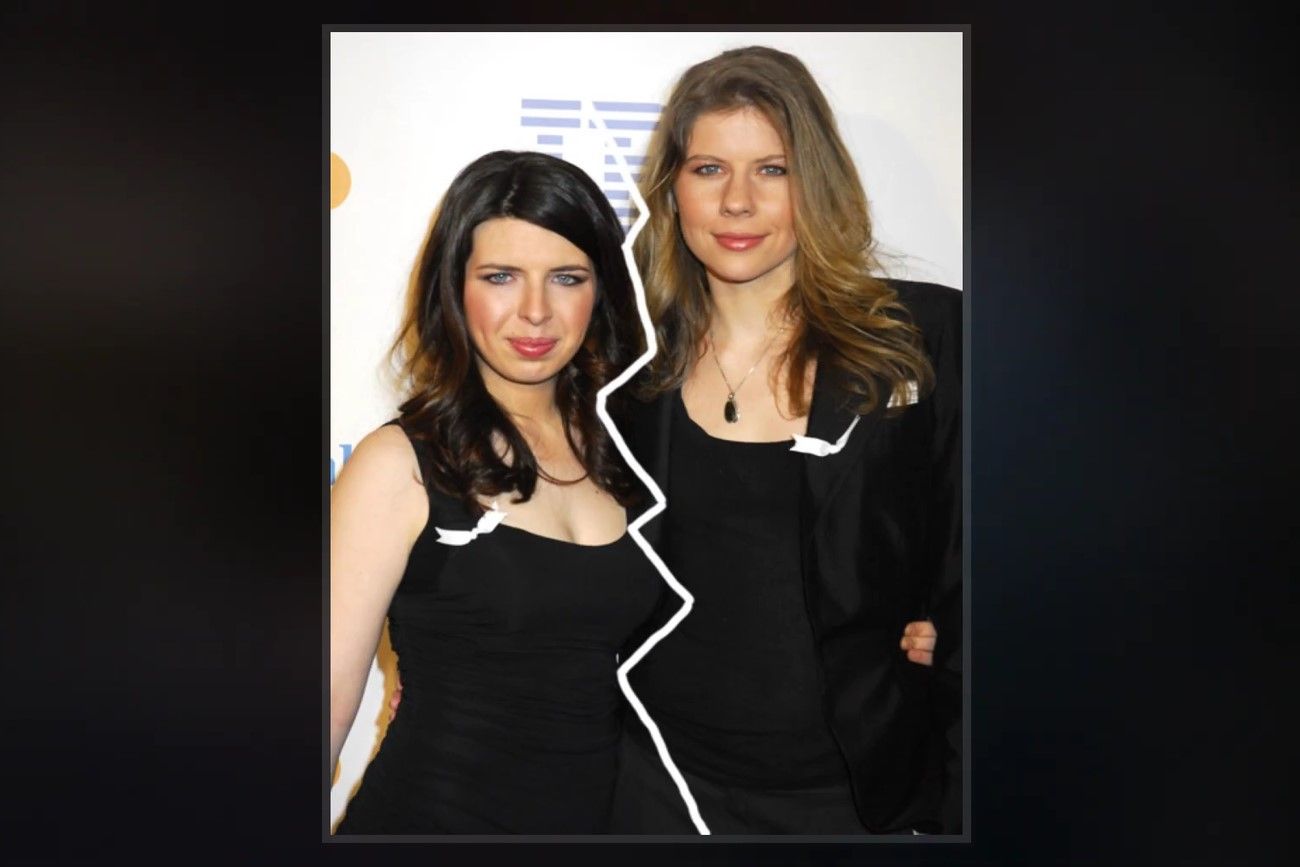 @Heather Matarazzo/ Wiki4All/YouTube.com
Anderson Cooper and Benjamin Maisani
Journalist Anderson Cooper, a member of the Vanderbilt family, came out as gay in 2012. He then rose to prominence as the most well-known gay journalist on American television. Anderson Cooper and French nightclub entrepreneur Benjamin Maisani may have started dating at some point, but their relationship ended in 2018.
In 2014, Maisani discussed maintaining the relationship's secrecy and stated that he had never intended to be a star. Maisani has stepped in to co-parent, though, after Cooper had a boy in 2020.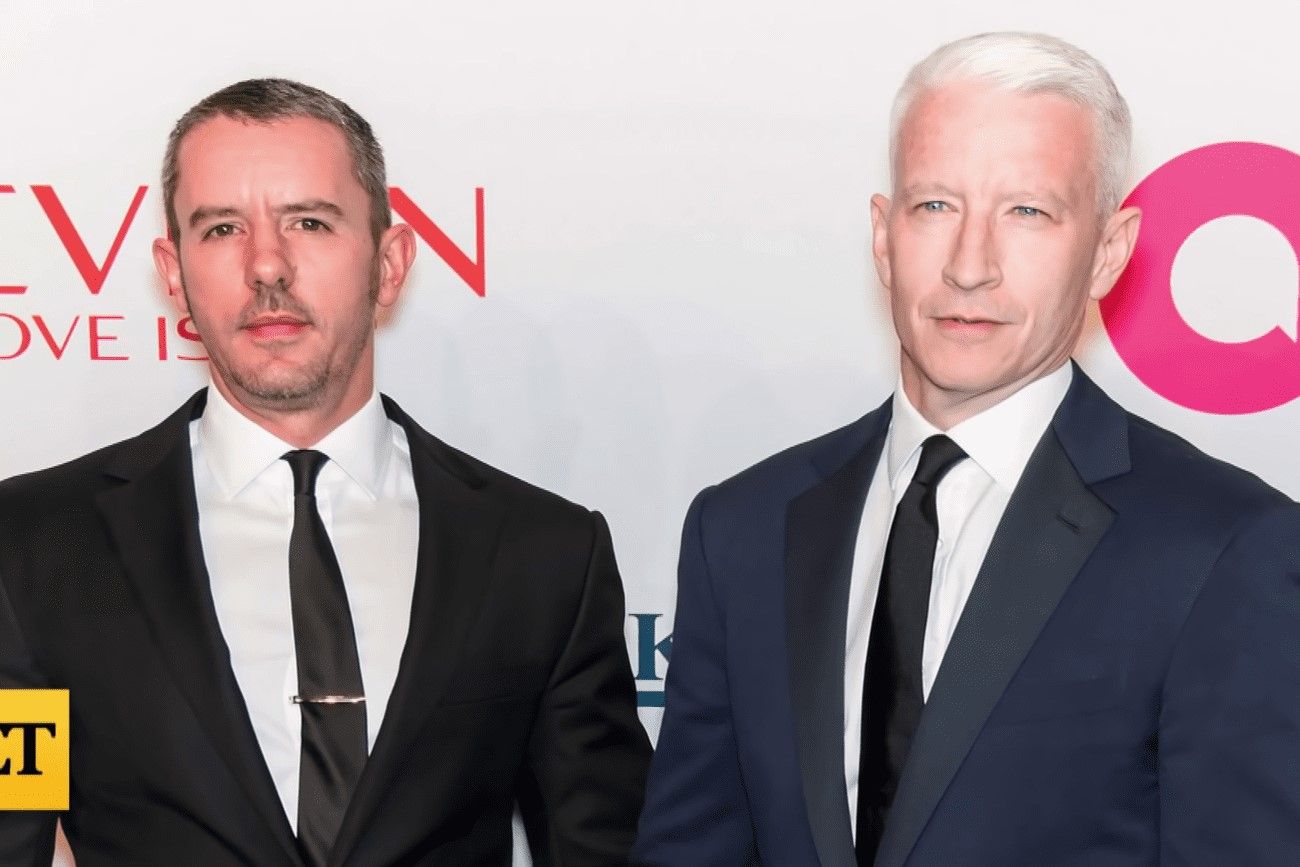 @Why Anderson Cooper Got 'Really Pissed' at Ex Benjamin Maisani About Son Wyatt/ Entertainment Tonight/YouTube.com
Gus Kenworthy and Matt Wilkas
Gus Kenworthy, a British actor and YouTuber, and Matt Wilkas, an American actor, make up our next unfortunate (but incredibly attractive) gay couple. Professional skier Kenworthy came out in a 2015 interview with ESPN. Between 2015 and 2019, these two were together for three years.
Wilkas' live-broadcast kiss with his then-boyfriend at the 2018 Winter Olympics in South Korea was an important milestone for LGBTQ athletes, it's interesting to note. Neither of these dashing men has been associated with anyone else since their breakup.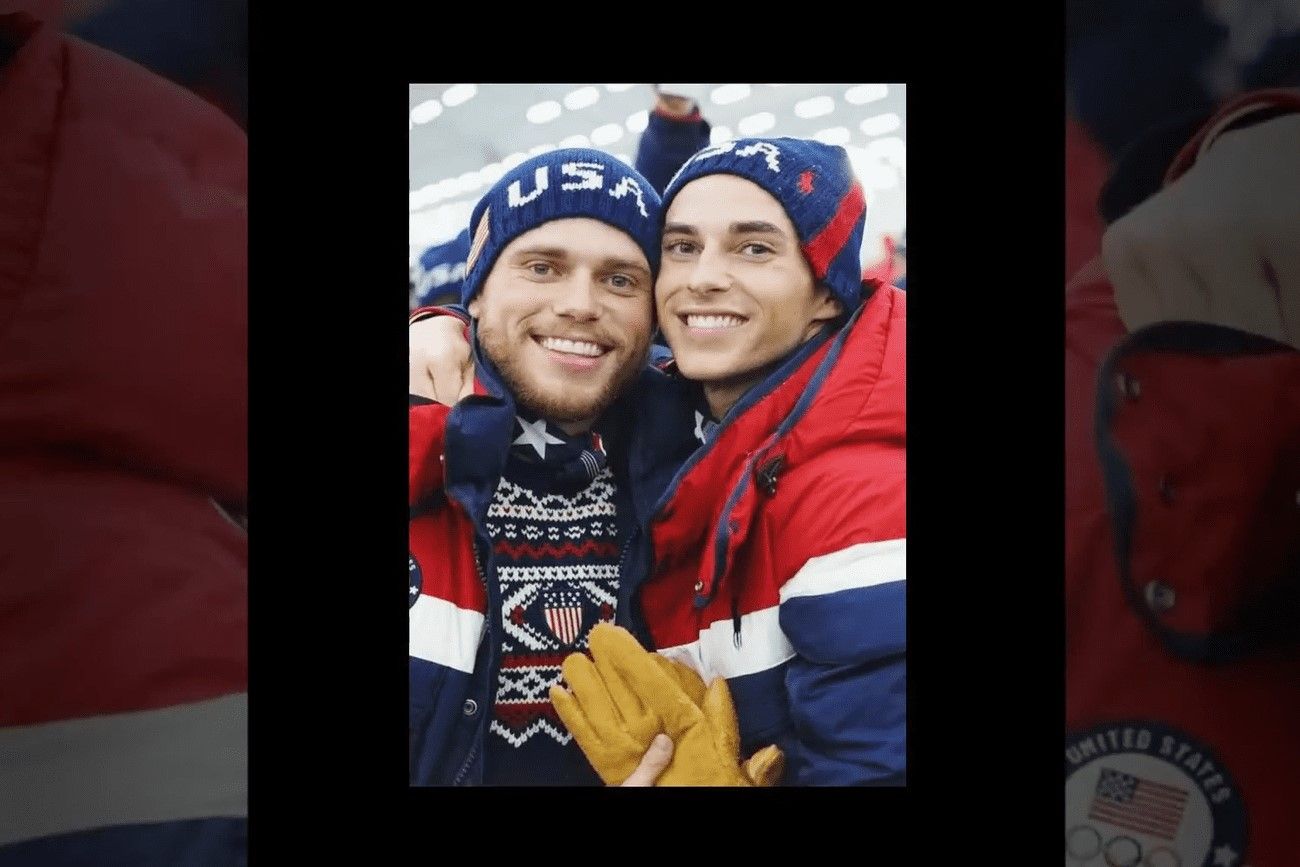 @Olympian Gus Kenworthy and actor Matthew Wilkas talked about their relationship/DAILY TOP NEWS/YouTube.com
Tessa Thompson and Janelle Monáe
After some intriguing images surfaced online, some people may have heard the recent rumors regarding actress Tessa Thompson's relationships with director Taika Waititi, singer Rita Ora, and model Zac Stenmark. Prior to that, though, all the talk centered on the celebrity's romance with Janelle Monáe (as well as Lupita Nyong'o and Brie Larson).
Although they technically never acknowledged it, these two didn't exactly conceal their relationship either. We love each other sincerely," Thompson famously said about Monáe. Because of our proximity, we vibrate at the same frequency.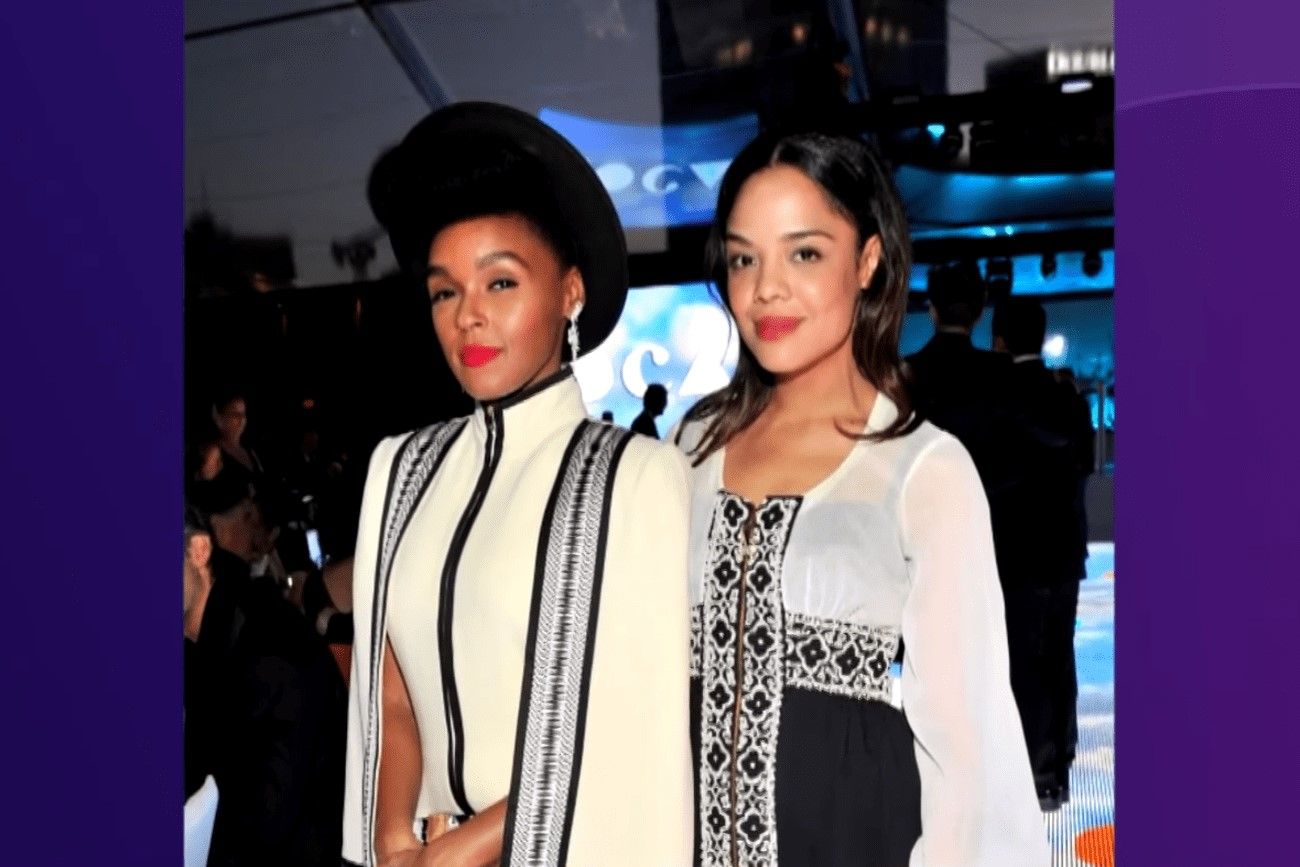 @Tessa Thompson Says She & Janelle Monae 'Love Each Other Deeply' | Access/Access Hollywood/YouTube.com
Ellen DeGeneres and Alexandra Hedison
At the same time, photographer Alexandra Hedison was dating actress and comedian Ellen DeGeneres. The relationship, which lasted from 2000 to 2004, came to an end when DeGeneres met her future wife.
As is well known, DeGeneres and de Rossi have been wed for a while. Jodie Foster, an actress, and Alexandra Hedison began dating in 2013, and after only a year together, they got married. It appears that everyone participating in this lesbian love square ended up successfully.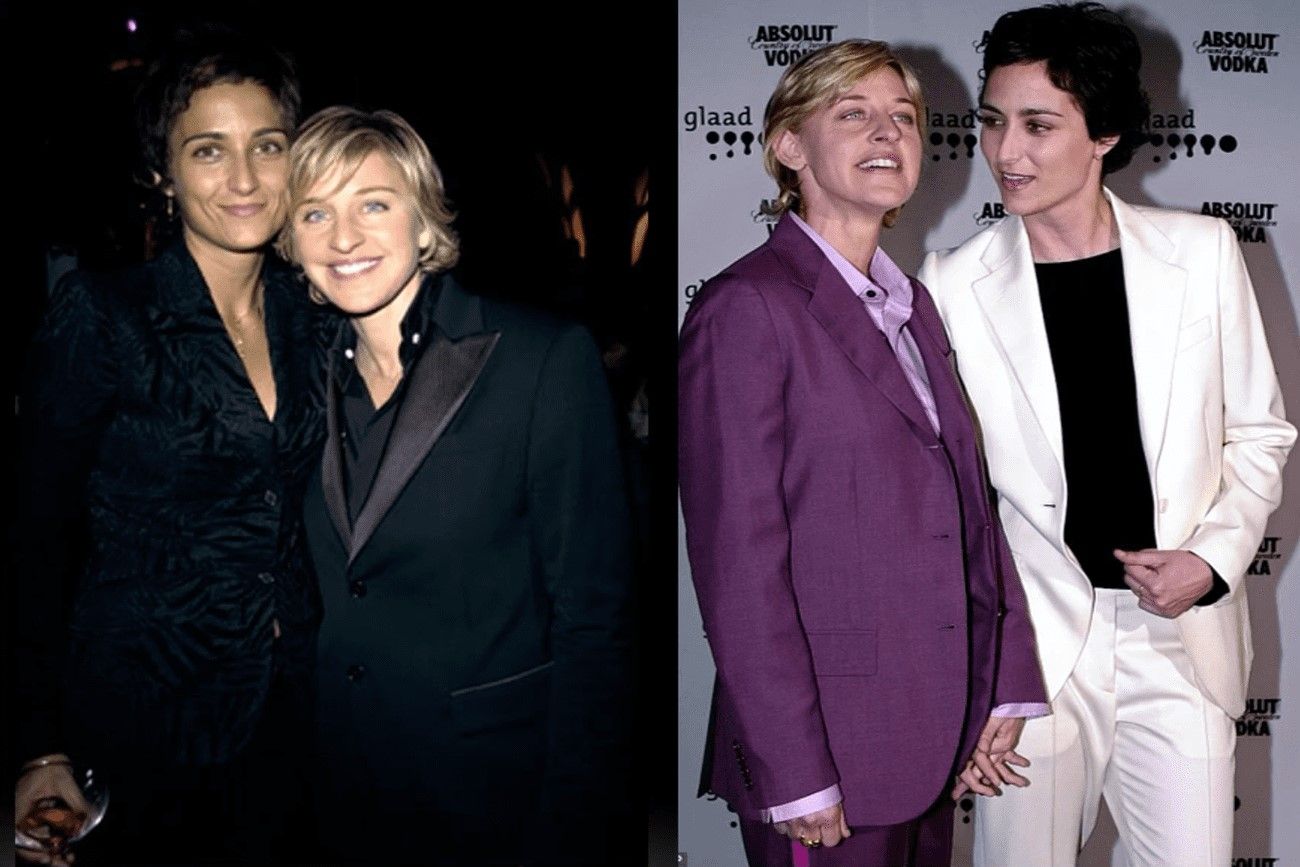 @Girls Ellen DeGeneres Has Dated/ Hollywood Inside/YouTube.com
Lena Waithe and Alana Mayo
Actress and writer Lena Waithe is a lesbian despite the fact that her ex-wife Alana Mayo had only dated males before their union. The first adult relationship she has ever had, according to Waithe, is with me. It's more likely that we connect on a profound, human level than that I'm a woman, in my opinion.
Sadly, Alana Mayo and Lena Waithe were only married for two months. The couple wed in 2019 but declared their separation in 2020.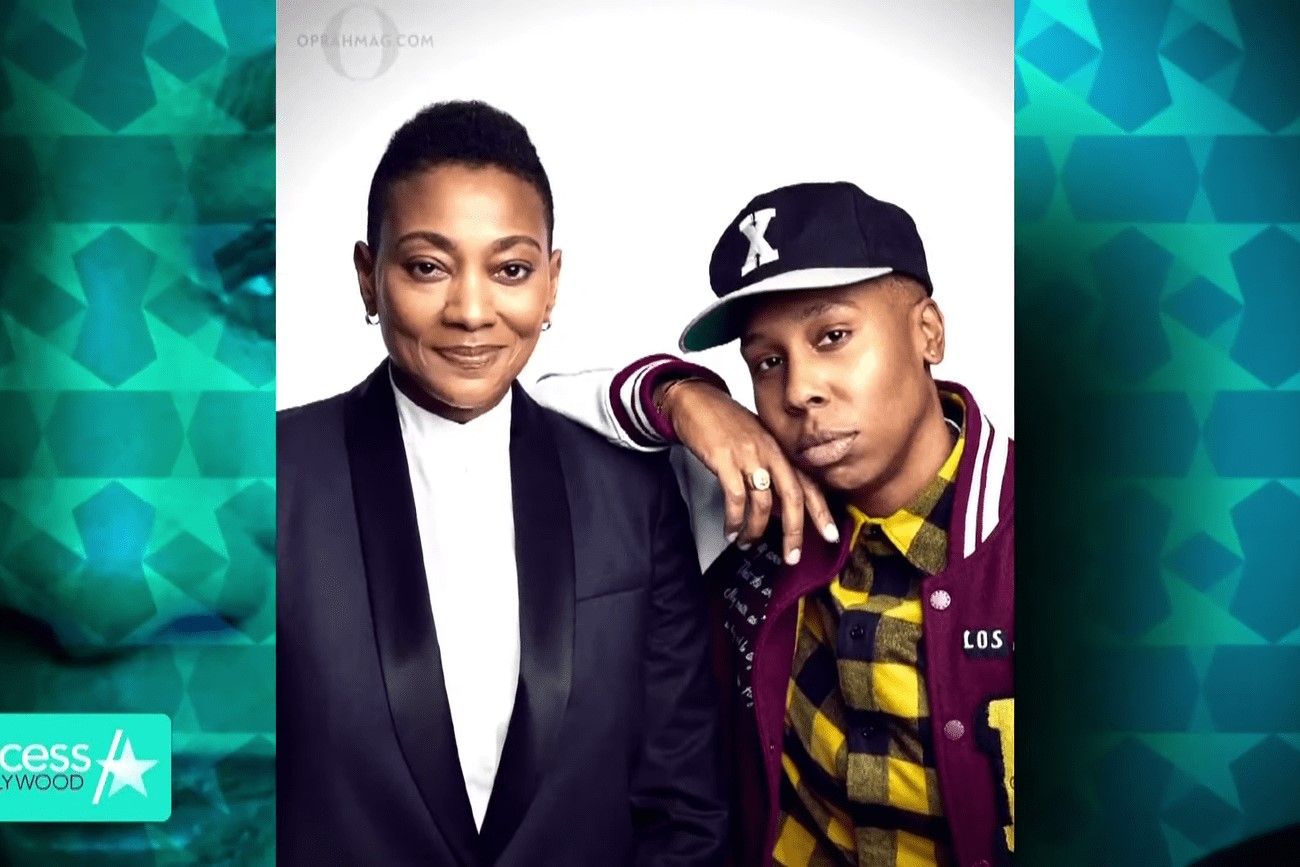 @Lena Waithe Shows Off Wedding Band After Secretly Marrying Longtime Girlfriend Alana Mayo/ Access Hollywood/YouTube.com
Carrie Brownstein and St. Vincent
When it comes to women, St. Vincent undoubtedly has an eye. Her girlfriend list is really astounding. Carrie Brownstein from Excuse 17 is one such deserving mention. The bisexual Portlandia actor, musician, and comedian worked with St. Vincent in 2017.
There were rumors that Carrie was dating Taylor Schilling from Orange is the New Black and Abbi from Broad City, but none of the other flings were significant enough to be confirmed. Brownstein is currently busy working on a series for Hulu and creating new music for Sleater-Kinney.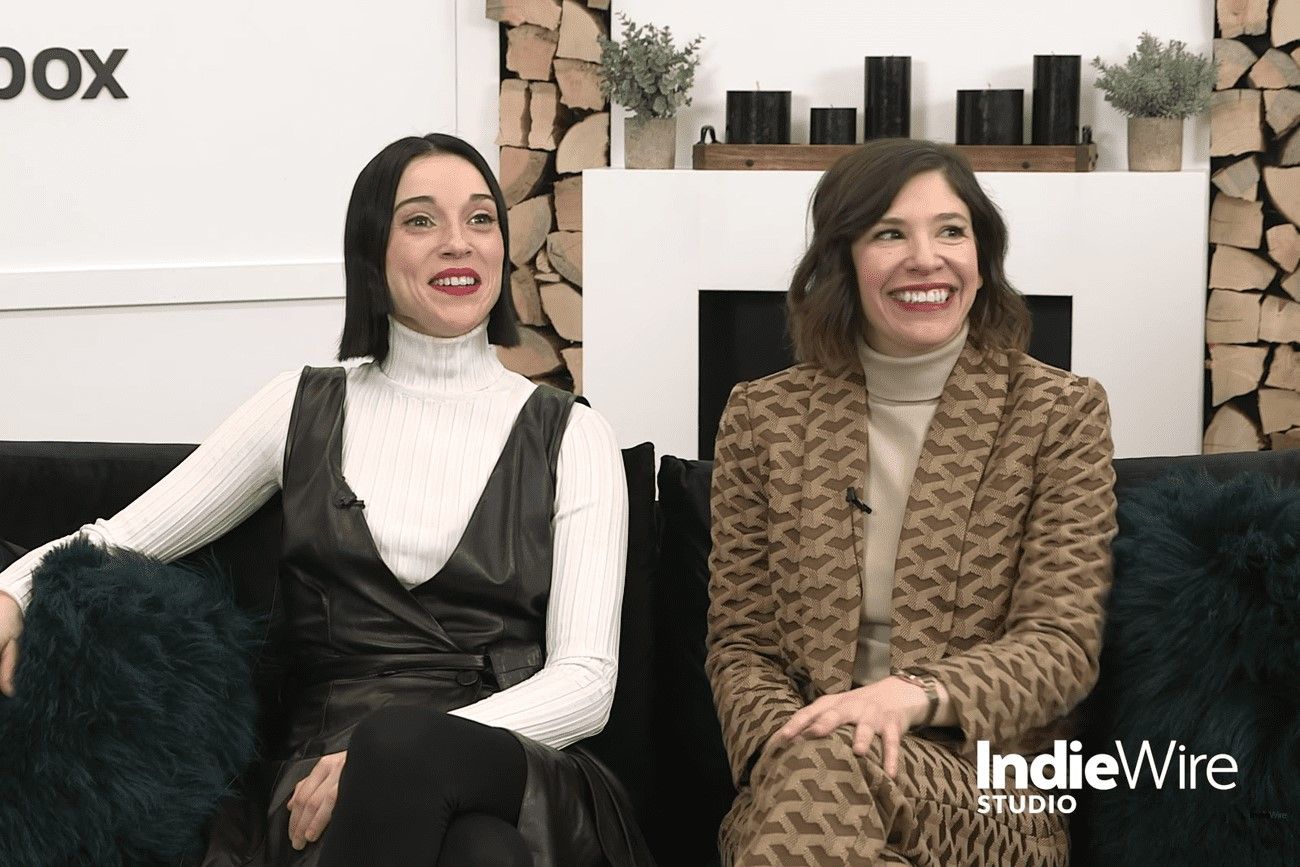 @Carrie Brownstein & St. Vincent On Their Mockumentary, 'The Nowhere Inn' (IndieWire Sundance Studio)/ IndieWire/YouTube.com
Cara Delevingne and St. Vincent
The combination of Cara Delevingne and American artist St. Vincent may be her most well-known romance. Although the Grammy Award winner claims she doesn't identify as anything in particular, she does support "gender fluidity." This gorgeous couple dated from 2014 to 2016.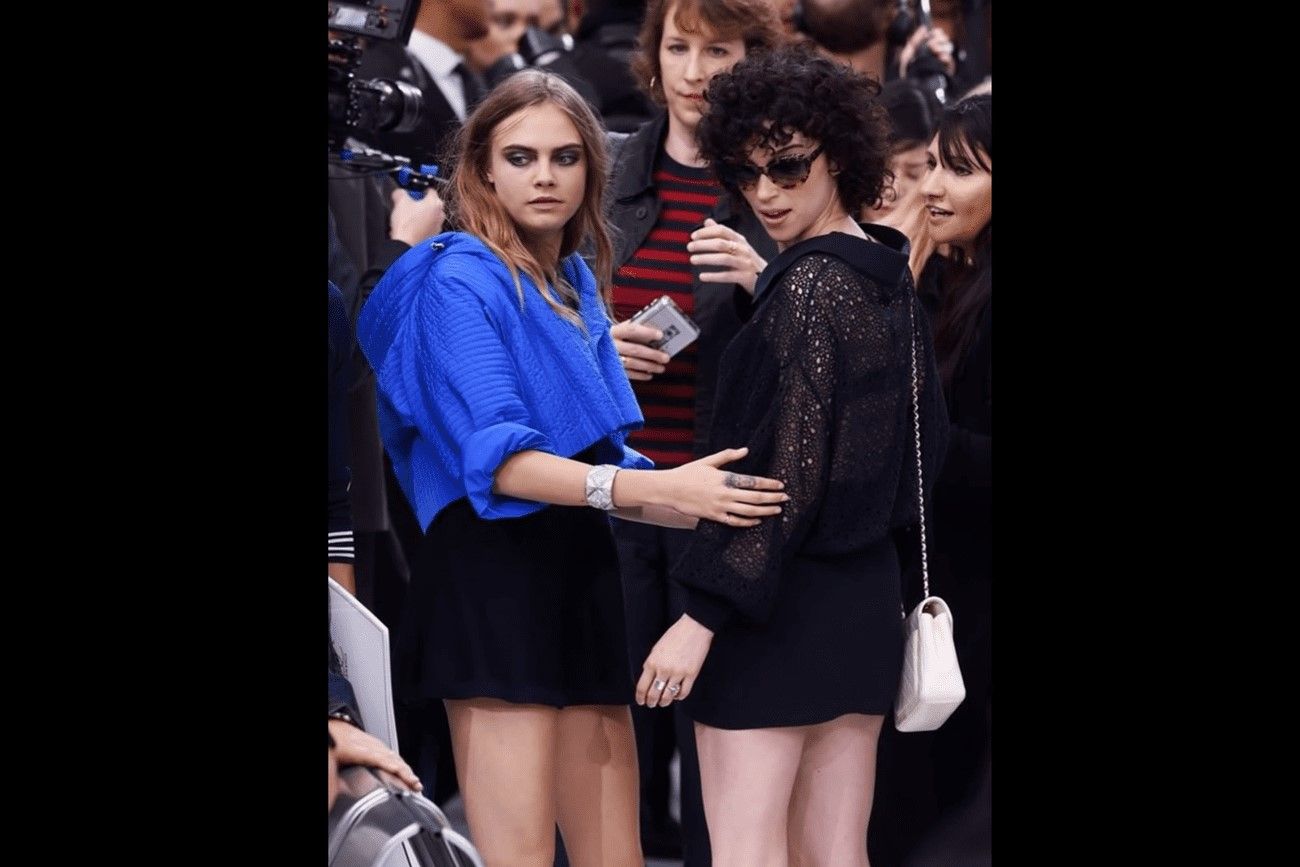 @Cara Delevingne and St. Vincent !!! (2015-2016)/ Teona Narchemashvili/YouTube.com
Sharon Needles and Alaska
And now, two unfortunate drag queens. Aaron Coady's alter ego Sharon Needles dated Justin Honard, also known as Alaska, a fellow contender, for four years. The romance between this couple terminated in 2013, but they have remained friends ever since.
These queens formed a band called Haus of Haunt while they were dating, and they both now have successful musical careers. Despite ending their love engagement, the power couple continues to support one another.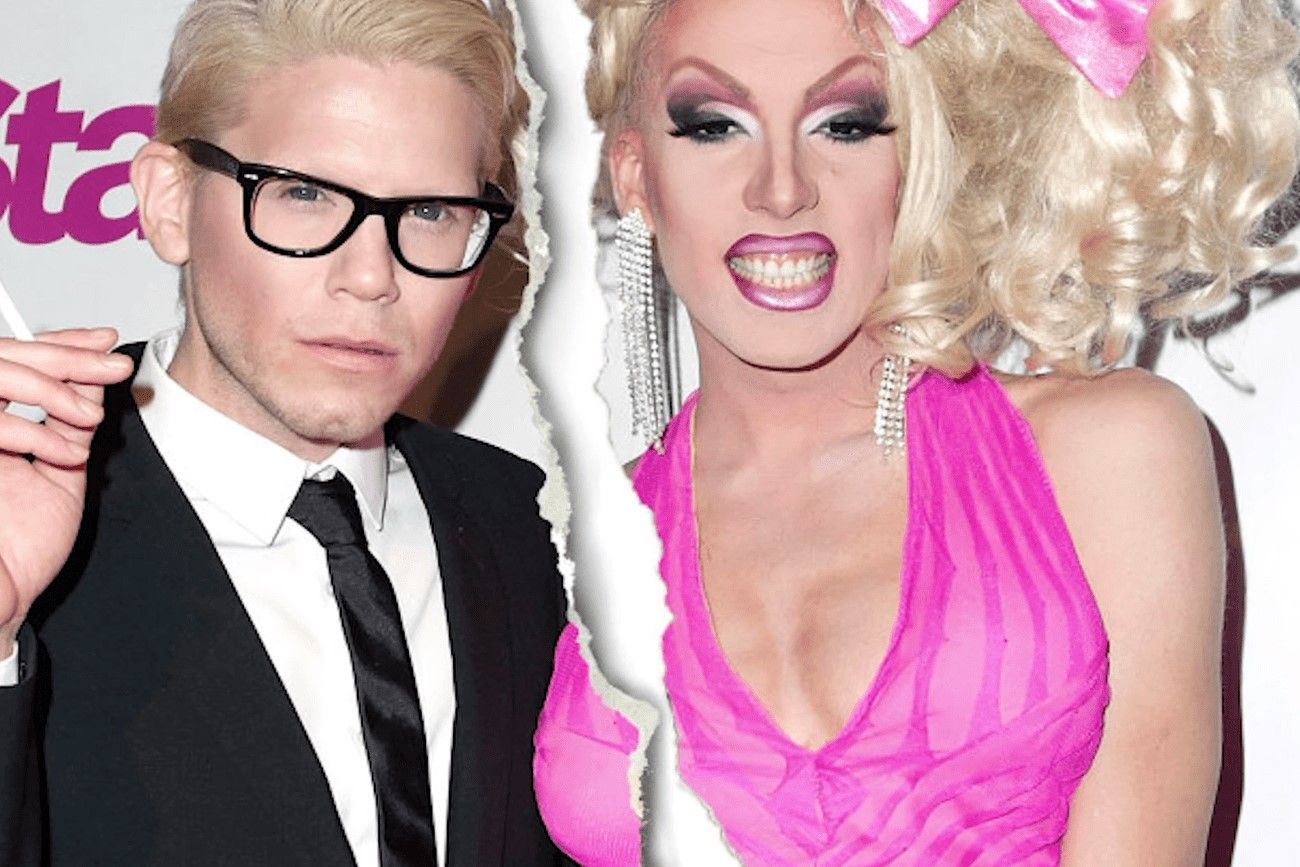 @Sincerely, Alaska: Relationship w/ Sharon Needles | Portrait of a Queen/RuPaul's Drag Race/YouTube.com
Miley Cyrus and Kaitlynn Carter
Miley Cyrus, a former teen idol and current superstar, has had a varied love life. The singer has been spotted with a number of very famous partners, starting with Nick Jonas and moving on to Liam Hemsworth. Miley and Kaitlynn Carter traveled to Italy shortly after Miley and her ex-husband Hemsworth separated.
Carter stated in a piece he wrote on the couple, "This was a tremendous voyage of self-discovery. I forgot about the "norm," paid attention to myself, and lived for the first time. This connection continued for a few months.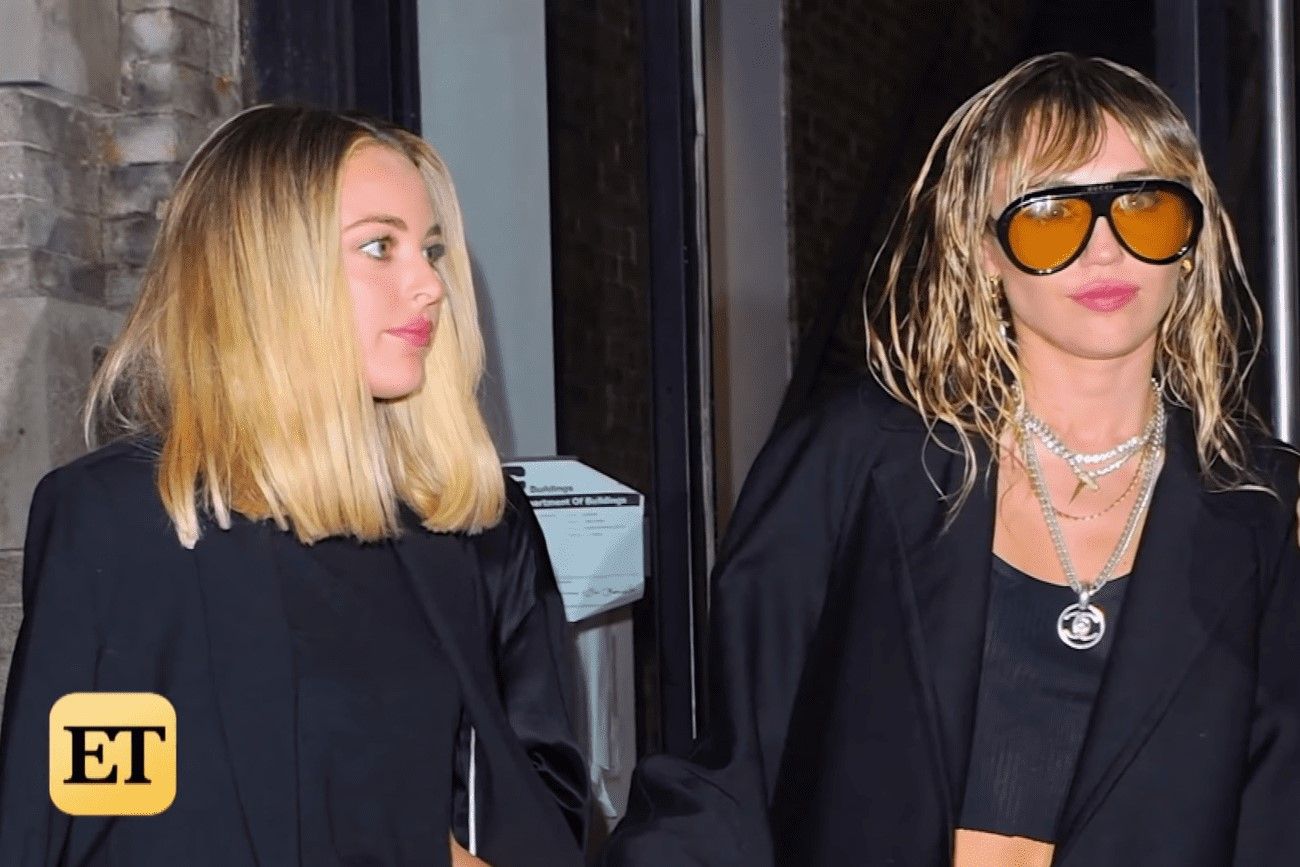 @Kaitlynn Carter Opens Up About How She 'Fell' for Miley Cyrus/Entertainment Tonight/YouTube.com
Adam Lambert and Javi Costa Polo
Throughout his career, singer Adam Lambert has been actively committed in LGBTQ activism. He had a long-term relationship with the Finnish TV celebrity Sauli Koskinen before dating the model Javi Costa Polo for a short time after that.
Costa Polo had to go back to his native Spain, so the adorable couple only lasted a year despite posting numerous selfies on Instagram.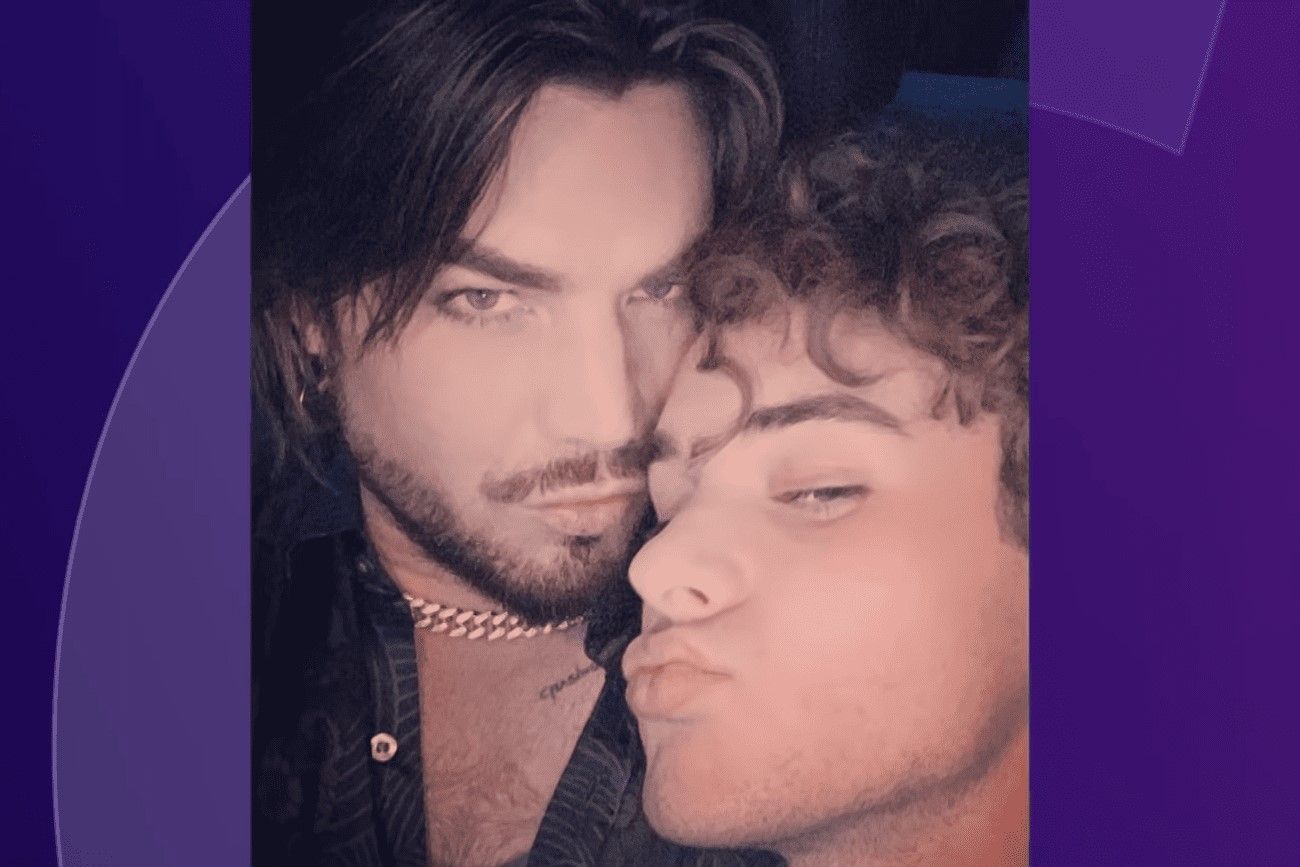 @Adam Lambert Makes It Instagram Official With Boyfriend Javi Costa Polo | Access/Access Hollywood/YouTube.com
Luke Evans and Jon Kortajarena
Luke Evans, a Welsh actor and musician, keeps his personal affairs quite secret. Although he prefers not to talk about his family with the public, the actor has admitted that he frequently gets comments from individuals who find it hard to believe he is gay. The duration of his relationship with Spanish model Jon Kortajarena is therefore unknown.
In fact, there have been even whispers that the romance between this gay celebrity pair has been reignited. In 2019, the model shared a few Instagram stories of the couple together before deleting them. Interesting!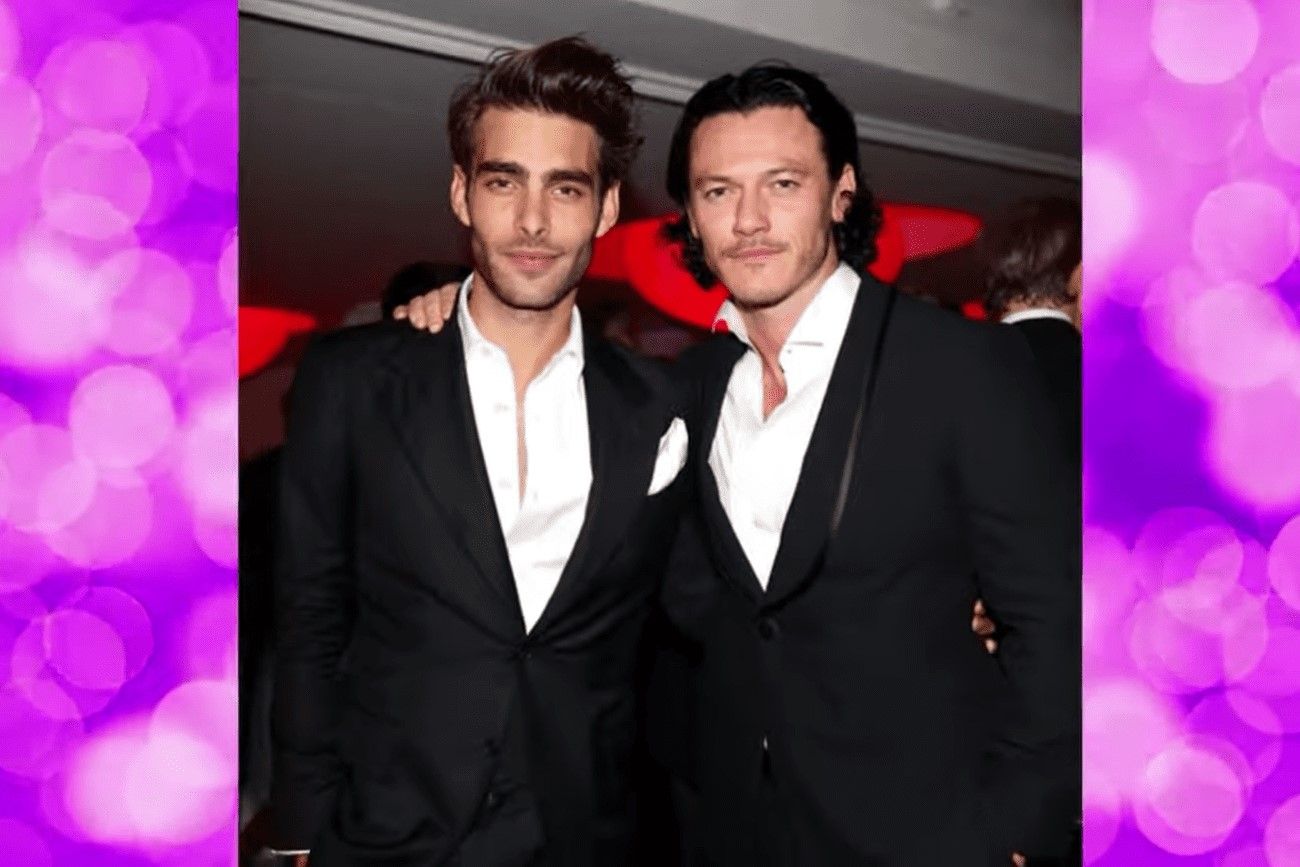 @Luke Evans Boyfriends List (Dating History)/ CelF/YouTube.com
Amandla Stenberg and King Princess
Amandla Stenberg, an actor and LGBTQ activist, self-identifies as non-binary. The actor has recently come out as gay, despite having previously identified as pansexual. Stenberg dated Mikaela Mullaney Straus, a.k.a. King Princess, in 2018.
King Princess is transgender and gay, and the two have been spotted hanging out together in studios. However, due to difficulties juggling their hectic schedules, this relationship didn't endure very long. King Princess has been seeing Lizzo's artistic director, Whitney Wilson, ever since.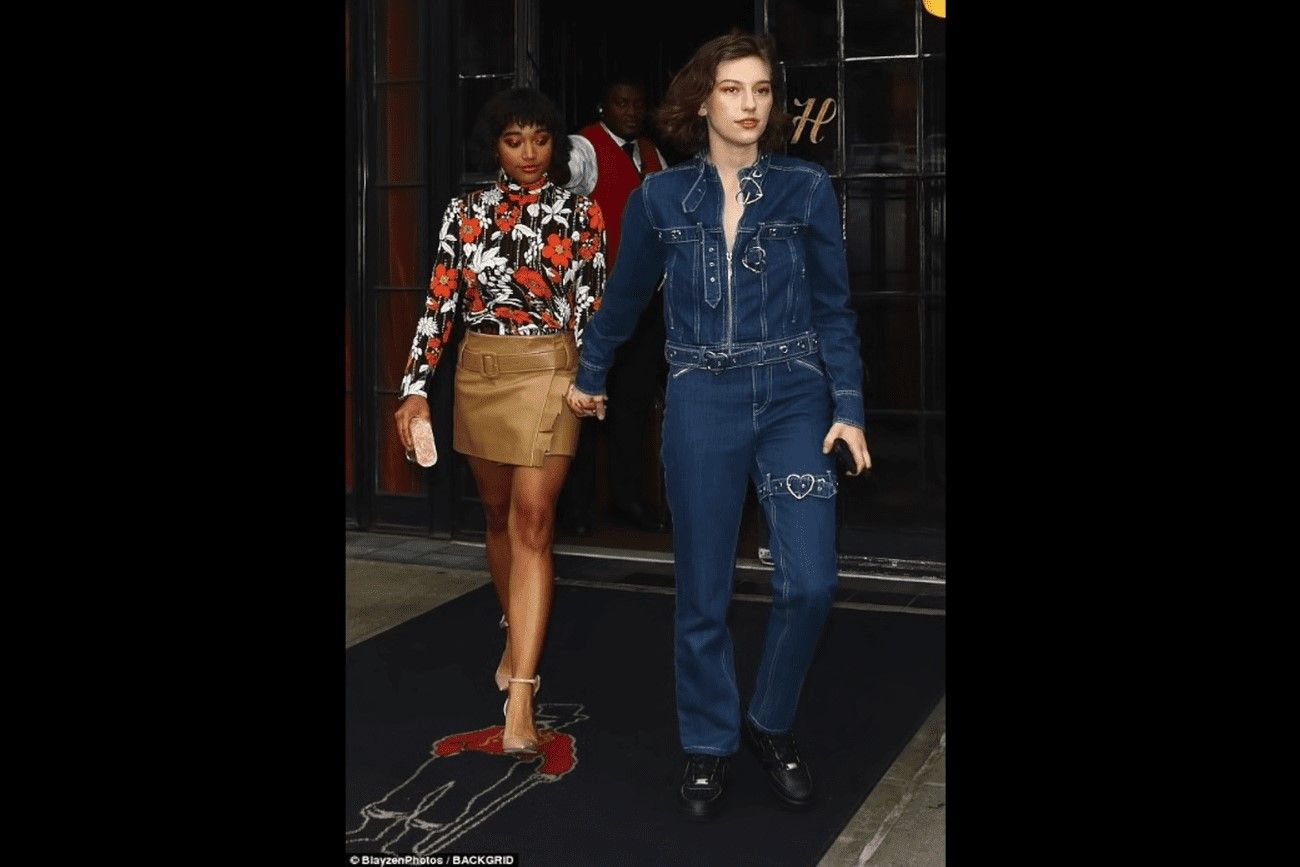 @King Princess & Amandla Stenberg Are The Young Gay Power Couple We've All Been Waiting For/ periwinkle sky/YouTube.com
Brad Walsh and Christian Siriano
Sadly, although our next gay celebrity couple was able to go down the aisle, their marriage did not last. Brad Walsh, a singer and producer, is well known for his remixes of songs by Lady Gaga and Britney Spears, among other artists. After dating Christian Siriano for more than ten years, they got married in 2016.
Unfortunately, the producer announced just two years later that he and his husband Siriano had chosen to call it quits. Christian Siriano has been seeing Kyle Smith ever since.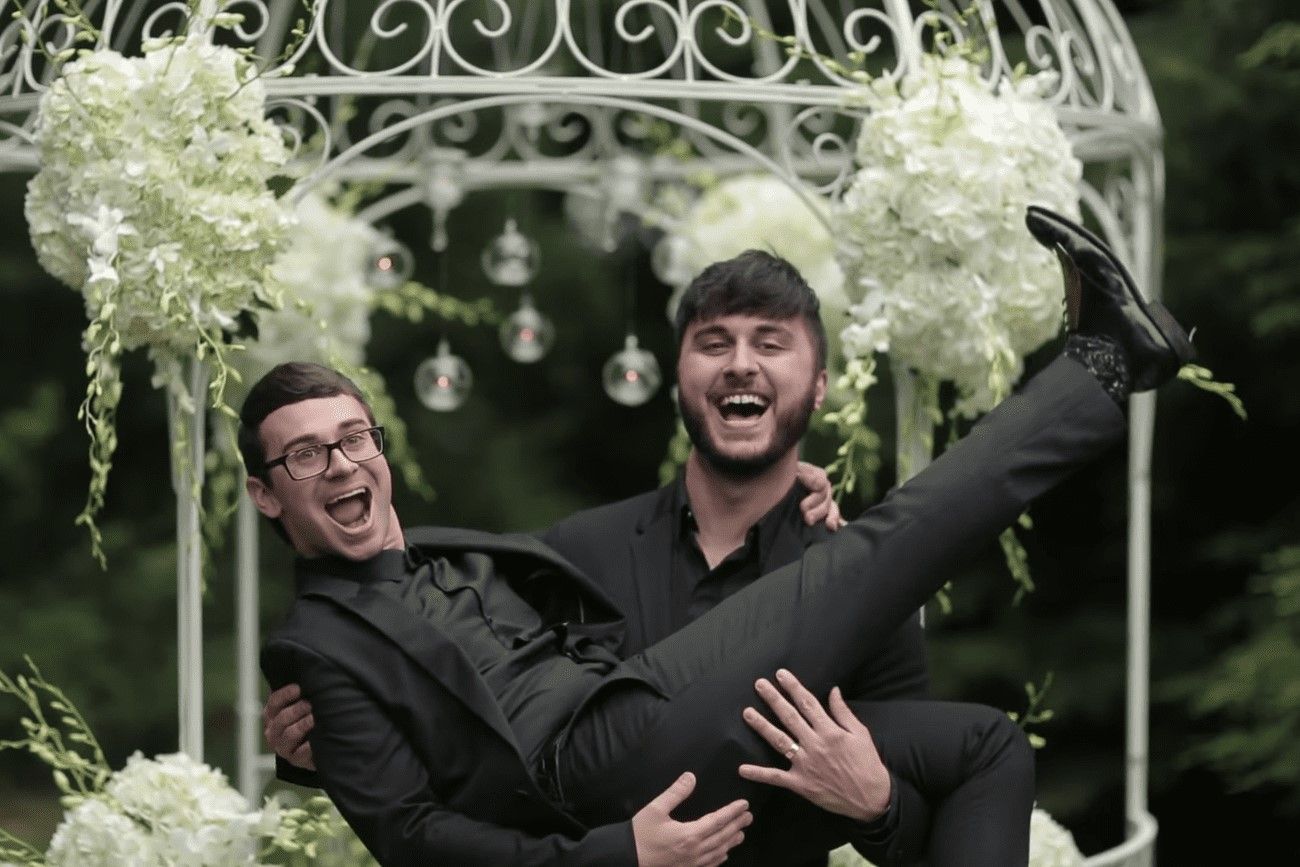 @Christian Siriano and Brad Walsh's Beautiful Wedding | BRIDES/Brides/YouTube.com
Sarah Paulson and Cherry Jones
Actresses Sarah Paulson and Holland Taylor are now dating. However, Sarah Paulson dated Cherry Jones before joining that power couple. You might have noticed that Sarah Paulson seems to have a penchant for older women.
From 2004 through 2009, this gay couple was together, then they split up amicably. In 2015, Cherry Jones wed the director Sophie Huber. In addition, that year saw the beginning of Sarah Paulson's relationship with Holland Taylor.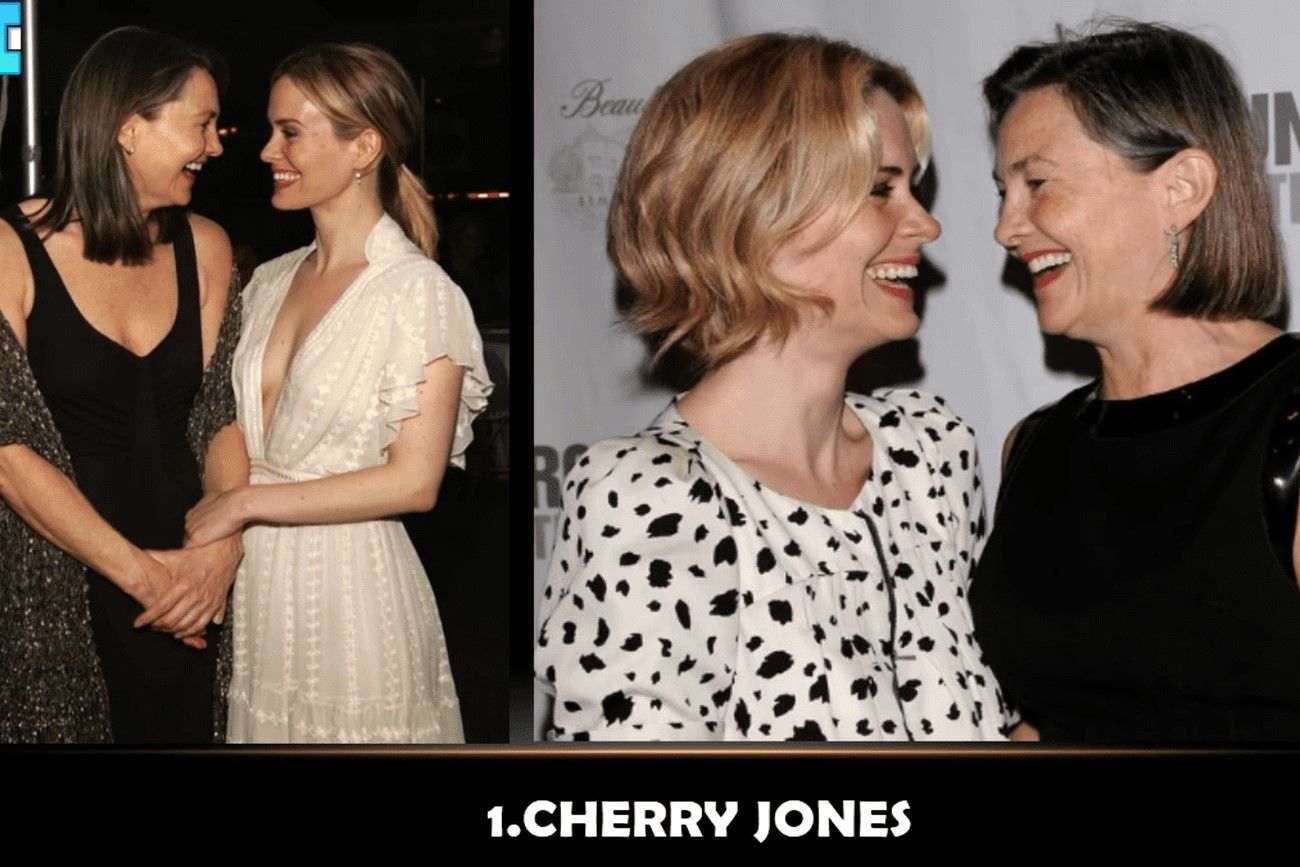 @Girls Sarah Paulson Has Dated - (American Horror Story)/ Hollywood Inside/YouTube.com
Cara Delevingne and Michelle Rodriguez
Several people—including English supermodel and actress Cara Delevingne—appear on this list more than once. The gorgeous celebrity has dated a number of attractive other celebrities. American actress Michelle Rodriguez, who is bisexual, was one of them.
These two started dating in 2014, and their open dates garnered a lot of media attention. However, this romance broke up because Rodriguez, wanted to be married and Delevingne, preferred to party.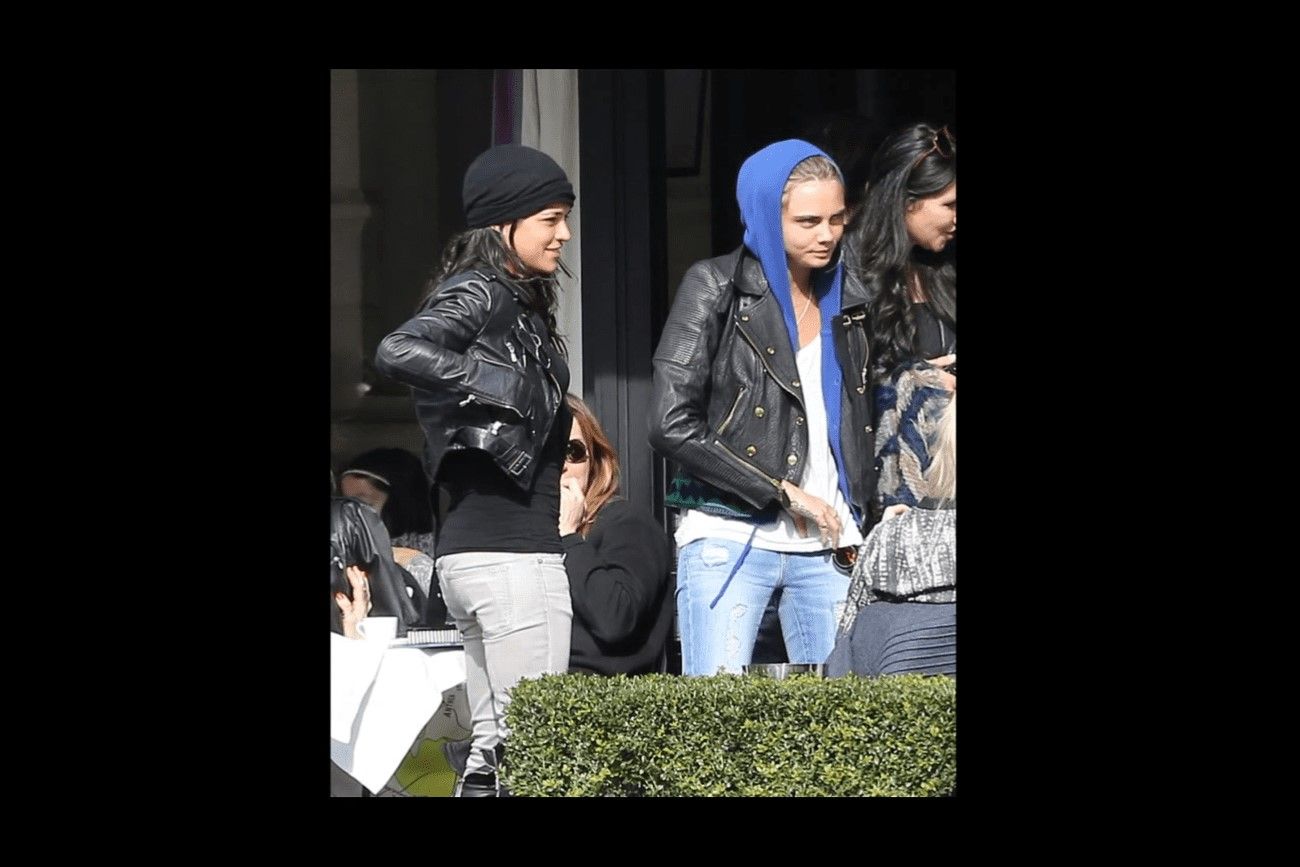 @Michelle Rodriguez & Cara Delevingne/VIP A/YouTube.com
Ricky Martin and Carlos Gonzalez Abella
It's difficult to envision Puerto Rican superstar Ricky Martin with anyone other than the adorable Syrian-Swedish painter Jwan Yosef at the moment. In 2010, the famous person came out publicly and revealed that he had once believed himself to be bi.
Carlos Gonzalez Abella, an economist, and Ricky Martin dated for a number of years until calling it quits in 2014. Martin and Yosef got engaged the same year they met, only two years later. Martin's boys from before the partnership are now included in their family of four children, who are now married.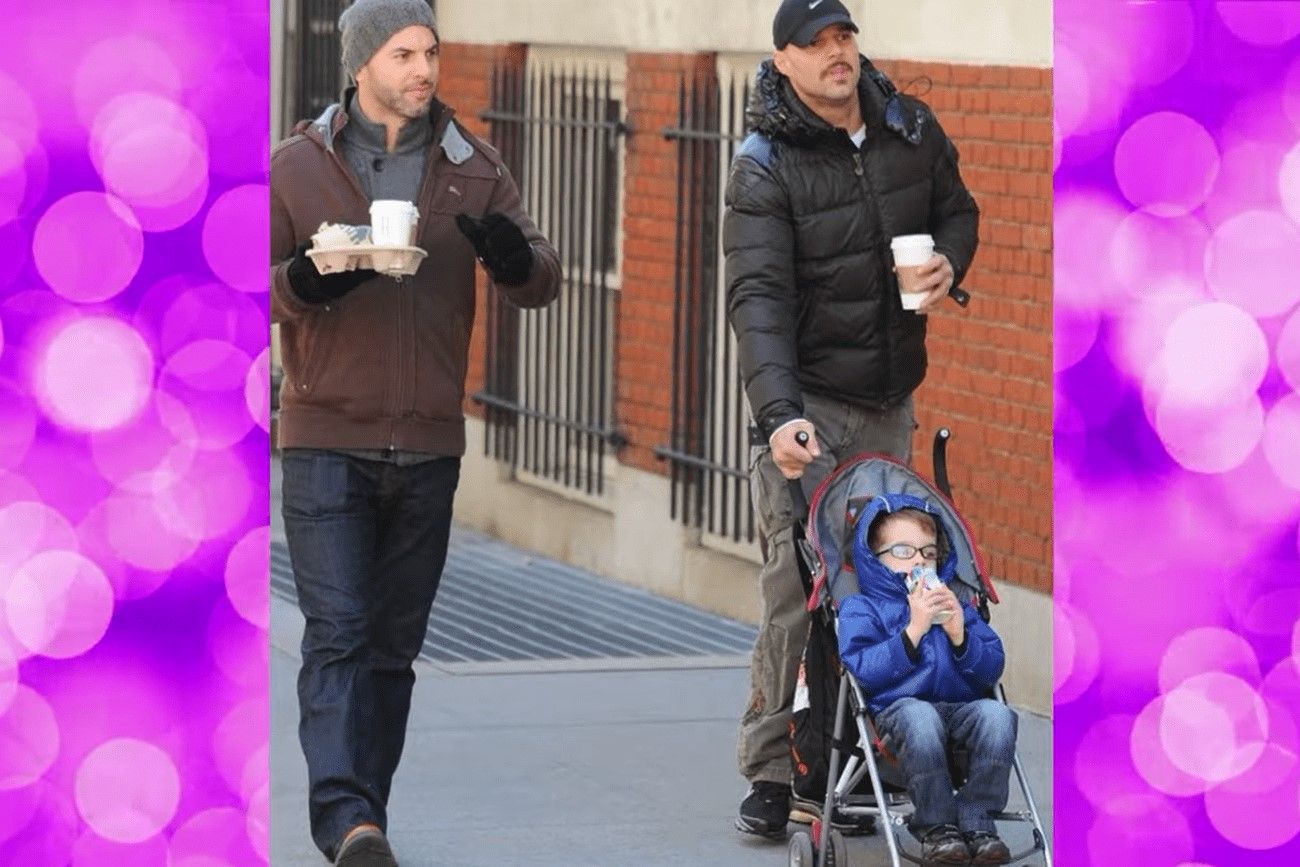 @Ricky Martin Girlfriends, Boyfriends List (Dating History)/ CelF/YouTube.com
Kristen Stewart and Alicia Cargile
Actress Kristen Stewart had a sporadic relationship with visual effects producer Alicia Cargile before to dating model Stella Maxwell. Stewart confessed his undying love at the moment, "Right now I'm just really in love with my girlfriend."
They dated between 2014 and 2016 and were together for two years. Because it received less attention than her high-profile relationships with co-star Robert Pattinson and married director Rupert Sanders, Kristen Stewart appeared to enjoy this union.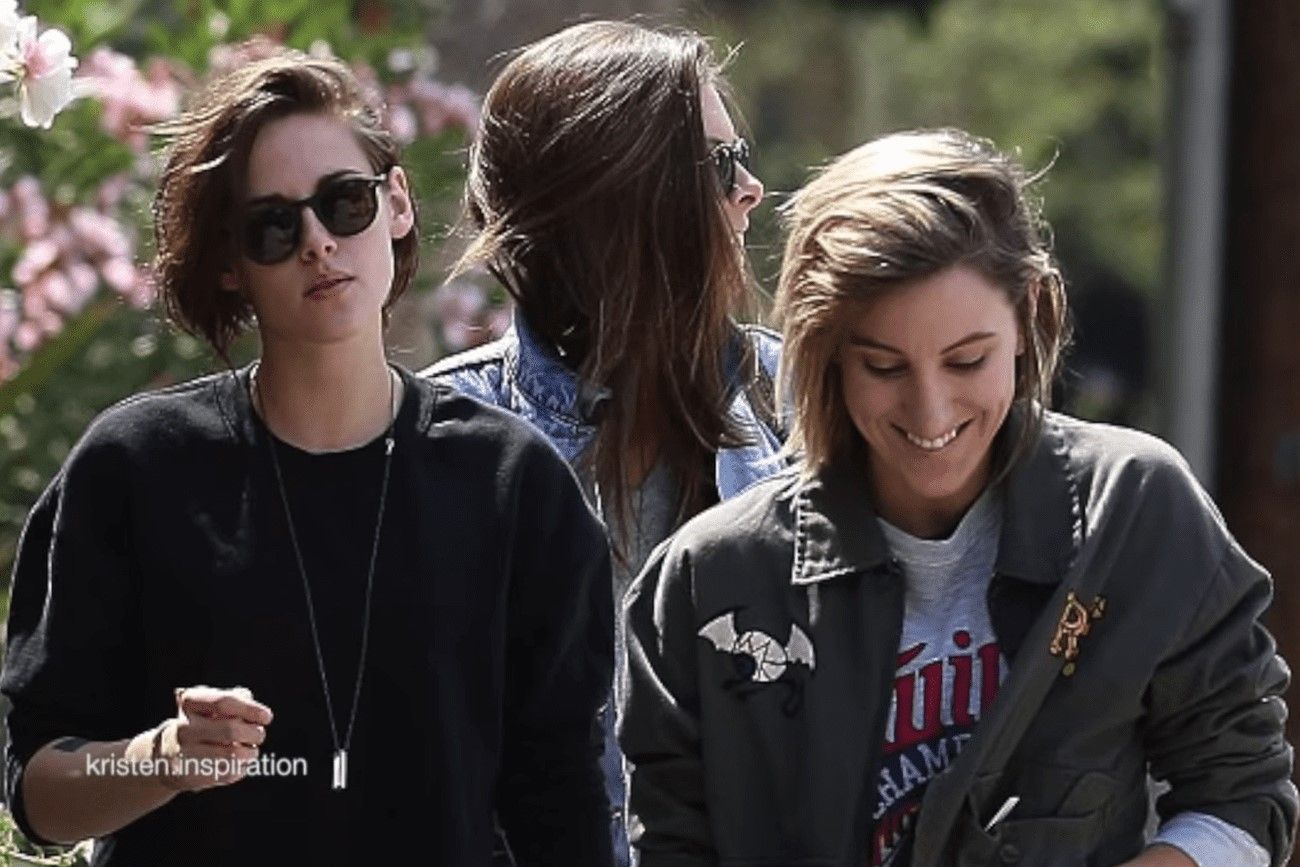 @Kristen Stewart and Alicia Cargile - Kiss me slowly/kristen.inspiration/YouTube.com
Colton Haynes and Jeff Leatham
In May 2021, Colton Haynes and Jeff Leatham ended their six-month union. There was a rumor going about that Leatham's infidelity was the reason the pair had broken up.
After Haynes released a song about adultery just before the breakup, the faith was strengthened. Haynes, who was outraged by the slander being spread about his ex-girlfriend, took to Twitter to clear up the misunderstanding and assert that Leatham was incapable of infidelity and that the song was about a previous relationship.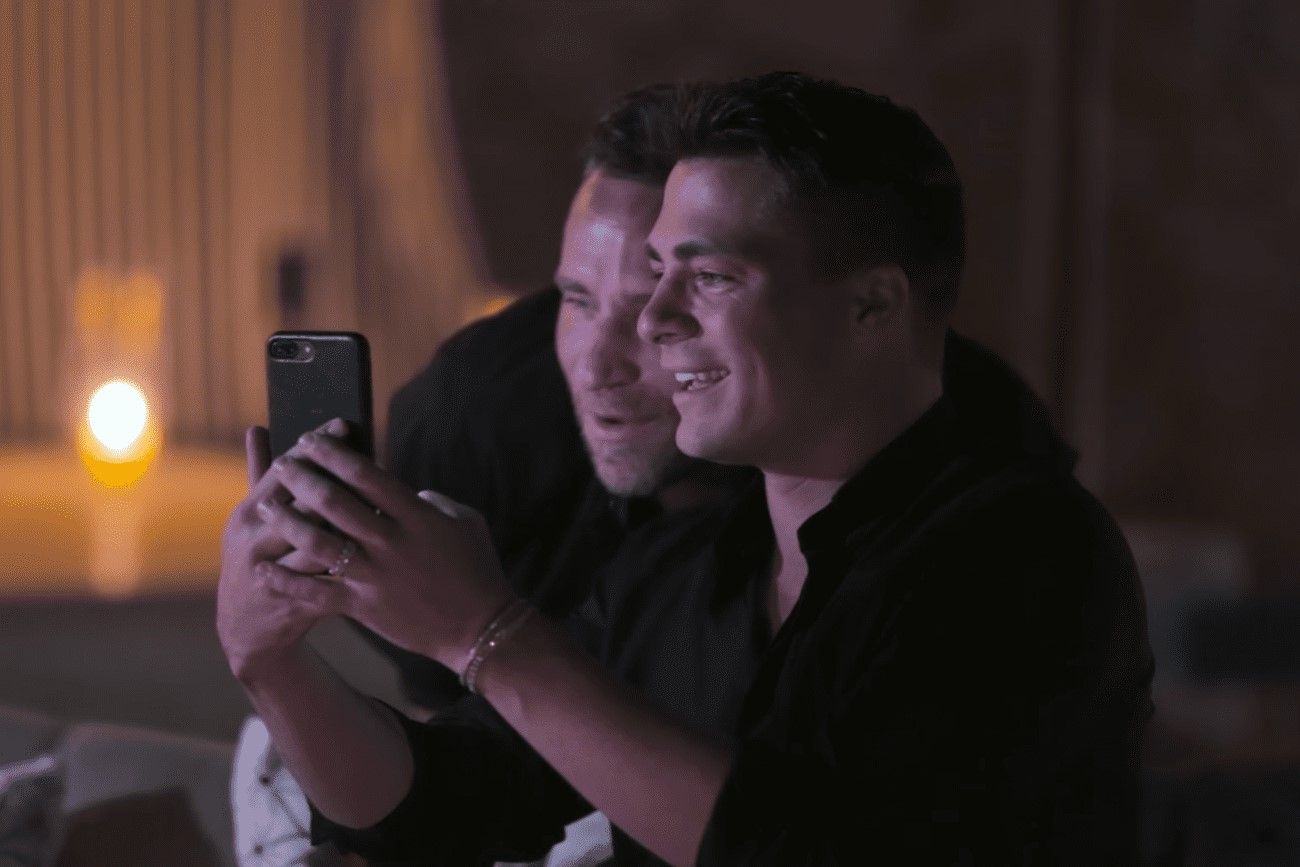 @Jeff + Colton - The Proposal/Land's End Films/YouTube.com
Elliot Page and Emma Portner
The media and public were startled by Elliot Page and Emma Portner's separation. When Page and Portner first met in 2017, they fell in love right away.
They were married just six months after they started dating because of this. After Elliot came out as a trans man in December 2020, the LGBTQIA couple created quite a fuss. He received public backing from Portner, who even defended him from transphobic remarks. But Page ultimately made the decision to sit down and file for divorce on January 2.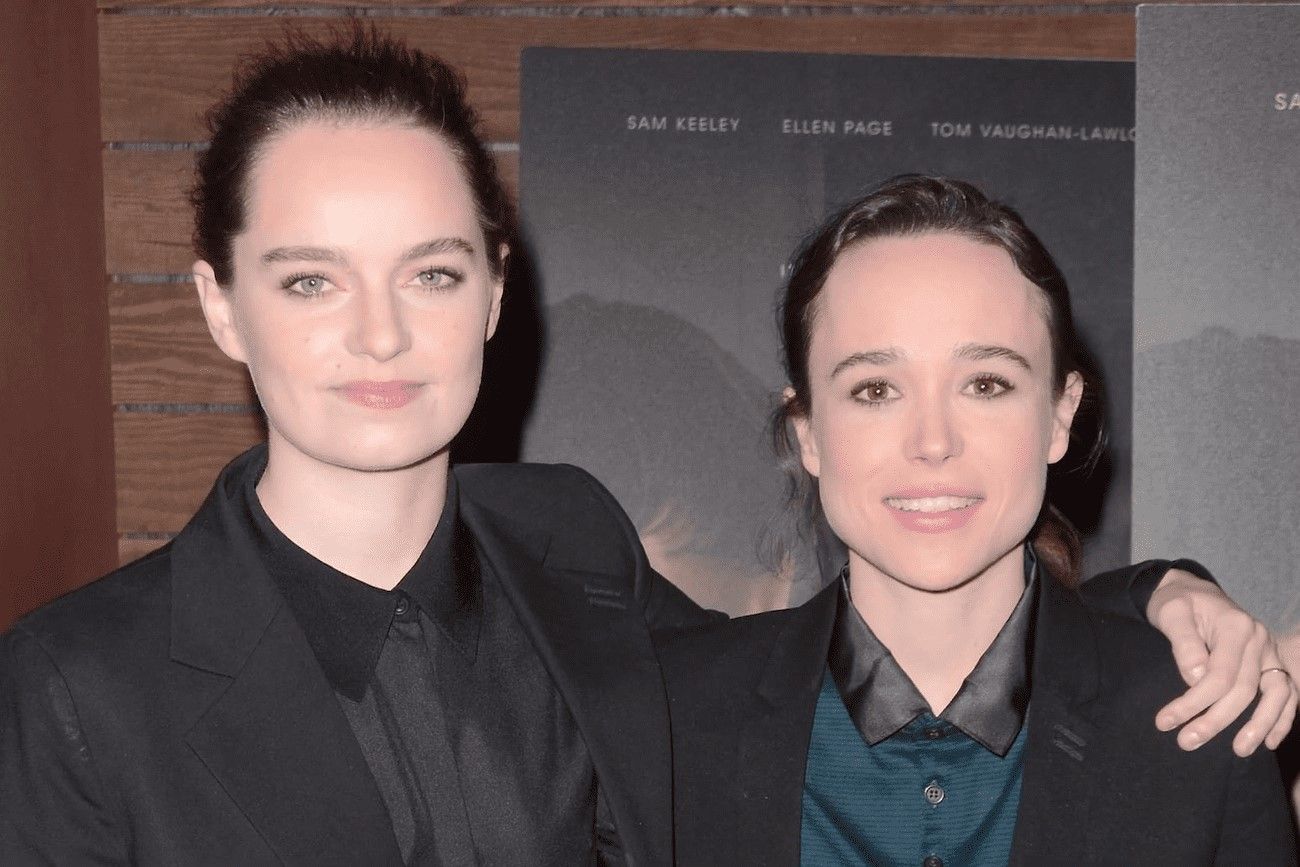 @What Happened Between Elliot Page And Emma Portner?/ EveryDayNews/YouTube.com
Lambda García and Luja Duhart
In 2020, Lambda Garca and Luja Duhart were the most popular LGBTQIA celebrity couple. Sadly, the pair split up a year after their romance took off.
The actor announced on Instagram in February that he had decided to end things peacefully with his singing ex-boyfriend. Garca admitted that his relationship with Duhart was the best one he had ever been in, despite his sadness about the breakup. Fans can only hope that the two are content on their own terms.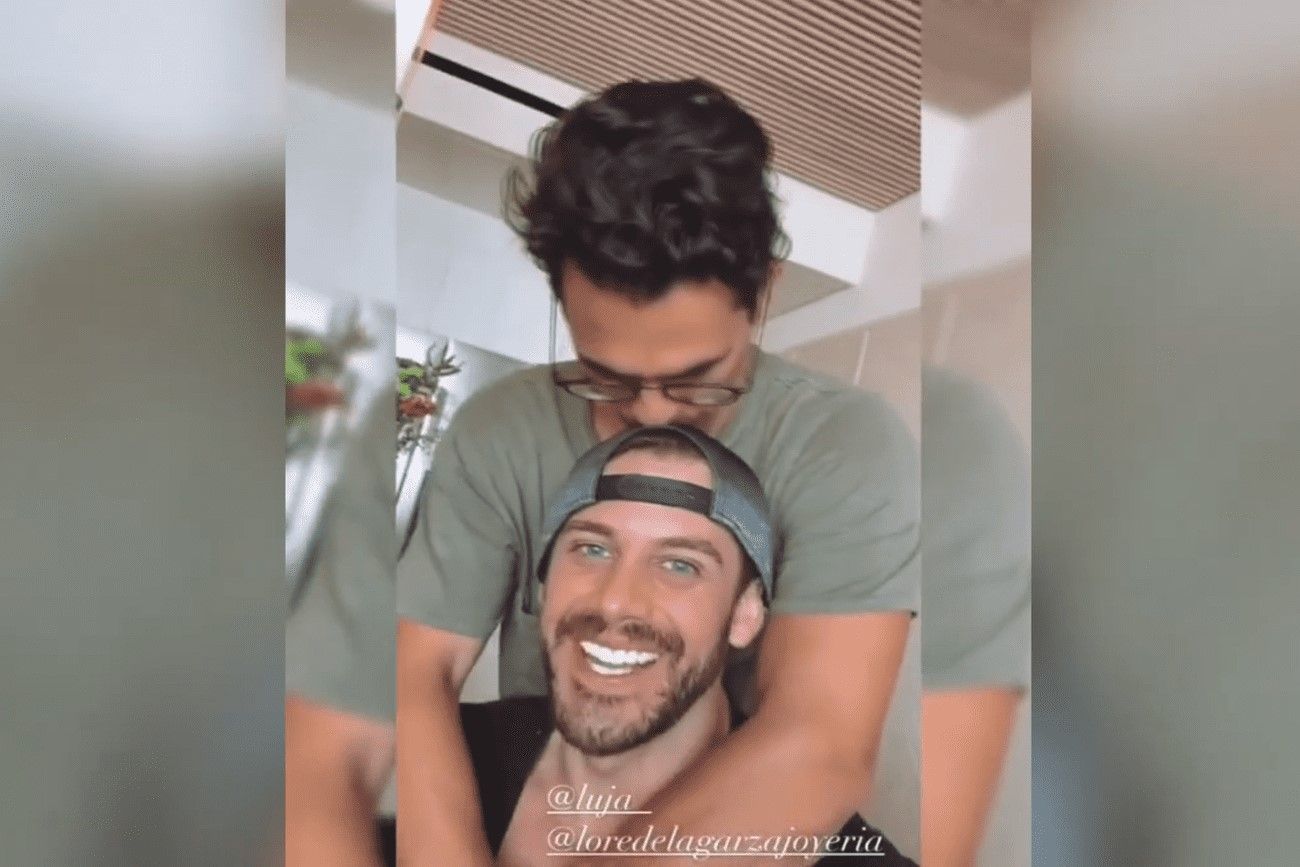 @Al Borde Del Llanto Lambda García Anuncia Su Ruptura Con Luja/ Latin/YouTube.com
Dulceida and Alba Paul
The fact that many LGBTQIA couples divorced in 2021 leads us to think that love was not in the air that year. After realizing it was not a suitable moment for their romance, Dulceida and Alba Paul called off their courtship.
In July 2021, a post devoted to the announcement was published. Paul said she hoped the relationship would mend and agreed to a brief separation. In 2015, Dulceida revealed on her YouTube channel that she is bisexual. After getting married in 2016, the pair rose to fame in Spain as LGBTQIA idols.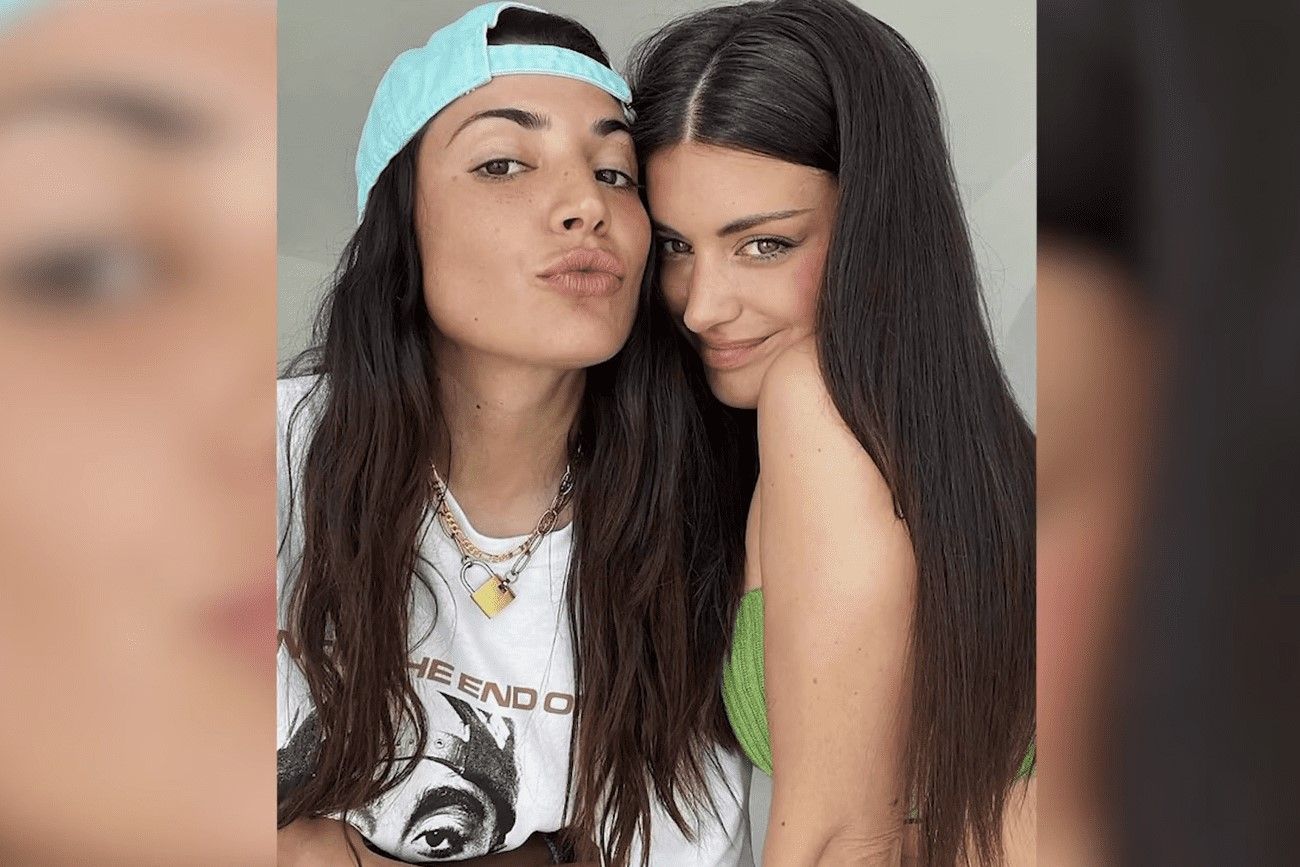 @Dulceida y Alba Paul comparten su amor por redes sociales/ CHANCE/YouTube.com
Taryn Manning and Anne Cline
Just two months after getting engaged, Taryn Manning, and Anne Cline, called it quits in late August of this year. In a quaint Florida restaurant in June, Cline proposed to the Orange Is the New Black actress.
In March, the pair was first spotted together. Since a close friend of Manning's told the media that she realized the relationship wasn't the right one for her after getting engaged, their whirlwind romance was undoubtedly not working for Manning.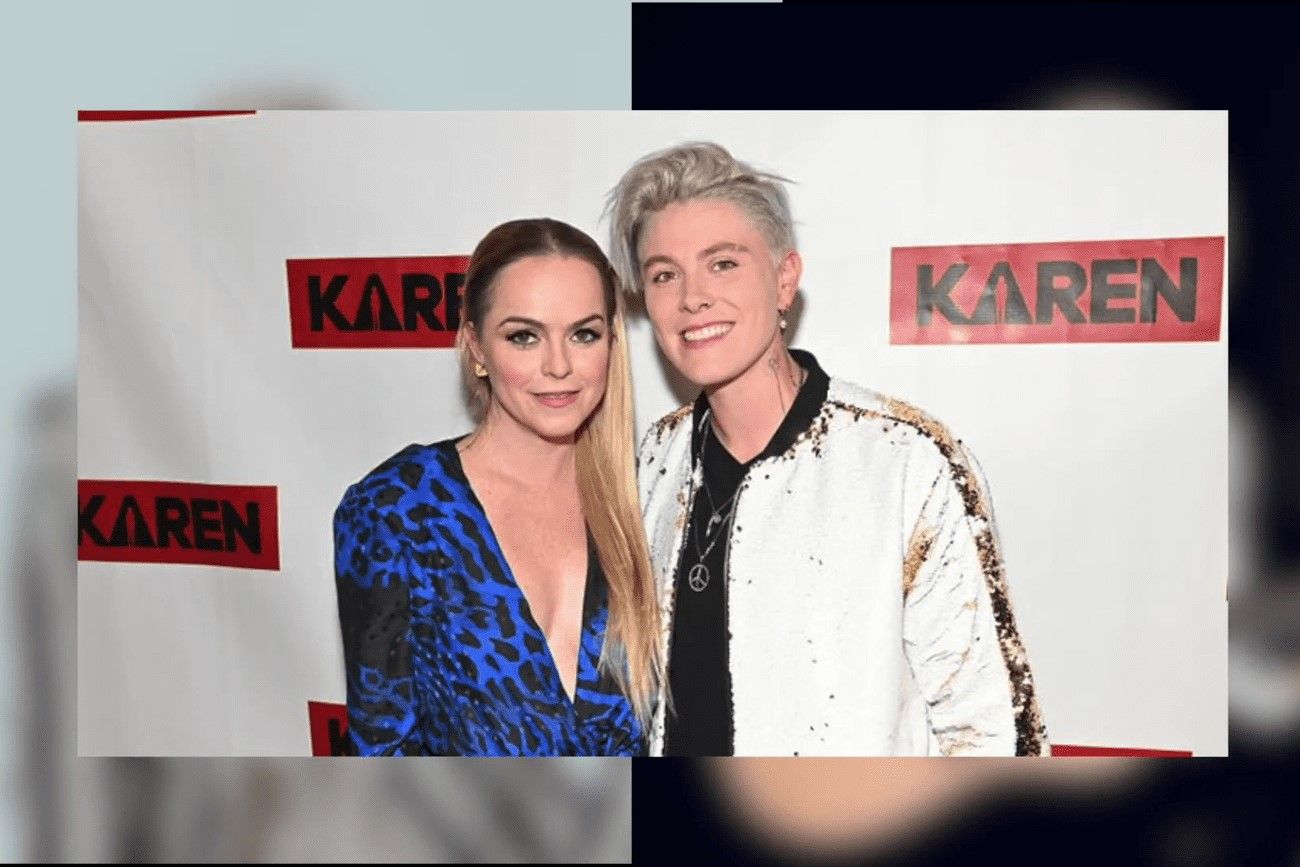 @THE SUDDEN ENGAGEMENT AND SPLIT UP OF TARYN MANNING AND ANNE CLINE/ Mysteries and Realities/YouTube.com
Joe Exotic and Dillon Passage
The adored Tiger Kings couple announced their divorce on March 26 just three years into their marriage.
The passage posted a series of depressing findings on Instagram. He claimed that during their brief marriage—which lasted no more than three years—the couple had been apart for around two and a half of those years. The former couple announced their separation while expressing their shared love and respect for one another.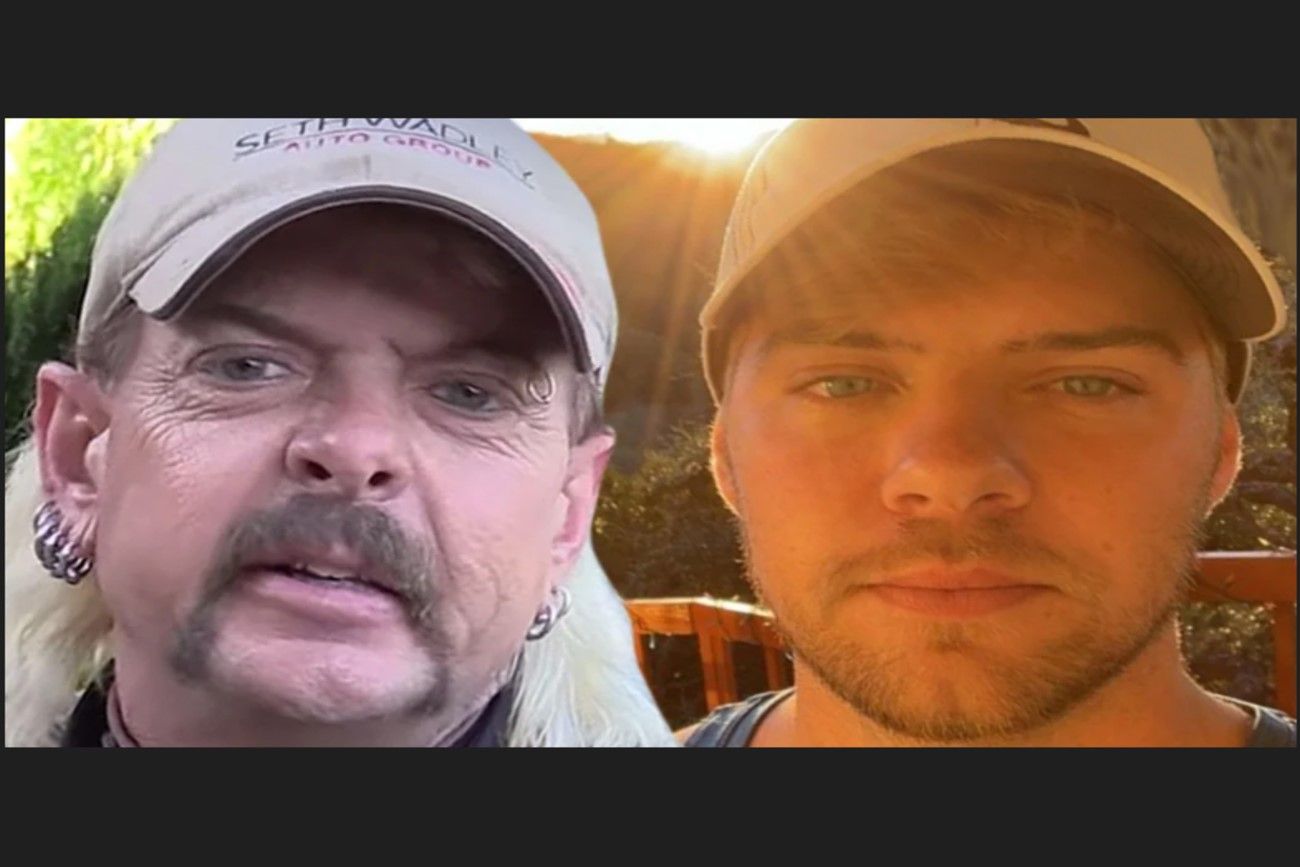 @ShikosLady/Reddit.com
Miley Cyrus and Stella Maxwell
We're back with Miley to talk about her relationship with model Stella Maxwell, who was born in Belgium and currently resides in New Zealand. Stella has already been spotted with actress Kristen Stewart, but Miley was her last relationship.
2015 saw a brief relationship between Miley Cyrus and Victoria's Secret angel Stella Maxwell. They allegedly got along after meeting through a common friend, Cheyne Thomas. Lily-Rose Depp and Bella Hadid have reportedly been linked to Stella Maxwell, who self-identifies as queer and fluid.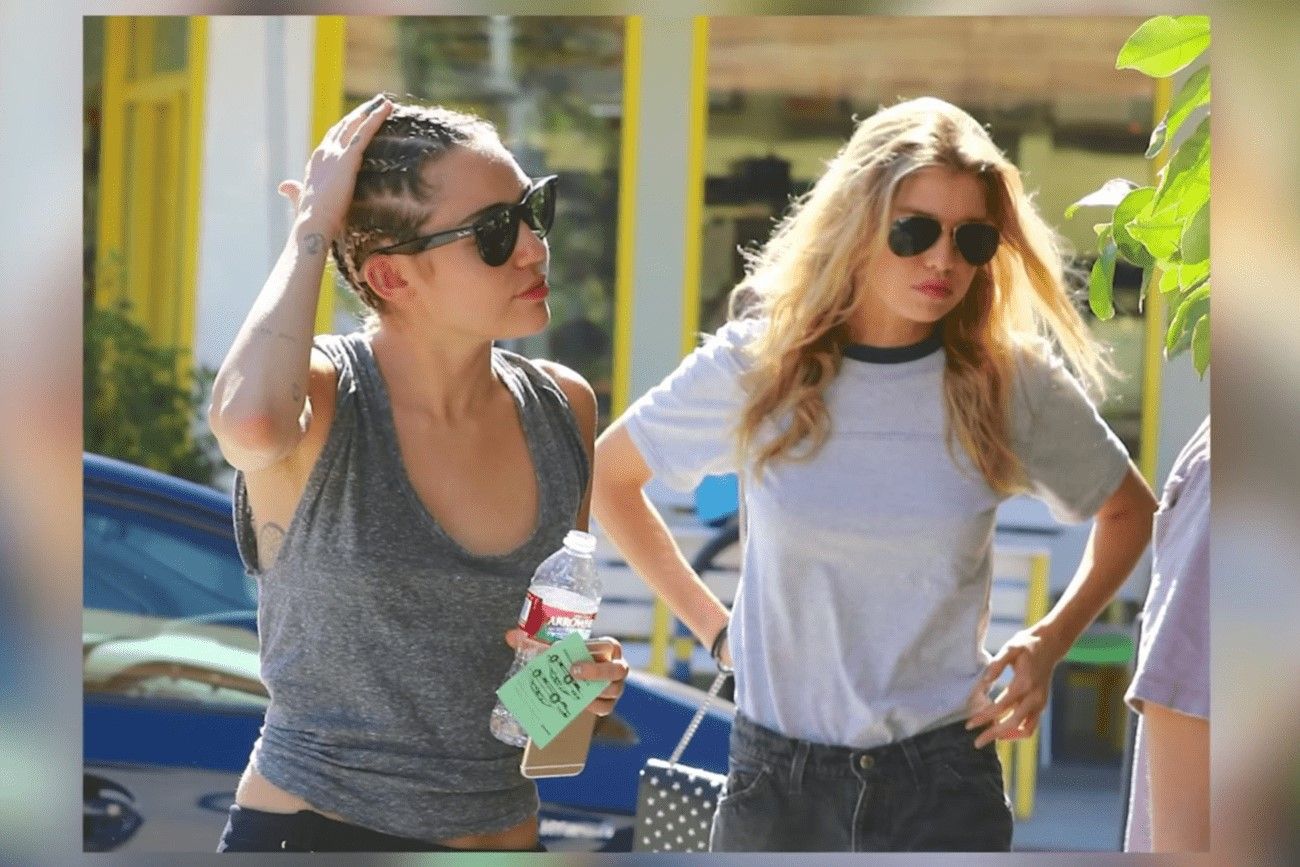 @Who has Stella Maxwell dated? Girlfriends List (UNTILL 2021)/ Dating History/YouTube.com
Corin Tucker and Carrie Brownstein
Carrie and Corin contributed their voices and guitar skills to the songs of the all-female rock band Sleater-Kinney from 1994 through 2006. In the beginning of the band, the guitarist and singer were also romantically involved.
After coming out as bi, Corin formed her own band, the Corin Tucker Project. Following their breakup, Tucket married Lance Bangs, whom he had already fallen in love with. Tucket is currently the lead singer for Filthy Friends, and the couple has two children together.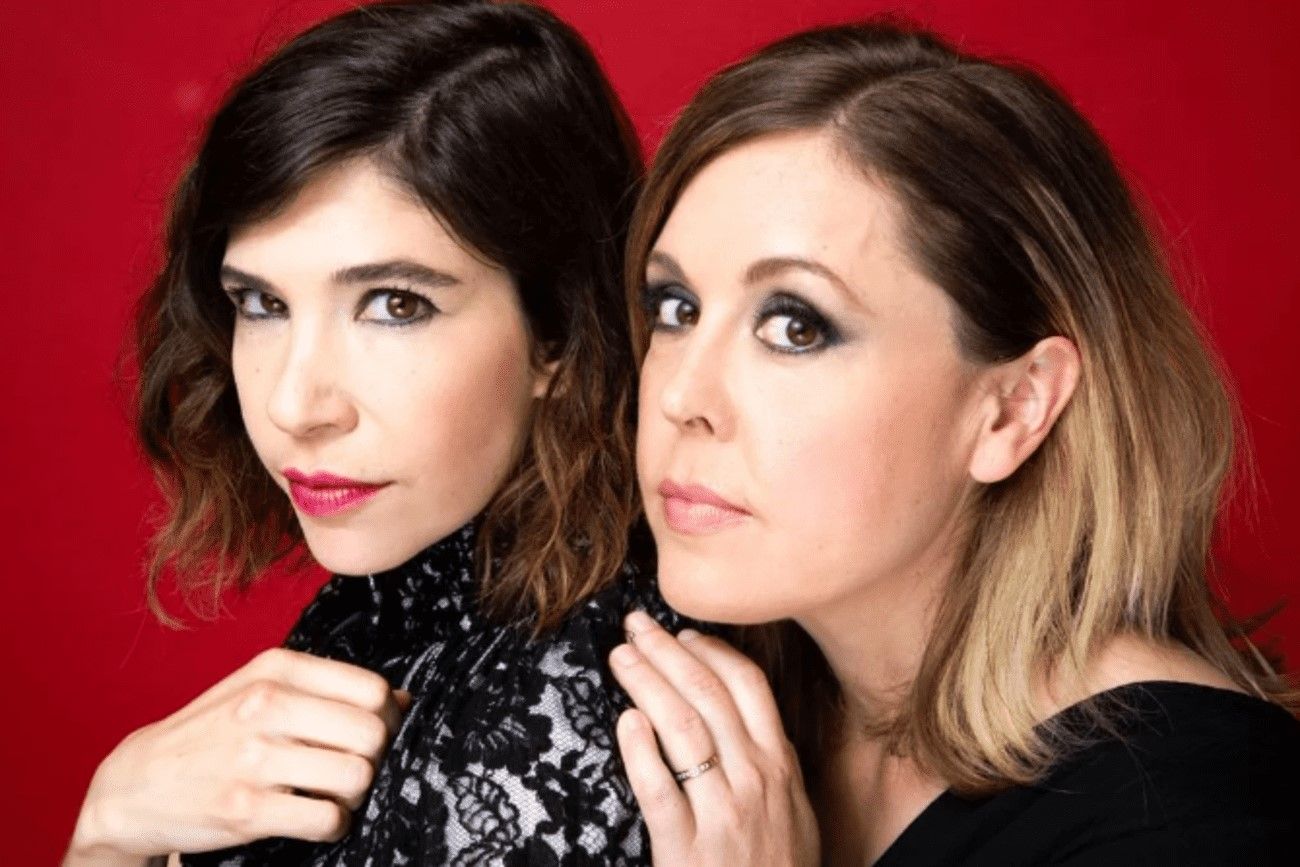 @Hush609/Reddit.com
Samantha Thomas and Elliot Page
Samantha Thomas dated Elliot Page when he was still known as "Ellen Page." Page's first known girlfriend was Thomas.
The artist has largely avoided the media after their breakup in 2017. After a year, Page married ballerina Emma Portner (and even went through a brief separation). Since Thomas shared a photo of herself with the now-divorced couple during the Women's March in Los Angeles in January 2018, it appears that she is still friends with the two.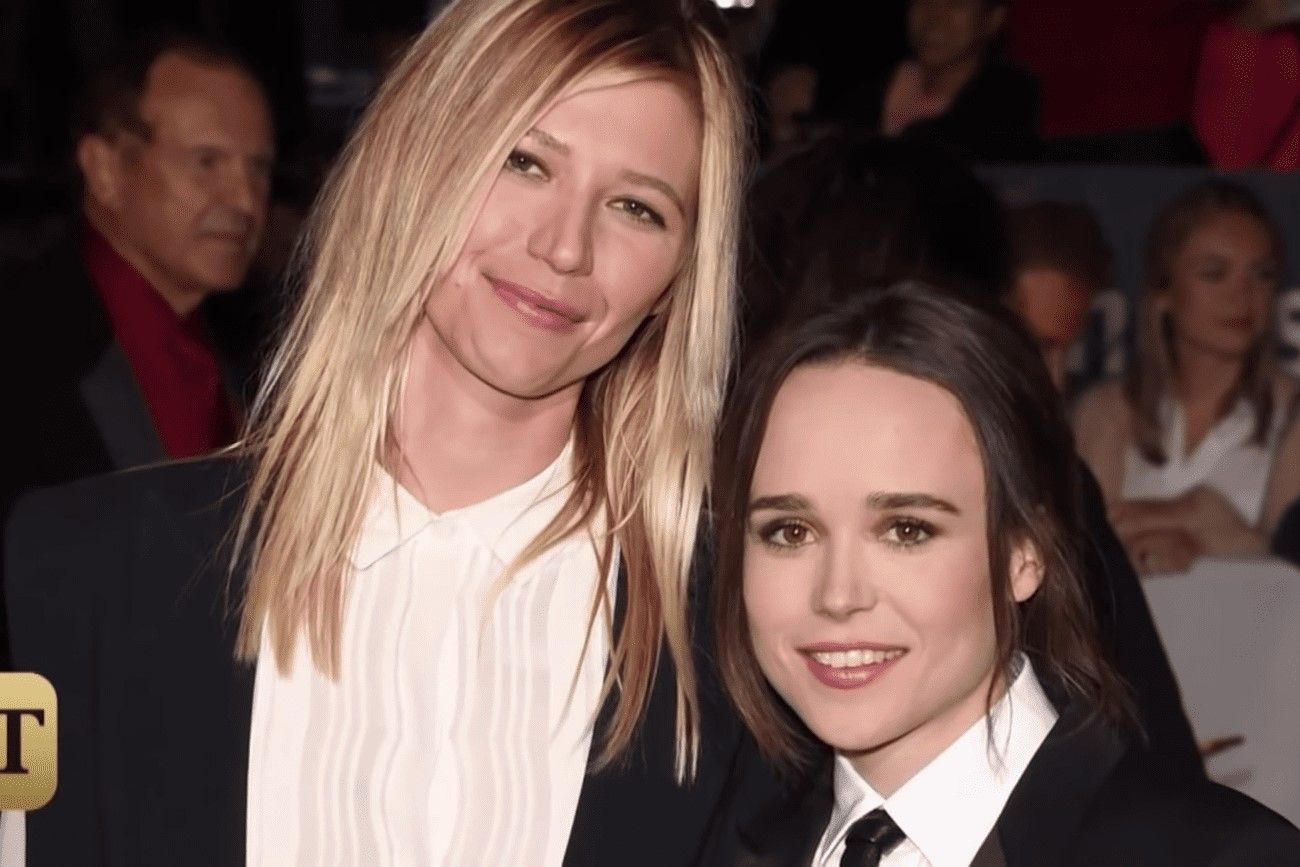 @Ellen Page and Girlfriend Samantha Thomas Make Their Red Carpet Debut!/ Entertainment Tonight/YouTube.com
Cheyenne Jackson and Monte Lapka
The relationship between Broadway singer Cheyenne Jackson and physicist Monte Lapka will be discussed next. This couple began dating in 2000 and were married in New York City more than a decade later. The couple announced their separation just two years later.
Cheyenne Jackson has since found new love with actor Jason Landau. In actuality, he wed a second time in 2014. Son Ethan and daughter Willow are twins born to Jackson and Landau.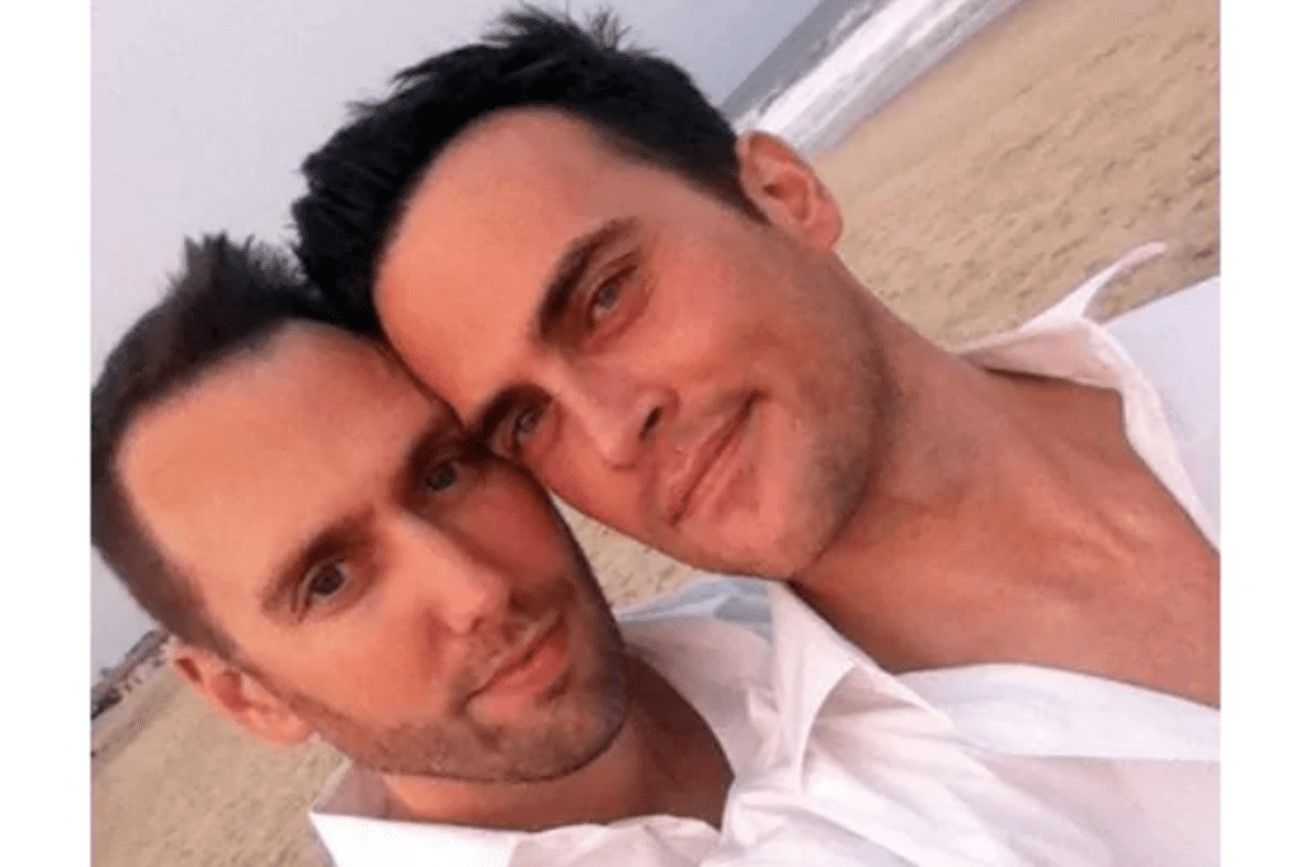 @ahh_geez_rick/Reddit.com
Rosie O'Donnell and Kelli Carpenter
At a comedy benefit in 2002, outspoken comedian and TV celebrity Rosie O'Donnell publicly came out. The celebrity has long been outspoken about her opinions, especially when it comes to adoption of LGBTQ children. She was single when she adopted her first child.
Later, Kelli Carpenter, a marketing executive, and Rosie O'Donnell met. In addition to adopting her son, Carpenter and the couple were married in 2004. This couple has four children together. In 2009, Rosie O'Donnell made her divorce public. She afterwards wed again.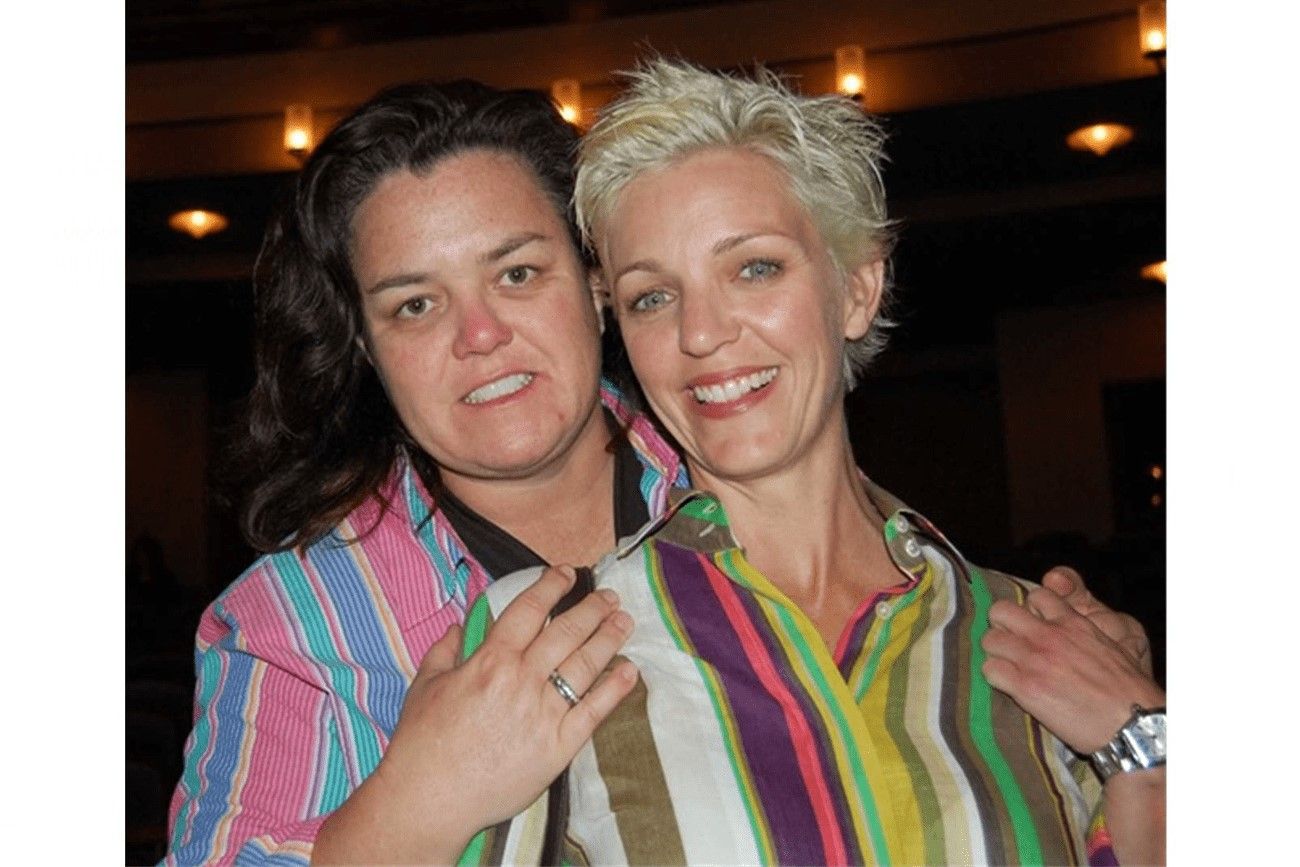 @Kelli Carpenter O'Donnell/ Russell Sanchez/YouTube.com
Chelsea Fairless and Lea DeLaria
Our sympathies go out to Sandra Bernhardt who must have been arranging to officiate the nuptials of actress Lea DeLaria and fashion critic Chelsea Fairless when the couple abruptly called off their engagement two weeks before the wedding.
DeLaria declared on her Instagram account that they had amicably parted ways and will always be close. The two had a deep bond after spending four years together, which allowed them to joke about their breakup. Tatiana Waterford, a stylist, and Fairless are dating at the moment.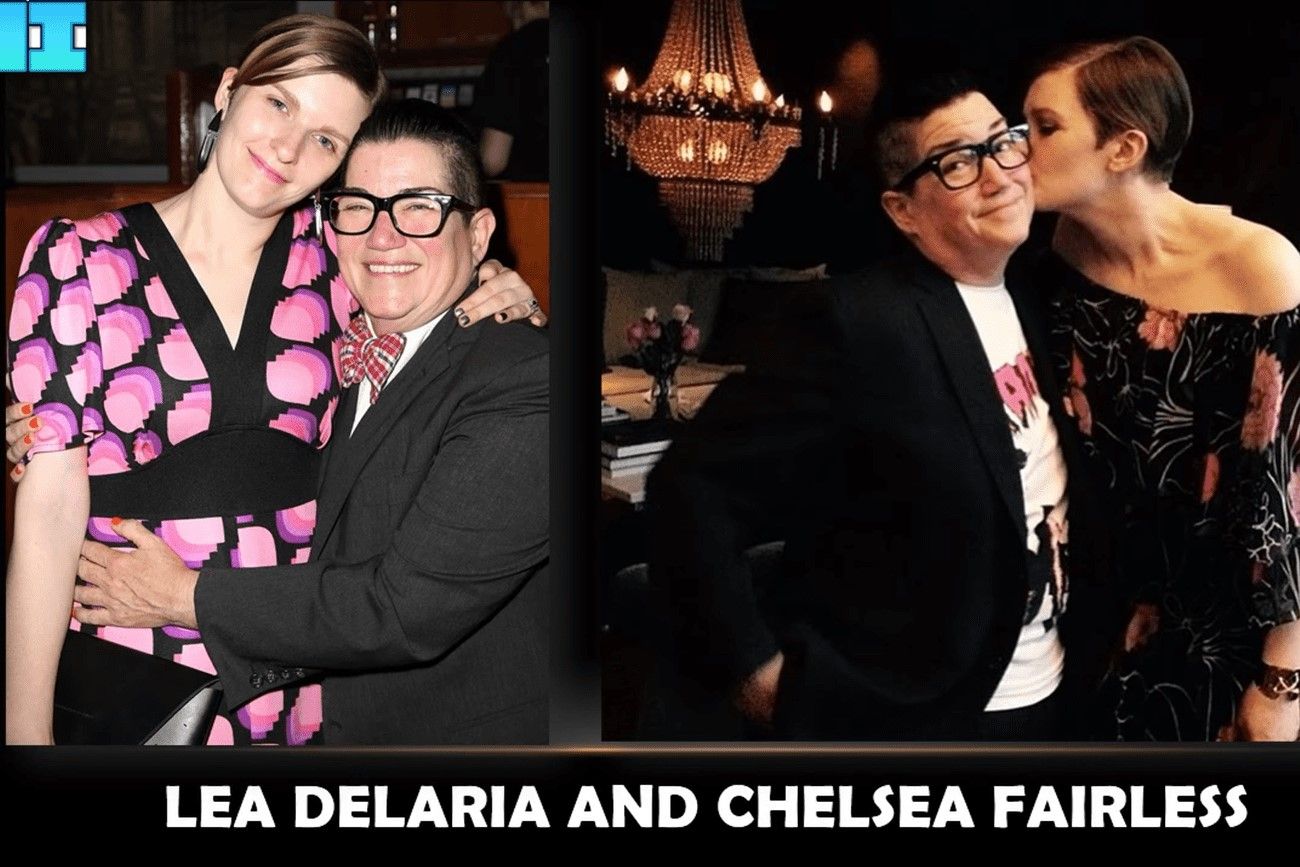 @Real Life Couples of Orange Is the New Black/Hollywood Inside/YouTube.com
Leisha Hailey and K.D. Lang
In 1996, Leisha Hailey's first prominent relationship with singer-songwriter K.D. Lang attracted a lot of attention. They eventually divorced after a five-year relationship. Hailey has largely kept quiet about her relationship and breakup, but she has come to terms with getting sentimental while thinking back on their connection.
She then changed her name to Alice Pieszecki. Additionally, two episodes of Silicon Valley featured Hailey. Currently single, Hailey frequently shares lovely Instagram photos with her old L Word castmates.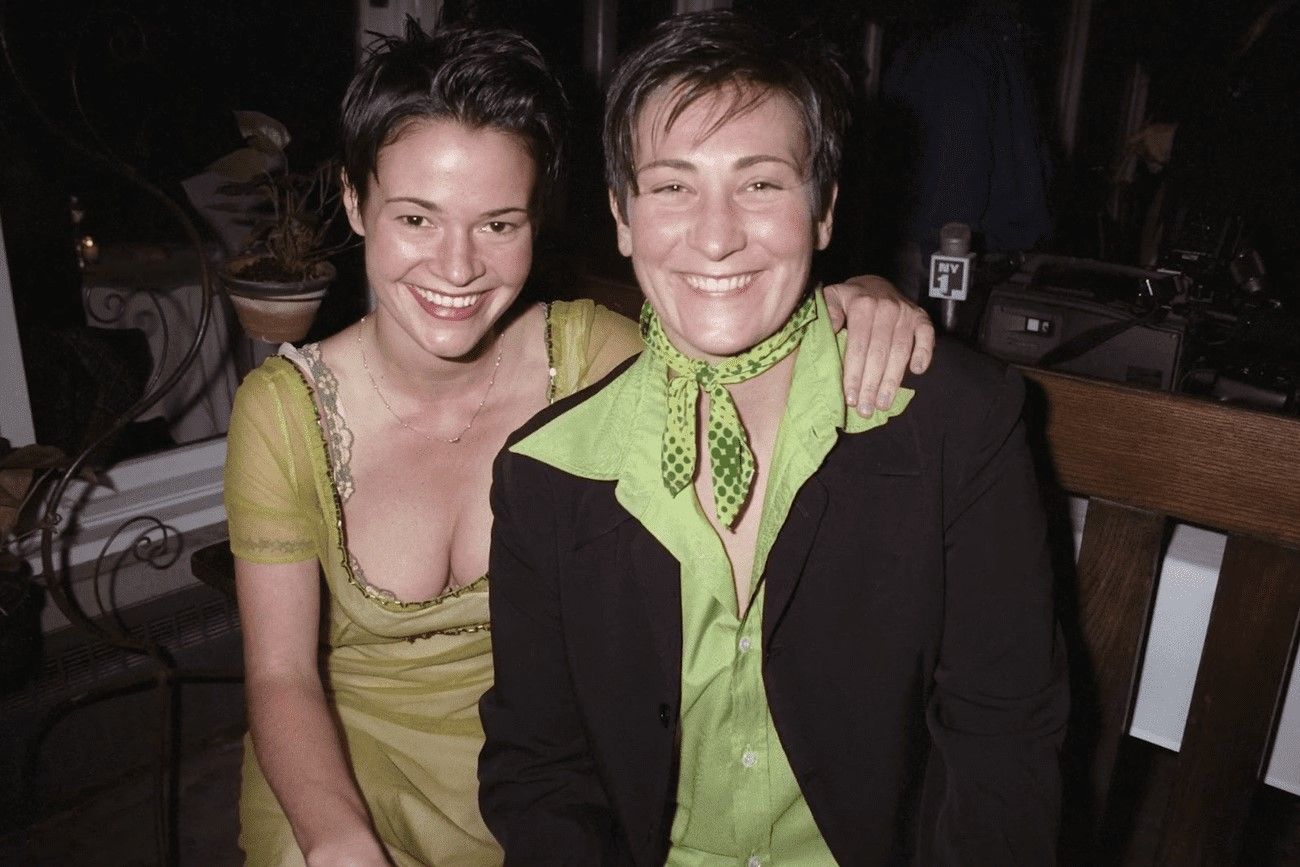 @5 SHOCKING Things Need To Know About Leisha Hailey (Alice) 🔥L Word: Generation Q Season 3🔥/ Celebs Now/YouTube.com
Angelina Jolie and Jenny Shimizu
We bet you missed this one! Actress Angelina Jolie has dated women as well as men; she is now more frequently linked to Brad Pitt or Billy Bob Thornton. She dated model and actress Jenny Shimizu before hurriedly weding British actor Jonny Lee Miller.
For a number of years, this relationship persisted, according to Shimizu, even after Angie started dating other people. Jolie said, "Of course [...] Without a doubt!" when asked if she was bi. Yes!" She said, "I would have probably married Jenny if I hadn't married my husband."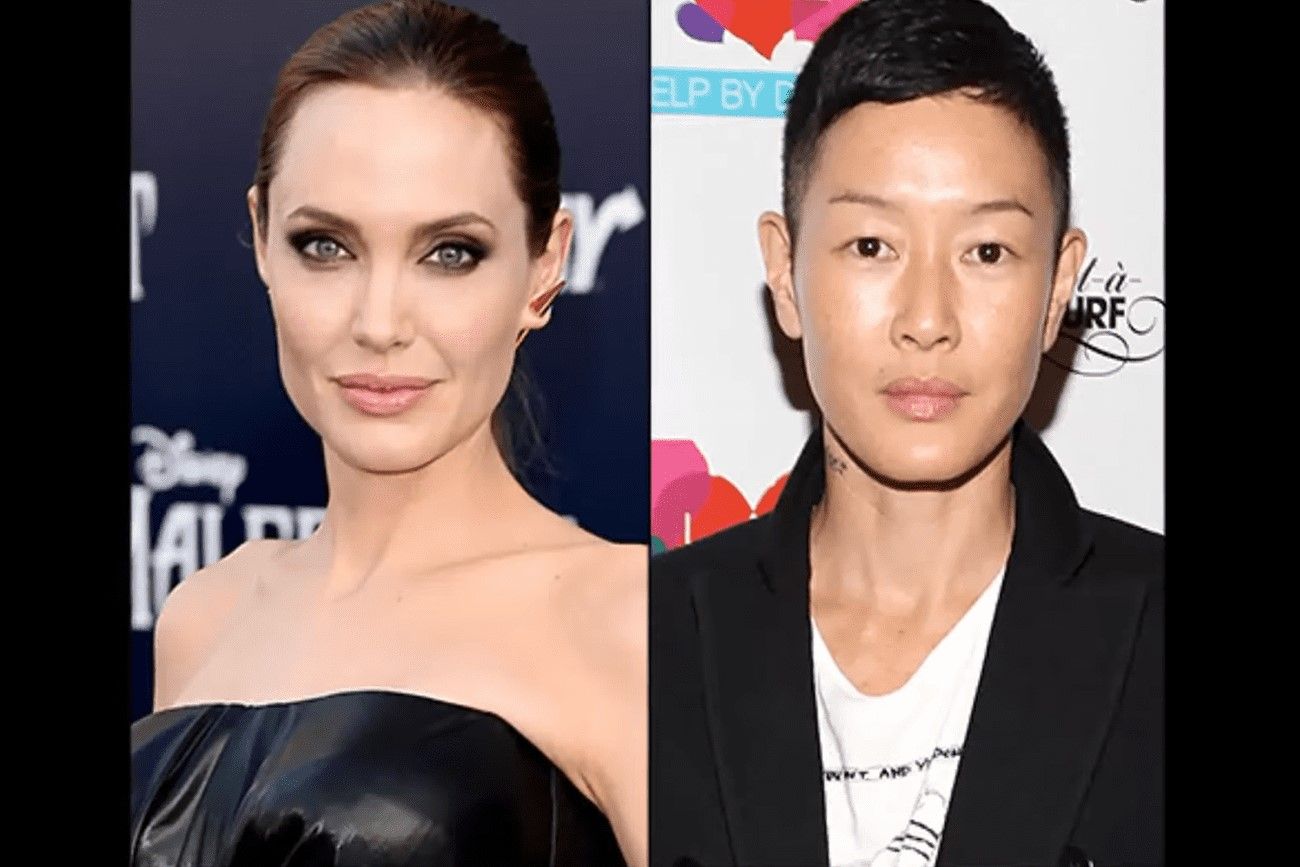 @Angelina Jolie's Ex Girlfriend Jenny Shimizu Marries Michelle Harper/ Breaking News/YouTube.com
Ruby Rose and Phoebe Dahl
When Ruby Rose was 12 years old, she came out as gay. She now identifies as genderfluid. The actress first made her engagement to fashion designer Phoebe Dahl public in 2014. Sadly, the couple called the entire thing off after only a year.
The granddaughter of Roald Dahl and Patricia Neal, an American actress, is the English fashion designer Phoebe Dahl. She has been in a relationship with DJ and model Tatiana de Leon since her breakup with Ruby Rose.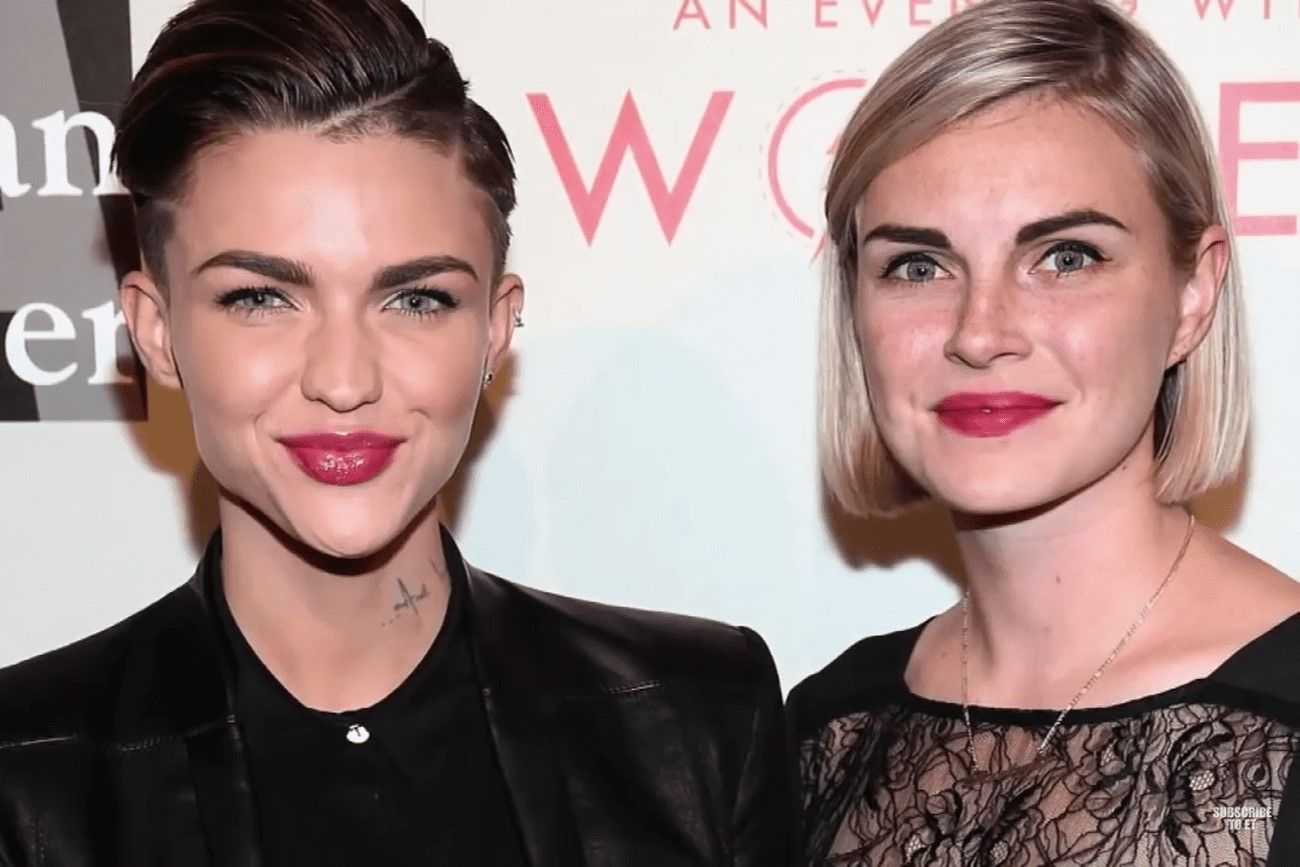 @Ruby Rose Flaunts Ripped Post-Breakup Bod/Entertainment Tonight/YouTube.com
Teddy Geiger and Emily Hampshire
In 2017, transgender American singer Teddy Geiger came out. Unfortunately, the star's engagement to Canadian actress Emily Hampshire fell through. These two broke up after only a few months of engagement, despite appearing to be in a very happy relationship on Instagram.
Emily Hampshire hasn't dated any other well-known celebrities, but she is open to dating anyone of any gender or orientation. Like Teddy Geiger, no one else has yet seen him out and about with.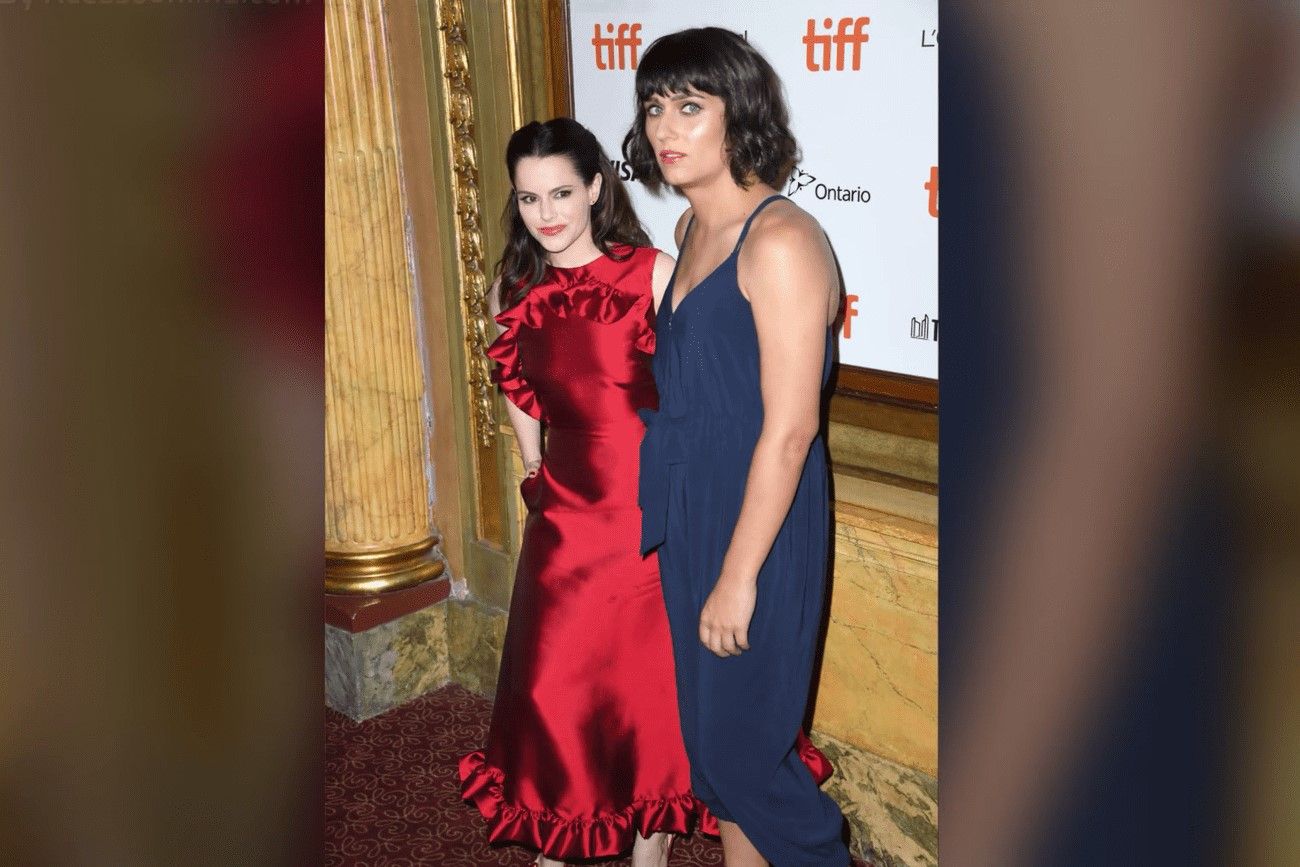 @Emily Hampshire & Teddy Geiger Are Engaged/ Wochit Entertainment/YouTube.com
Troye Sivan and Jacob Bixenman
In 2013, Australian YouTuber Troye Sivan made his sexual orientation public on his channel. The celebrity had also came out to his family years before. Sivan began dating American model Jacob Bixenman in 2016. Even Jacob Bixenman appears in the music video for Troye Sivan's song Heaven.
Four years into their relationship, this adorable pair announced their separation in 2020. Both of these people returned to their respective home continents during the global quarantine.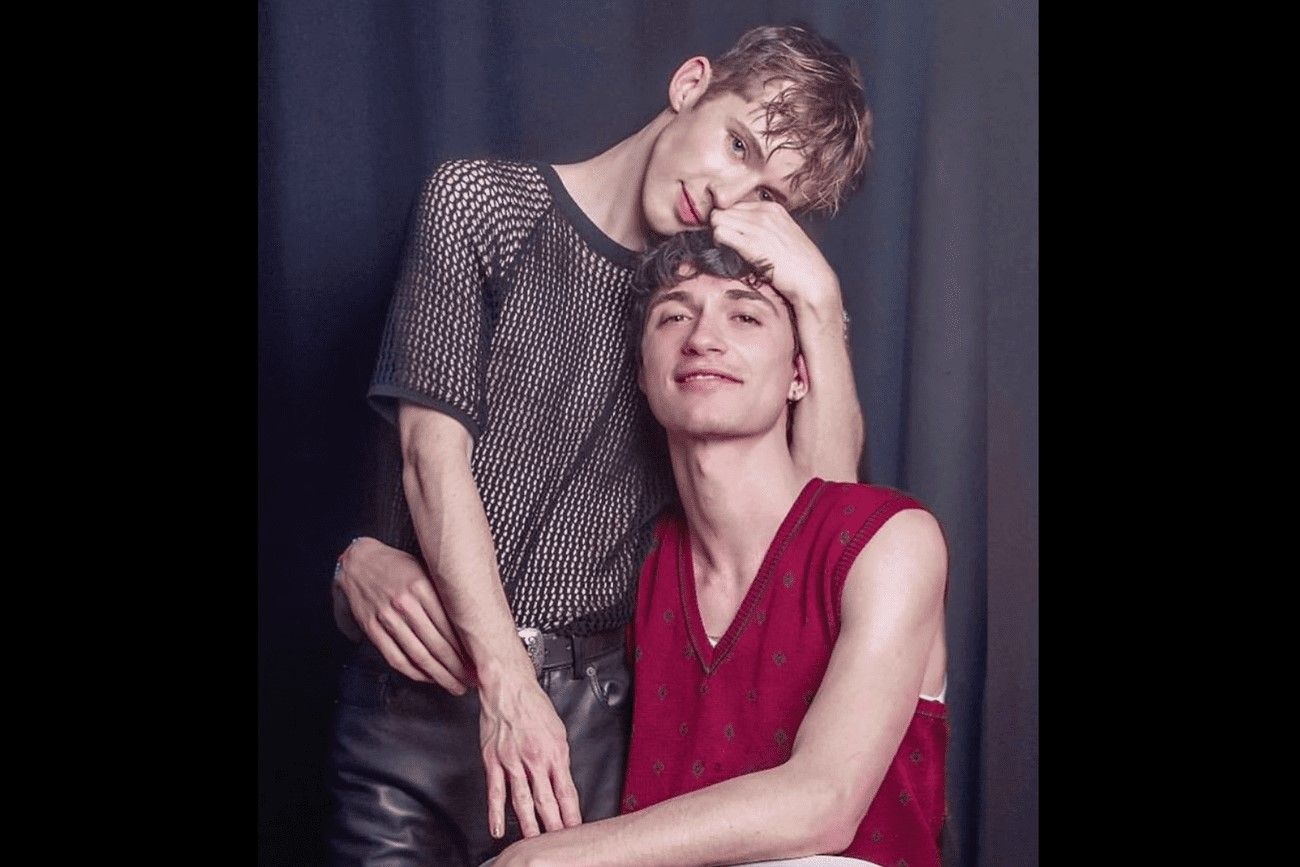 @Troye Sivan & Jacob Bixenman ♥️. ( MUST WATCH COUPLE GOALS)/ Love 🫶🏽/YouTube.com